Denton County, Texas Archives
The Jones Family
Contributed by: Janet Dane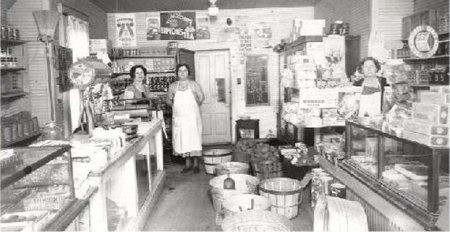 Jones Grocery Store
Grocery store owned by Jones family in the 1920's and 1930's,
on 800 block South Elm Street in Denton, TX.
Click each photo below to enlarge the view
Sarah Jane (Turpen) Jones
Sarah raised chickens to sell in their store until law was
passed that chickens could not live in Denton City Limits
N.B. Jones
N.B. and wife, Sarah Jane (Turpen) Jones, original owners of Jones Grocery Store.
After N.B's death, Sarah, step-daughter Lola Jones Madewell and daughter, Esta Jones Sam kept the store open. Later, after the store was closed, N.B. and Sarah's grandson, Joe B. Renfro, son of Dena Jones Renfro opened his store at 721 South Elm, called Renfro's Grocery.
Four Generations
Sarah Jane (Turpen) Jones, Dena Jones Renfro, Joe Renfro, &
the baby is Janet Kay Renfro, contributor of these photos.
---