1982 Citizens of the Year in Unicoi County TN
Archives of "The Erwin Record" - writer & photographer - Keith Whitson.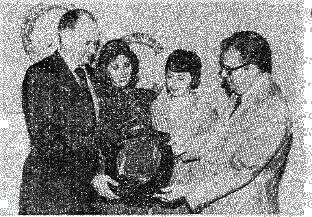 L - R: Fred G. Davis, daughter Marcella, his wife Barbara and Fred Kegley, who presented the award.
Davises "top Citizens"
"If we can't leave this place a little better than we found it, we have served no purpose in being here," said Fred after he and his wife Barbara were proclaimed Citizens of the Year at the 13thAnnual Chamber of Commerce Banquet last Friday night.
Fred Kegley, who presented the award, cited that the Unicoi County Heritage Museum was "the highlight of the Chamber of Commerce's year." He noted Mrs. Davis' work in helping to open the museum and then keeping it operating through her service as a museum coordinator.
Her husband had a big part in seeing the plans through by spending many hours repairing and making necessary renovations in the building. He was a great deal responsible for the "Main Street" scene on the second floor.
Kegley also noted the Davis' daughter, Marcella, and her contribution as an interior decorator.
"They really did a fantastic job," he said.
The museum had over 3000 visitors this past summer, when it opened for the first time.


Fred G. Davis Obituary
Erwin, TN. Fred Gerard Davis, 75, died Monday, February 2, 2004 at home after an extended illness. Fred was born August 2, 1928 in Erwin where he lived most of his life. He was a son of the late Dock Davis Sr. and Mamie Ada Johnson Davis. He attended UCHS and was a member of the football team. He attended ETSU and served in the US Air Force for 12 years. He was employed as an insurance agent for Metropolitan Life Insurance Company and later retired from the US Postal Service in Erwin. He served on the Unicoi County Commission for ten years, serving as budget and finance chairman and County Court representative to the Unicoi County Memorial Hospital Board of Directors.
Fred was named "Citizen of the Year" in 1982 jointly with his wife Barbara for significant contribution to the Unicoi County Heritage Museum. He was a Mason and a member of Centennial Lodge #491, having served as treasurer. He was a member of the Jericho Shrine Temple, serving as secretary treasurer of the Erwin Shrine Club. Fred taught Sunday School in the early years as Central Baptist Church was organized where he retained his membership.
Survivors include: His wife Barbara Sellars Davis, Erwin; one daughter: Marcella Davis-Burks and husband Brad Burks, Charlotte; one son: Steven Davis and wife Lynda Hargroves Davis, Bristol; two grandsons: Justin Davis, Johnson City & Patrick Davis, Unicoi; two step daughters Elizabeth Dolinger and husband Charlie, Johnson City & Hannah Hargroves, Bristol; one step grandson Joseph Clark, Elk Garden, VA; step great-grandchildren: Sidney Dolinger & Samuel Dolinger.
Funeral services were held at 10:00 A.M. Wednesday, February 4, 2004 in the Chapel of Valley Funeral Home. Rev. J. Robert Ambler officiated. Vocal selections were provided by Lynda Davis and family. Internment followed at the Evergreen Cemetery, Erwin TN with Masonic Rites provided by Centennial Lodge #491 with Bro. Carlyle Love officiating. Pallbearers were Steven Davis, Justin Davis, Patrick Davis, Brad Burks, Jerry McNabb & Mark Sellars. The family received friends from 6:30 P.M. until 8:30 P.M. Tuesday, February 3, 2004, at Valley Funeral Home. Online condolences can be Emailed to the family through our Website at www.valleyfuneralhome.net.
These arrangements were made especially for the family and friends of Fred G. Davis thorough Valley Funeral Home, 1085 N. Main Ave., Erwin (423)743-9187.
Note: Music for visitation, prelude & postlude for service was provided by tape of Classical & Religious Selections on piano played by Barbara Sellars Davis that were previously taped by Fred G. Davis. The opening song for the service, "In the Presence of Jehovah" was recorded by Damaris Carbaugh of The Brooklyn Tabernacle Choir. The solo for the service, "It's Jesus" was written and sung by Lynda Hargroves Davis with Charlie Dolinger accompanying her on guitar. The musical interlude was the Mormon Tabernacle Choir's version of "The Lord is My Shepherd." Postlude was "Liebestraum" played by Barbara Sellars Davis, previously taped by Fred G. Davis.
---
Copyright. All rights reserved. http://www.usgwarchives.net/copyright.htm
This file was contributed for use in the USGenWeb Archives by: Marcella Davis-Burks MarcellasFamily@aol.com
---
Return to the Unicoi County Digital Library