James A. Johnson, was born in Greene County, Tennessee in 1841. In 1854, most likely in the Spring, he and his family left Greene County. They were on their way to Missouri to meet up with other family members of the Zopher Johnston Sr family as well as the Christopher Cooper Jr family who had previously left in 1851. Because of the death of his maternal grandfather, John Kerbaugh in 1854/55 in Greene County, the family did not continue to Missouri, but stayed in Southern Illinois in Hamilton County.
In 1861, shortly after the war began, James A. enlisted with his father, Christoper Cooper Johnson, in Illinois 40th Co. A. Because of the "emblem" on James A's lapel, it is believed that this picture was taken at a reunion of the Illinois 40th. James A. fought at the battle of Shiloah and was "left on the battle field and thought dead". In his pension papers many years later, he said he had been "sunstroked", but I think it is more likely he was probably injured by cannon fire. He recovered consciousness and rejoined his troop and participated in the second day of the battle. He was again seriously injured at the Battle of Missionary Ridge in 1863. He walked with a cane for the rest of his life. Both battles occurred in Tennessee.
James A. Johnson fathered 11 children, 8 of whom survived childhood, and he lived to a ripe old age. He died in Mt. Vernon, Illinois, in 1927 and is buried beside his wife, Adeline Carney Johnson, in the Methodist Church Cemetery in Macedonia, Illinois.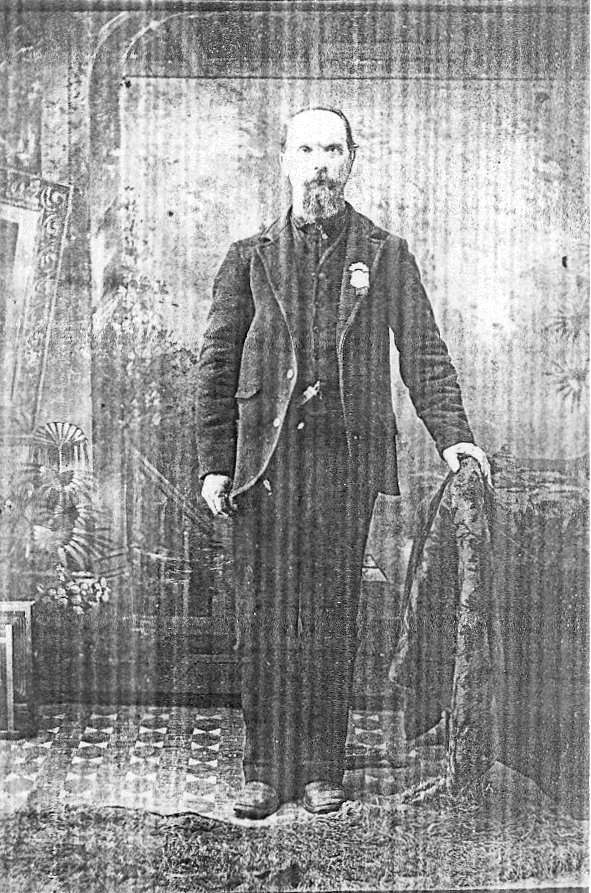 James A. Johnson, circa 1876
SEATED, left to right:
Daughter, Margaret Adeline (Mag) - born January 8, 1874, Father, James A. Johnson - born January 7, 1842 (date of birth from his obituary), Wife, Minerva Adeline Carney Johnson - born May 12, 1846 , Unidentified Daughter*

STANDING, left to right:
Unidentifed Daughter*, Daughter, Cora Belle Johnson - born November 22, 1888, (grandmother of the submitter), Son, James Christopher - born May 6, 1884, Daughter, Della - born April 11, 1879, Unidentified Daughter*

*The unidentifed daughters include: Nancy Elizabeth (Lizzie) - born December 25, 1869; Ella - born August 22, 1883 and Nora F. - born November 11, 1876

Eldest daughter, Pauline Catherine (Lina) - born September 17, 1867, is not in the family photo.