Carter County, Tennessee
Lower Shell Creek School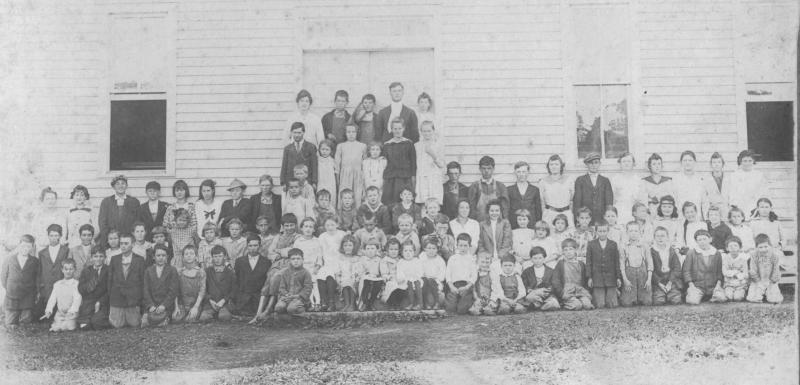 You may click on the photo for a larger view. File size of the larger view is 390KB.
Use your Browser Back Button to return here.
This from Ken Hodge khodge@gdi.net:
This school was built in 1911-12 and was built to replace the old one room school which was located in the vicinity of the present Lower Shell Creek Christian Church. It is a two-story wood building, painted white with three classrooms on the ground floor. The second floor was occupied by the Junior Order of the Masons. There were six windows on the front lower floor with a double door in the middle. Two outhouses were in the back and the well was in the front and to the left of the school. A bucket with one dipper was in each classroom and was filled from the well by the older boys. Everyone in the class used the same dipper so ailments became community affairs. At this time grades were also affected by health, so if you had a cold for a few days your scholastic grades were reduced. It was originally built as an elementary school, grades 1-8, and then expanded a couple years later to grades 1-10. In 1928-29, it was again expanded to grades 1-12 and was a four year high school. In about 1930 it was again an elementary school after losing several students to Cloudland High. I have seen two pictures of students and that was for the 1924 and 1925 years. It seems that this photo was taken around the same period.

This school was in use until the early fifties when a new cinder block building was built about a half mile away. This cinder block building was used until the early seventies when the school was consolidated with the Cloudland Elementary School.

If you can identify anyone in this picture, please send their name and location in the picture to javan@deloach.org. The names will be listed on this page under the picture.
---

USGENWEB NOTICE: In keeping with our policy of providing free information on the Internet, this photograph may be used by non-commercial entities, as long as this message remains on all copied material. This image may NOT be reproduced in any format for profit or for presentation for profit by other persons or organizations.
Persons or organizations desiring to use this image for purposes other than stated above must obtain the written consent of the contributor. The submitter has given permission to the USGenWeb Archives to store the file permanently for free access.

This file was contributed for use in the USGenWeb Archives by: Julia Williams Kodak JKodak@aol.com

Return to the Carter County Digital Library