Somerset County, PA
Deeter Burial Ground Cemetery
Allegheny Township, Somerset County, PA
A Project of Somerset County PAGenWeb Archives
Somerset County PAGenWeb Archives: Tombstone Project Cemetery Records
Copyright Information Pennsylvania Tombstone Project
Tombstone Photography Tips Photo Submission Form
this page was last updated October 8, 2012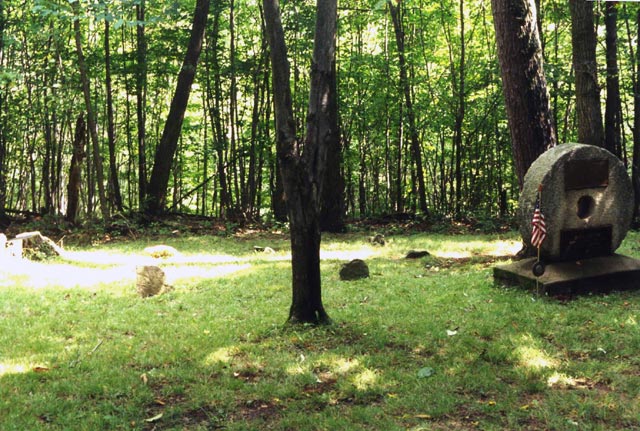 In Memory Of
John Deeter (Johannes Ditrich)
and his wife
Catherine nee Springer
died 1828
Pioneer settlers of this community; settling on this farm at the close of the Revolutionary War in which he served, receiving title from the state by patent dated May 17, 1793, this opening in the mountain is designated on the map of Pennsylvania as Deeter's Gap.
He was a natural mechanic; erecting his own farm buildings constructing his own sawmill, cut millstones for customers. This stone was cut by him and remained on these premises unused until 1933, when it was erected as a memorial to him and his wife by descendants.
---
Situated on the McLuckie Farm in Allegheny Twp., at the edge of the woods east of the Buildings, near an old lime stone quary, and not far from St Lukes Mountain Church, on Highway #31
---
Deeter Cemetery Photos contributed by Rich Boyer
---
WPA Records of Deeter Burial Ground Cemetery
---
Tombstone Inscriptions
printer friendly text transcription of Tombstone Inscriptions
Deeter, John, (view 2 , 3), 1760 - 1825, Capt. Revolutionary War
Deeter, Catherine Springer, (view 2 , 3), died 1828
---
additional graves taken from WPA Recording from 1930's
Berdollin, Veronica, 11 Apr 1783, Hier leight Veronica Bergdollin Pis aufer strohng der Gerechten
Bergdol, Salomon, 10 Apr 1783, Hier liegt Salomon Bergdol begrahn
Deeter, Albert, s/o J. & F., 05 Feb 1865, age 10M
Deeter, Rosanna, d/o J. & F., 31 Jul 1851, age 4Y 9D
Two children graves not inscribed
Possibly 10 or 12 other graves not inscribed and poorly marked
---
Somerset County PAGenWeb Archives file manager April Phillips
Tombstone Project Page maintained by Connie Burkett
Copyright 2006 - present. All rights reserved.
Somerset County PAGenWeb Archives - Tombstone Project
Somerset County PAGenWeb Archives - Cemetery Records
Somerset County PAGenWeb Archives