Education: 1898 Crimson & White: Pottsville High School, Pottsville, Schuylkill Co., PA
Part 1
SELECTIONS from the yearbook contributed by Judy Banja
USGENWEB ARCHIVES (tm) NOTICE
All documents placed in the USGenWeb Archives remain the property of the contributors, who retain publication rights in accordance with US Copyright Laws and Regulations.
In keeping with our policy of providing free information on the Internet, these documents may be used by anyone for their personal research. They may be used by non-commercial entities so long as all notices and submitter information are
included.
These electronic pages may NOT be reproduced in any format for profit.
Any other use, including copying files to other sites, requires permission from the contributors PRIOR to uploading to the other sites.
The submitter has given permission to the USGenWeb Archives to store the file permanently for free access.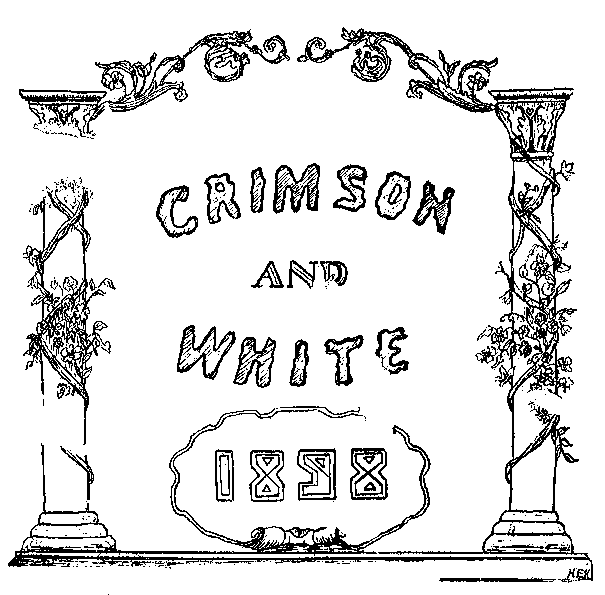 To Our Beloved Faculty, This Volume is Respectfully Dedicated by the Board of Editors.
BOARD OF EDITORS
Alvin E. Bicht, Editor in Chief.
Associate Editors:
Charles E. Hoffman Miriam B. Levy
Marian B. Mortimer Helen E. Krebs
Morgan E. Griffith Annabel J. Fernsler
Emilie G. Gressang
Business Manager: Gouverneur H. Boyer
Asst. Business Mgr.: William Sampson
INTRODUCTION
Critics to the right of us,
Critics to the left of us,
Critics in front of us,
Criticise the blunders.
Railed at in word and wit,
Meekly we now submit
Into the reader's hands,
Into your gentle hands,
Volume eleventh.
When shall your stories fade?
(Oh the wry face you made!)
All the staff wonders
If you can conveniently
Criticise more leniently
Volume eleventh.
We are deeply indebted to the faculty,
the Members of the Various Classes of the School,
and to the Business Men of Pottsville for valuable aid and support given us
in making this volume of the "Crimson and White" a success.
SCHOOL COLORS - CRIMSON AND WHITE
FACULTY
S. A. Thurlow, A.B., A.M., Principal.
Miss Elena Roads Mrs. S. R. Wells
B. S. Simonds, A.B., A.M.
HIGH SCHOOL COMMITTEE
W. K. Woodbury, Chairman
C.C. Matten
Harry G. Hight
F. Emhardt
Chas. E. Sterner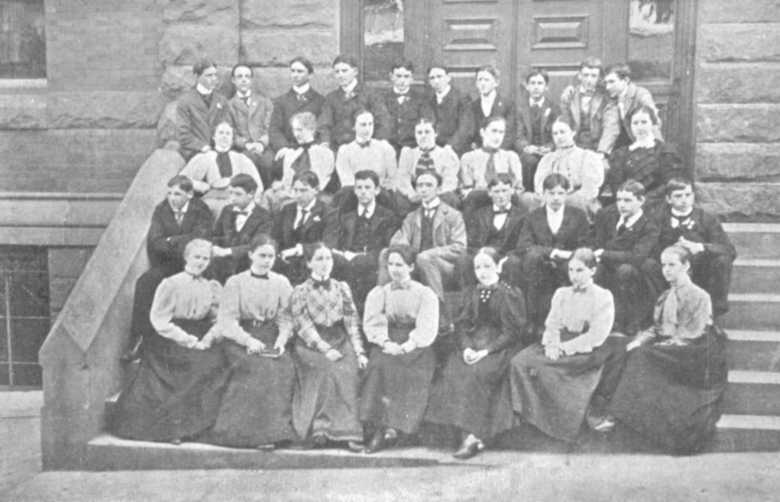 SENIOR CLASS
SENIOR CLASS ROLL
Alvin Bicht

Hamill Boal

Gouverneur Boyer

Ethel Brazier

George Bright

Elizabeth Eastman

Annabel Fernsler

Garner Fletcher

Leo Freiler

Clyde Gay

Mamie Gerhard

Emilie Gressang

Morgan Griffith

George Hamilton

Clayton Hayes

Carrie Henry

Charles Hoffman

Frank Hoffman

Ellen Kaercher

Helen Krebs

Miriam Levy

Alice McGinnes

Frank McLaughlin

Marian Mortimer

Caroline Parkin

George Phillips

Joseph Purcell

Charles Quail

Elizabeth Roseberry

William Sampson

Harold Schertle

Richard Sharp

Albert Snyder

Main Stichter

Albert Super

Sayde Ziebach
EX-MEMBERS
At Princeton:
Stanley Bright
At Lawrenceville:
Gardner Muir
At Andover:
Hayden Womelsdorf
Moved Away:
Bessie Graham
Charles Morganroth
Ruth Smith
Dropped Out:
Florence Carl
Albert Esterly
Essie Fisher
Maud Neice
Louis Pershing
Allan Petery
Albert Seeling
Herman Straub
Annie Terry
Frank Weston
Emma Wiederhold
CLASS OF '98
Motto - Per Periculum ad Triumphum.
Flower - Sweet Pea.
Colors - Pink and White.
| | | | | |
| --- | --- | --- | --- | --- |
| First Term | | | | Second Term |
| Emilie Gressang | | President | | Chas E. Hoffman |
| Wm. Sampson | | Vice President | | Elizabeth Eastman |
| Chas. Quail | | Secretary | | Helen E. Krebs |
| Main Stichter | | Treasurer | | Geo. K. Phillips |
MIDDLE CLASS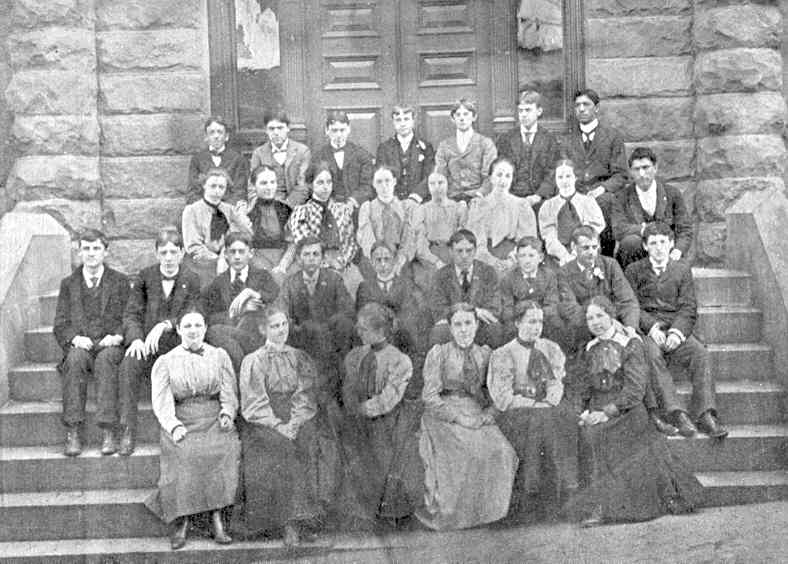 CLASS OF '99
OFFICERS
First Term.

Second Term

Anna Huntzinger*

Frances Zerbey

President

Oscar Groatman

Oscar Groatman

Vice President

Anna Huntzinger

Adelina Kuhn

Secretary

Edward Eagan

Myer Katz

Treasurer

Carrie Becker
*Resigned
MIDDLE CLASS ROLL
Bertha Aregood
Carrie Becker
Charles Bushar
Donald Carter
Richard Cole
Thomas Collins
Edward Eagen
Joseph Eastman
Gertrude Evans
Clarence Frederici
Douglass Green
Charles Gressang
Oscar Groatman
Gilbert Hayes
Adelaide Hazzard
Catharine Howard

Anna Huntzinger
Mary Jenkins
Meyer Katz
Adelina Kuhn
Frank Matthews
Charles Mortimer
Marry Potts
Ethel Pugh
Eben Smith
Jeannette Taylor
Elsie Veitinghoff
Paul Weston
Paul Whitman
Lee Wilson
Frances Zerbey
Mame Zimmerman
First Term

Second Term

Mary F. Morris

President

Charles T. Palmer

Sam'l. H. Daddow

Vice President

Mary W. Silliman

Alice B. Wilson

Bertha A. Veith

Secretary

Raymond R. Reilley

Edward Garrigues

Treasurer

Susie D. Pershing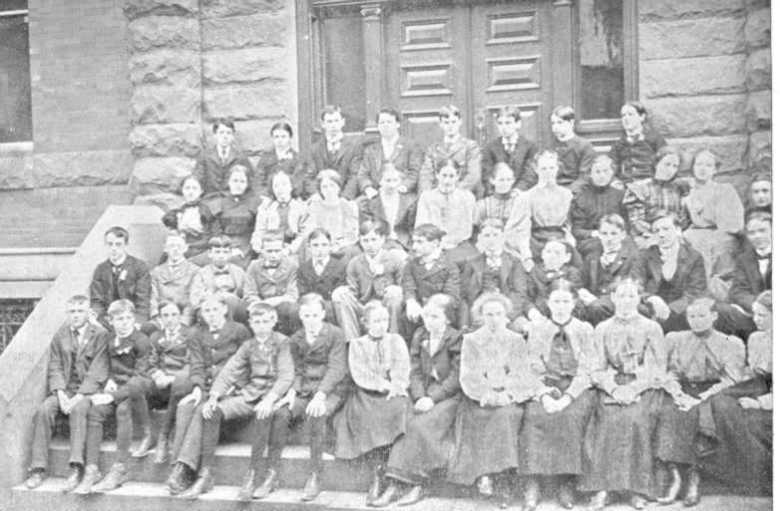 Ransloe Abbott
William Atkins
Albert Beisel
Harry Carroll
Samuel Daddow
Mary Ent
Franklin Esterley
Della Fegley
Edward Garrigues
Florence Gerber
Harold Hannum
William Hemler
Mary Henry
William Herbert
John Howard
Helen Jennings
Renie Kline
John Knebel
Eleanor Lilley
Charles Martyn
Thomas McCarthy
Robert McQuade
John Moore
Mary Morris
Pierce Mortimer

Francis O'Hare
Rhea Olsho
Charles Palmer
Jessie Parton
Marian Patterson
Susie Pershing
Harold Pollard
Elijah Reid
Raymond Reilly
Clifford Roehrig
Mame Roth
Ida Schumacher
Earl Seltzer
Mame Silliman
Margaret Silliman
John Sproesser
David Stevens
George Stevens
William Tyson
Martha Whalen
Walter Whitehouse
Alice Wilson
Vincent Wingert
Catharine Woll
P. H. S. Preparatory Course (Fourth Year)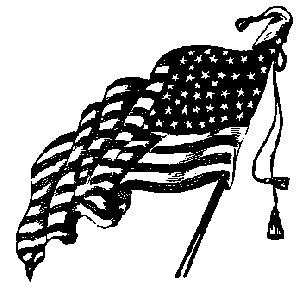 THIS PAGE IS RESPECTFULLY DEDICATED TO
WHO HAVE SO NOBLY VOLUNTEERED TO DEFEND
IN HER PRESENT WAR WITH SPAIN.
By Request, this Page is Dedicated to
This admirable gentleman was desirous that the editors of the CRIMSON AND WHITE should give him a "puff" in their valuable book, and to oblige him they desire to make public a short synopsis of his life up to date.
George W. Hamilton was born on a farm in Berks county. He has a noble ancestry, Alexander Hamilton being his great-grand-grandfather's uncle's cousin. He came to Pottsville at an early age, but did nothing extraordinary until he entered the High School, where his star began to rise.
As a sprinter, he became famous while yet a Junior, and in his Middle year, he was sent to Philadelphia by the A. A. to take part in a relay race. Sorry to say our team lost, but "it was not his fault."
His excellent qualities as a foot ball player were not recognized until this last season. He distinguished himself by winning every game that was played, only the referee did not always agree to it.
In the recent meet of the A. A. he was the leading figure, and won several medals. With such a glowing past back of him, we predict for him a brilliant future.