Sandy Hollow
Church Cemetery
Carroll Township, Perry County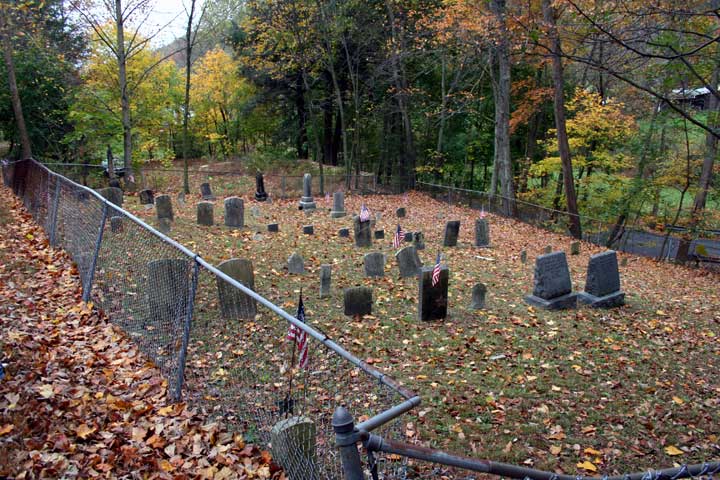 Photos contributed
by
Views of church remains: 1 2 3
Mary BAKER d. 10/2/1888, aged 68y 10m 12d, wife of W. L. Baker
Ralph A. BAKER d. 1/29/1896, aged 2m 24d, son of Silas and Emma Baker
Solomon BERKSTRESSER View 2 d. 10/9/1862 at camp near Sharpville(?), aged 49y 1m ?d, Civil War Veteran
Rebecca BOGGS d. 1/11/1879, aged 55y 9m 18d, wife of Jacob Boggs
Peter CAMERON d. 8/1/1874, aged 75y
Susanna CAMERON d. 4/16/1877, aged 58y 2m ?d, wife of Peter Cameron
Margaret Alice COOK d. 12/17/1895, aged 18d, daughter of Harry E. and Anna M. Cook
Rev. Mary E. DONMOYER Who gave her life in his service 8/31/1952
Ella K. EMINGER d. 3/10/1890, aged 21y 8m 6d, wife of Clarion Eminger
Alfred FOLTZ d. 9/5/1862, aged 8y 9d, son of Michael and Susan C. Foltz
Henry FOLTZ d. 9/7/1894, aged 49y 10m 17d, Co. E 47 Regt. PA. Vol.
Maurice H. FOLTZ d. 1/25/1883 aged 1m 19d, with Ida A. FOLTZ d. 11/13/1895 aged 17y 9m 5d, children of Wilson M. and Anna E. Foltz
Michael FOLTZ View 2 d. 2/2/1880, aged 54y 10m 19d, Civil War Veteran
Sarah E. FOLTZ with Amanda C. FOLTZ, d. 9/15/1862, Sarah aged 5y 10m 8d, Amanda aged 3y 5m 7d, children of Michael and Susan C. Foltz
Wilson M. FOLTZ d. 3/24/1900 aged 50y 6m 26d, with wife Anna E. Lickel d. 9/15/1925 aged 68y 2m
Abraham KITNER View of plot d. 5/7/1896, aged 66y 3m 22d, Civil War Veteran
Abraham KITNER 1861-1863
Benjamin KITNER d. 6/21/1865, aged 2y 1d, son of David and Sarah R. Kitner
Caleb KITNER d. 9/30/1846, aged 3y 3m 19d, son of George and Mary M. Kitner
Charles KITNER 1857-1858
Clara B. KITNER d. 9/22/1886, aged 8m 24d, daughter of J.S. and Martha A. Kitner
Enos KITNER d. 11/26/1873, aged 22y 9m 2d, son of George and Mary M. Kitner
George KITNER d. 5/23/1867, aged 55y 7d
John W. KITNER 1860-1861
Louisa KITNER 1872
Mary J. KITNER 12/4/1834-1/11/1873, aged 38y 1m 7d, wife of Samuel Kitner
Samuel KITNER 8/18/1862-8/16/1863, aged 1y 4m 28d, son of Samuel and Mary Kitner
Samuel KITNER 12/23/1822-3/18/1894, aged 71y 2m 23d
Sarah KITNER d. 5/17/1892, aged 55y 11m 22d, Mother
Sarah F. KITNER 1858-1862
Willamina J. KITNER d. 4/16/1862, aged 6y 4m 6d, daughter of George and Mary M. Kitner
Mamie SHEAFFER d. 9/18/1896, aged 11m 28d, daughter of Oliver and Annie Sheaffer
Benj. SMEICH Co. A. 101st PA Inf.
Catharine SMITH 5/1844-3/1911, wife of H. F. Smith (same stone)
Catherine SMITH d. 12/7/1894, aged 80y 11m 17d, wife of H.P. Smith (same stone)
Catherine SMITH d. 9/8/1852, aged 2y 3m 10d, daughter of H.P. and C. Smith
Cora SMITH View 2 12/23/1879-6/23/1888, aged 6m, daughter of H.F. and Catharine Smith
H. F. SMITH 5/21/1837-2/9/1916, same stone as Catharine, Civil War Veteran
H. P. SMITH d. 4/13/1897, aged 83y 2m 22d, same stone as Catherine
Infant SMITH 9/20/1873, son of S.B. and S.J. Smith
Infant SMITH 8/16/1875, son of S.B. and S.J. Smith
Infant SMITH d. 1/28/1867, aged 6m 12d, son of S.B. and S.J. Smith
Son SMITH d. 5/3/1871, aged 1y 7m 3d, son of S.B. and S.J. Smith
Anna Elizabeth SOULE d. 8/20/1862, aged 8y 3m 20d, adopted daughter of John and Mary Soule
John SOULE 2/13/1804-4/2/1877, aged 73y 1m 19d
Nancey SOULE 9/7/1794-9/22/1875, aged 81y 15d, wife of John Soule
George W. WELCH d. 2/5/1897, aged 39y 5m 4d, Our Mother