Rudolph Cemetery
Juniata Township, Perry County
Photos contributed by
Russell Fry and Karl Miller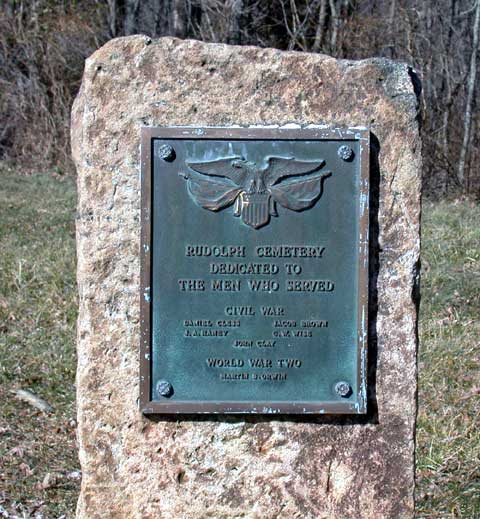 DEDICATED TO THE MEN
WHO SERVED
Civil War
Daniel Gless, Jacob Brown, J. A. Haney,
G.W. Wise, John Clay
World War Two
Martin B. Orwin

Ezekiah ALBRIGHT d. 3/12/1854, Aged 18y 4m 20d, Son of John and Susanna Albright
Mary E. ASPER 7/14/1859-11/5/1880, Aged 21y 3m 21d
Naoma J. ASPER 5/12/1857-10/17/1868, Aged 11y 5m 5d
Susannah BARNS d. 1/18/1863, Aged 46y 10m 11d, Wife of John S. Barns
Amelia Ann BROWN d. 4/9/1855, Aged 24y 7m 22d, Wife of Ananias G. Brown
Charlotte BROWN 10/20/1790-12/7/1881, Aged 91y 1m 13d
Ephram Lindford BROWN d. 2/6/185?, Aged 4d, Son of Ananias G. and A--- Brown
Jacob BROWN 8/17/1780-9/13/1854, Aged 74y 26d
Chester CLAY d. 4/18/1841(?), Aged 17y 18d, Son of M. and E. Clay
Dollie M. CLAY d. 8/23/1877, Aged 12y 5m 8d, Daughter of William B. and Ann Clay
Elizabeth CLAY d. 11/9/1880, Aged 67y 1m 25d, Wife of Mathias Clay
James W. CLAY d. 5/13/1857, Infant son of W. B. and L. A. Clay
John B. CLAY d. 9/7/1907, Aged 71y 2m 17d
Mary J. CLAY d. 3/27/185?, Aged ?y ?m, Daughter of M. and E. Clay
Mary M. Keefer CLAY 1845-1927, Wife of John B. Clay
Matthias CLAY d. 5/17/1853, Aged 45y 2m 9d
Sarah E. CLAY d. 3/11/1851, Aged 4y 2m 4d, Daughter of M. and E. Clay
S. H. and A. L. CLAY Born and died 5/16/1887
Wm. B. CLAY 2/1/1833-3/31/1873, Aged 40y 1m 30d
Catharine Kough GANTT d. 2/3/1853, Aged 28y 1d, Consort of Jesse L. Gantt
J. L. GANTT 10/10/1810-3/1/1880, Aged 69y 4m 21d
Margaret Jane GANTT d. 8/2/1869, Aged 9y 5m 22d, Daughter of Jesse T.(?) and Catharine Gantt
J. A. HANEY Co. A, 9th PA. CAV
Abraham E. HANY 10/7/1858-11/21/1862, Aged 4y 1m 14d, Son of --mas and Barbara Hany
Barbara A. HEANY d. 6/23/1869(?)
Barbara Fleurie HEANY d. 10/16/1904, Aged 77y 10m 1d, Wife of Thomas Heany
Catharine A. HEANY d. 7/1/1860, Aged 5m 4d, Daughter of Tho's Heany
Eleanor HEANY d. 6/3/1848, Aged 32y 5m 8d, Wife of Tho's Heany
Frances A. HEANY d. 12/28/1889, Aged 1y 2m 18d, Daughter of Daniel M. and Anna M. Heany
Harriet E. HEANY d. 4/3/1872, Aged 2m 11d, Daughter of Daniel M. and Anna M. Heany
Robert H. HEANY 4/26/1899, Aged 47y 4m 21d
Thomas HEANY d. 2/11/1891, Aged 74y 10m 20d
John KOSIER d. 8/28/1868, Aged 60y 8m 21d
Maria Rice KOSIER d. 12/7/1864, Aged 57y 7m 18d, Wife of John Kosier
Sarah N. KOSIER d. 5/17/1863, Aged 18y 8m 7d
Alfred B. KOUGH d. 10/29/1855, Aged 4y 7m 9d, Son of William and Mary Kough
Amanda KOUGH d. 3/31/1848, Aged 1y 1m 9d, Daughter of Will-- and Mary Kough
Eleanor KOUGH d. 9/25/1856, Aged 68y 7m 25d, Wife of John Kough
Emma Carrie KOUGH d. 12/8/1863, Aged 4y 1m 11d, Daughter of Willm and Mary Kough
James Calvin KOUGH d. 10/29/1853, Aged 4m 3d, Son of William and Mary Kough
John KOUGH, Sr. 12/14/1787-7/9/1867, Aged 79y 6m 26d
Mary Ann KOUGH d. 10/20/1862, Aged about 60y, Wife of John Kough, Sr.
Margaret A. MAXWELL d. 5/?/1867(?), Aged 23y 1m 21d, Wife of George W. Maxwell
Abraham ORWAN 9/11/1845-7/25/1917
Martin B. ORWAN 1904-1941, Sgt., Seaman PFC U.S.S. Saratoga, Pvt. 30th Ord. Co. H.M.
Martin E. ORWAN 1866-1944, "Father"
Mary E. ORWAN d. 9/16/1931
Aaron C. OSBORN 3/30/1821-7/6/1846, Aged 25y 3m 6d
David OSBORN 10/30/1845-3/25/1846, Aged 4m 25d, Son of A. and S. Osborn
Martha J. OSBORN 9/13/1843-1/22/1846, Aged 2y 4m 9d, Daughter of A. and Susan Osborn
Mary OSBORN d. 9/25/1845, Aged 48y 3m 4d, Consort of Ma. Osborn
Emaline ROBINSON d. 5/4/1846, Aged 9m 1d, Daughter of James and Margaret Robinson
Julia A. Troup SHATTO d. 5/19/1865, Aged 66y 8m 14d, Wife of David Shatto, "Our Mother"
Mary E. SMEICH d. 3/11/1918, Aged 80y 10m 28d
Maudie -.-. SMITH d. 2/8/1892, Aged 3y 2m 22d, Daughter of J. H. and Maggie M. Smith
Nellie Jane SMITH 9/17/1879-10/22/1879
P. Marie I. SMITH d. 8/26/1897, Aged 7m 23d, Daughter of J. H. and Maggie M. Smith
Robert TILBURY d. 11/18/1888, Aged 72y 4m 2d
A. G. TROUP d. 12/25/1872, Aged 44y 1d
Nellie A. TROUP d. 10/25/1862, Aged 1y 4m 25d, Daughter of A.G. and Rosannah Heany Troup
George WEISE d. 1/4/1855, AGed 71y 2m 27d
George W. WEISE d. 3/25/1865, Aged 42y 11m 29d, Of Co. G 208 --- P.V. Killed by a shell from a Confederate -----in front of ----
Mary E. WEISE 2/10/1793-6/4/1870, Aged 77y 3m 24d, Wife of Geo. Weise Sr.
Rebeca WISE 6/9/1825-9/19/1846, Aged 21y 3m 10d, Daughter of George and Mary E. Wise