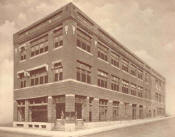 Completed Home of Mirror Printing Company - Tenth Street and Green Avenue.
THE ALTOONA MIRROR of today is the realization of a dream.
When Harry Slep was a boy mastering the intricacies of the art preservative of all arts, he dreamed of owning a newspaper of his own.
The only kind of dreams that ever come true are the dreams we dream when we are wideawake.
And this young apprentice was not sleeping then - nor has he been sleeping since.
He not only wanted to own a newspaper, but he was determined to possess a model newspaper - one that would attract an ever-widening circle of friends on its merits; one that would be an influence in the community; one that would fight the people's battles; one that would faithfully represent the best interests of all the people in every respect; one that would be progressive and aggressive; one that would be clean and fearless.
He suffered no illusions. He knew that it was no easy task that he had set for himself. He was fully aware of the fact that the road to Success was no primrose path. He counted the cost in time, energy, intelligence, pluck and perseverance and paid the price.
It seems fitting, then, that a brief history of the enduring monument which he has erected should be recounted in commemoration of the dedication to the service of the people of the completed home of the Altoona Mirror.
Naturally any history of the Altoona Mirror must necessarily be a history of Harry Slep, for Harry Slep is The Mirror and The Mirror is the child of his brain, and of no other. Let us tell the story from the beginning.
Harry Slep was born Oct. 24, 1836, in Hesse Cassel, Germany. A few years later the family decided to come to America and seek its fortune in the land of opportunity. When everything was in readiness his mother fell ill with typhoid fever, and it was decided that he should come to America with his grandmother. They sailed from Bremen in August, 1846. It was a stormy voyage. When the little sailing vessel limped into port at Baltimore fourteen weeks later every mast was gone.
The voyage was prophetic of the storms and struggles that were to beset one of the passengers later in life. He has faced every tempest with a stout heart and clear brain and steady hand.
From Baltimore a Conestoga wagon carried the new arrivals overland to Mechanicsburg, Cumberland county, Pa., where an uncle lived, with whom the boy, Harry Slep, made his home during the winter. He was then 10 years of age.
He did not idle away his time. He read all the books he could lay his hands on. They were not many, in that day, but they were good. He was an American now and he wanted to learn the language of the country. The books implanted in his breast a desire to become a printer and be able to print books. So in the following spring he went to Harrisburg and found employment in the Vaderlands Waechter office, then conducted by George Bergner, who subsequently became state printer. He was to serve six months on probation, at the end of which time, if he proved satisfactory, he was to become an apprentice.
Young Slep was quick, apt, always busy, and. at the expiration of his period of probation was indentured to serve an apprenticeship of six years. That was the rule in those days. In this age only five years are required. The object of the six year apprenticeship was to lay a substantial foundation on which to build a master workman. So intensely interested was the young apprentice in his work and so rapidly did he develop that at the age of 16 he was made foreman of Mr. Bergner's English and German job office. There are mighty few boys of 16 today who are competent to take charge of an important department of any business.
Meanwhile, Harry Slep had been dreaming of the day when he should be the publisher of a newspaper of his own. And he was preparing himself to deserve success. He worked at his trade by day and studied by night.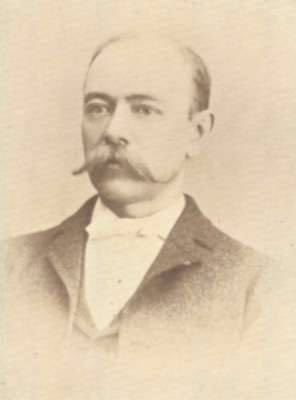 WILL H. SLEP
For sixteen years a member of the firm of H. & W. H. Slep, publishers of the Altoona Mirror. He died December 8, 1906, after which the publishing business was incorporated under the name of the Mirror Printing Company.
It's a noteworthy fact that young men who follow that plan are the young men who get on in the world. Too many boys expect to succeed without hard work and are disappointed with the result, very naturally. They are only half successes because they only half-tried in a half-hearted way to succeed. Young Slep was whole-hearted about it.
He completed his apprenticeship on his 18th birthday and then began to look about for an opportunity to engage in business for himself.
His first venture was made in 1855, when, having formed a partnership with a lawyer named McLaughlin, he purchased the old Gazette, published at Mechanicsburg, Cumberland county. It was an independent newspaper. The young publisher would have nothing to do with any other kind. He could never see the advantage of being bound to any political party. He wanted to be free to express his views.
The Gazette was not very profitable and its future was anything but bright, so at the end of six months Harry Slep withdrew from the firm and returned to Harrisburg.
Destiny was shaping his end. Mechanicsburg was not his field. Although he did not know it then, Altoona was to be the place in which he was to establish his fame as a publisher.
George Bergner had purchased the Harrisburg Telegraph in the interim and Mr. Slep re-entered his employ as assistant make-up on the Legislative Record, subsequently becoming the make-up. Remaining with Mr. Bergner until the early sixties, he then became foreman of the Harrisburg Patriot and Union, now the Patriot, the state capital's only morning newspaper, where he spent two years, when he entered the state printing office under Boyd Hamilton, then state printer.
In 1865 he was induced to take charge of J. Kirk White's Meadville Republican, but because the water in Meadville was tainted with oil and injurious to his digestion, Mr. Slep was forced to give up his position there. During the next few months he was successively employed in Harrisburg, Philadelphia and Williamsport and then went back to Harrisburg to become foreman of Theodore F. Scheffer's job office.
Some time later D. M. Moore, who owned the Altoona Sun job office, began to look around for a master printer, and, as a result of an interchange of letters, Mr. Slep came to Altoona one day in March, 1871, and began working for Mr. Moore, as foreman of his printery. The Sun pob office was then located in the Ebert building at 1108 Eleventh avenue.
Altoona appealed to Mr. Slep from the first. He felt at home. Destiny seemed to say to him that here he was to establish the newspaper of his dreams. The people were hustling and hospitable; the city was prosperous; it was growing rapidly; the Pennsylvania railroad was developing its plant here; the outlook was inviting; the auspicious moment had arrived to begin to build his journalistic enterprise.
As the first step in that direction he established a job office on Oct. 21, 1872, and called it the Mirror Printing House. From that humble beginning was finally evolved the Mirror Printing company and the Altoona Mirror of today.
The Mirror Printing House was opened on Thirteenth street, between Tenth and Eleventh avenues, next door to the banking house of William M. Lloyd. In a little while it was necessary to secure larger quarters and the office was moved to the Bowman building at Eleventh avenue and Twelfth street, on the site now occupied by the Goldschmid building.
The Evening Mirror was established June 13, 1874, in this location. The Bowman building was destroyed by fire Dec. 14, 1896, but the newspaper and job office had long before been removed to another site.
Harry Slep and George J. Akers, under the firm name of Slep & Akers, were the publishers of the Evening Mirror, as it was then called. Mr. Slep had charge of the mechanical departments and Mr. Akers looked after the editorial and news departments. Each edition contained four pages of four columns each and sold for one cent.
Incorporators and Original Directors of Mirror Printing Company
The pictures printed on this page are those of the first board of directors, of the Mirror Printing company, with the exception of the president and founder, Harry Slep.
In the upper row, reading from left to right are: Daniel N. Slep, J. G. Humes, and Ed J. Slep. Underneath is Mrs. A. M. Slep.
There were few popular priced newspapers published at that time. Later most of them were sold for a penny, but several years ago, when newsprint and wages began to rise rapidly, virtually every paper in the country was raised to 2 cents and some to 3 cents. And it is doubtful if there will ever again be printed a newspaper that can be sold for one cent.
The Evening Mirror was fairly successful. Mr. Akers withdrew from the firm in 1877 and was succeeded by W. J. Fleming who retired in a little while, leaving Mr. Slep the sole owner. The stress and strain of conducting a newspaper during the railroad strike shattered Mr. Slep's health and he was obliged to sell his newspaper to W. K. Buckingham and W. S. Nicodemus. The former was editor and the latter business manager. They were backed by the well known law firm of Alexander & Herr. This firm was eventually obliged to take over the newspaper, which in 1879 was sold to E. B. Haines, who changed the name to the Evening Call. Mr. Haines did not make a success of his venture and finally moved the Call to Harrisburg.
Recovering his health, Mr. Slep founded the first German newspaper ever printed in Altoona - The Volksfuehrer, a weekly. The initial issue came from the press on March 28, 1878. He published this paper until March, 1881, when he disposed of it to Louis G. Lamade, who still owns it.
Mr. Slep, meanwhile, continued to conduct his job office, which he had removed to a building in the rear of Lawyer Samuel Woodcock's office at 1122 Eleventh avenue. His eldest son, W. H. Slep, became his associate.
The business of the job office prospered and the lot at 1012 Eleventh avenue was purchased and the building thereon erected was remodeled to accommodate a newspaper plant.
Here The Mirror was revived on June 16, 1888, but instead of being called the Evening Mirror it became the Altoona Mirror, as it has ever since been known. The volume and number were resumed where they were left off when the name was changed to the Call under the Haines ownership.
The firm of H. and W. H. Slep was formed on July 4, 1890. The junior member of the partnership was a practical printer as was his father. Steady and substantial progress attended the new firm and in a little while it became evident that more room must be provided for the expanding business. Early in 1892 the lot adjoining the office was purchased and a three-story building erected. The first issue of the Altoona Mirror from this plant was on May 21, 1892.
Then came the panic of 1893, but H. & W. H. Slep had become so well established that they successfully withstood that financial tempest and when the country emerged from the depression the Altoona Mirror was in a commanding position.
It was a good newspaper with an increasing circulation. But the firm wanted to make it a better newspaper and even more widely read. So they put the profits back into the business, improving the equipment and facilities for printing. Among the most important purchases made at that time were two Mergenthaler linotypes, the first to be introduced in Central Pennsylvania. Up until this period the newspaper had been handset. Now the composition was by machines. Each linotype is capable of doing the work of five men.
The first issue of the paper made up entirely of lines cast on these wonderful inventions was on Anniversary Day, June 13, 1896, during the celebration of the Blair County Semi-Centennial. One of the original machines was in continuous use until a year or two ago. Many improvements have been made to the linotypes during the intervening years. The Altoona Mirror today has a battery of seven of them, some of which cast lines of from six point to thirty-six point type.
With increased equipment an enlarged newspaper was made possible. The value of newspaper advertising was coming to be better understood and our merchants were buying more space. The circulation was growing. Additional men and boys were given employment.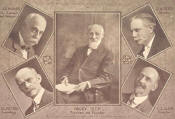 HARRY SLEP, President and Founder
J. G. HUMES, Vice President and Treasurer
D. N. SLEP, Director
D. L. POTTER, Secretary
E. J. SLEP, Director
All this made more commodious quarters necessary. The lot at 1000 Eleventh avenue was purchased and plans for a three-story brick building prepared. Before the new home was ready, fire gutted the old office on Nov. 7, 1899. The plant was badly crippled, but only one issue of the paper was missed.
The Altoona Mirror moved into its new building in March, 1900, and seemed comfortably fixed for years to come. From top to bottom it was a well equipped newspaper plant, and quite up to the demands of the community. Provision had wisely been made for future development, but before long it became apparent that additional room would have to be provided.
Up until this time no Altoona newspaper had ever printed more than twenty pages in one issue in the ordinary course of business. One Friday it was found necessary to print twenty-four pages to accommodate the heavy volume of advertising, and that was an event in newspaper circles. Hundreds of twenty-four page Mirrors have since been issued without causing a ripple. Indeed, they became pretty regular until the newsprint shortage became so acute in April of the present year. For the past several years thirty-two pages have generally constituted the regular Friday editions, and on the occasion of the fall style show of 1919 it was necessary to print forty pages, which was and still is the record.
Seemingly there was nothing to be desired by the firm of H. & W. H. Slep. The paper was enjoying a generous patronage; the circulation was growing; bills were being discounted; there was not a cloud in the journalistic sky.
Then W. H. Slep was stricken with a disease which caused his death on Dec. 8, 1906. He was just in the prime of life, with apparently many years of usefulness before him. His death was a staggering blow to his father and partner. Harry Slep had gradually turned the business over to his son and was beginning to enjoy a well merited rest from his strenuous labors, when he was called back into the active management again by the force of circumstances.
Never having been really out of touch with affairs, he was not long in gathering up the loose ends. He had made up his mind what he would do. He first purchased his son's interest. Then he converted the firm into a corporation under the name of the Mirror Printing company.
Thus what had once been the Mirror Printing House became the Mirror Printing Company. The original officers were: President, Harry Slep; secretary-treasurer, J. G. Homes; directors, Harry Slep, J. G. Humes, Mrs. A. M. Slep, E. J. Slep and D. N. Slep. The charter of the corporation was obtained on June 13, 1907.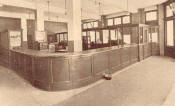 General View of the Business Office.
LARGER QUARTERS had by this time once more become imperative and after considering a number of available locations the lot at 1000 Green avenue was purchased, plans for a new office were prepared and ground broken on July 12, 1911. The building was occupied April 1, 1912, by the editorial, composing room and press departments and the first paper issued on that date. Later the other departments took possession of their respective quarters.
The new home of the Altoona Mirror introduced the latest method of construction in Altoona. Built of concrete, steel and brick, it was the first of its kind in this section. The foundation walls rest on a bed of concrete 18 inches thick and 3 feet wide. The foundation is 24 inches thick and capable of carrying additional stories when needed. Concrete columns, resting on pillars 4 feet square, carry the weight of the building. There is no weight whatever on the brick walls. All floors are of concrete and all interior partitions are of buff brick. Steel doors and frames give further protection against fire.
In planning the building every consideration was given to the comfort and convenience of the employes. Abundance of natural light is one of its notable features. The Green avenue and the Tenth street sides are virtually all glass. Electricity furnishes whatever artificial light is needed. In the matter of ventilation and heating the systems are as nearly perfect as it has been possible to make them.
Occupying the front portion of the first floor is the general business office. Along the Tenth street side of this office are private offices for the president, advertising manager, cashier and bookkeepers, while the remainder of the space inside the counter is devoted to the circulation department, clerical force and stenographers. All-steel furnishings add much to the appearance of the room.
In the rear of the business office were located the press room; sterotyping room and distributing room, until the addition was erected this year. A description will be given later.
On the second floor front are located the editorial rooms, where the editors and reporters receive and prepare the news of the day for publication. The remainder of the floor is taken up with the composing room. Seven linotype machines line up the news and many of the advertisements. A force of printers make up the advertisements and set the display type by hand. A corner of the room is occupied with the electric tables, where the mats are made and dried, preparatory to being sent to the stereotyping department to be cast into semicircular plates to fit the cylinders of the press. Each page of the paper is cast in a solid form.
With the exception of a small office, used by the Associated Press operator for receiving by leased wire news from all parts of the world, the third floor is devoted to the job printing department. Fine job work has always been a hobby with the Altoona Mirror. To do really first class work requires first class equipment, and that's precisely what has been provided. Mirror job work is a standard of excellence.
After most of the departments of the plant had become settled in their new quarters Mr. Slep thought that it would be quite appropriate to dedicate the Altoona Mirror's new home to the service of the people. So he decided to hold a banquet and have it served in his own building. The dedicatory ceremonies took place on Monday, April 15, 1912.
Advertisers of the Altoona Mirror were invited as guests, as were all the employes. Every one who attended agreed that it was one of the most enjoyable of functions. Covers were laid for upwards of 200 persons.
As the guests arrived, Mr. Slep greeted them at the door. They were then escorted through the building by the heads of the departments and the various pieces of machinery explained to them. For many of them it was a most interesting and instructive tour of inspection. They were surprised at the extent of the facilities required in the publication of an up-to-date newspaper.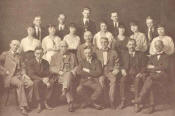 Heads of the Business,
Advertising, Circulation and Accounts Departments
and Their Assistants
The inspection over, host and guests repaired to the banquet tables on the third floor. After the dinner, Mr. Slep himself welcomed the guests in a brief speech, in the course of which he said:
"Gentlemen, friends, old and young:
"It gives me great pleasure tonight to meet you in our new home. I welcome you. I welcome you, not because I am vain or proud of our building itself, but I am proud of what The Mirror has accomplished in the years of its existence, at least thirty-nine years. It seems a long time. When the young look toward the coming 40 years they think that they will be old men; when they come to be 50 years old, they begin to think that they are going down the other side; when they are 70 years of age they then are wishing that they could see 80. That at least has been my experience.
"When I was a boy, when I was 18 years old. I used to think that I would live to be 30 years, anyhow, and I would try to make a good record as a man and as a printer, and now, tonight as I look over the many faces, many of which I have seen before, men whose hands I have grasped in welcome day after day, I see a goodly number here whom I have never met - not because I did not desire to meet you, but because of the pressure of business on your side and on my side. We have never met socially and tonight it has been my object to bring you together that we might all clasp hands, rub shoulders, and become better friends, more energetic, in our several occupations; to let go of all selfishness, of all bickering and all strife, and to be better friends, working together for one object - an Honest Business and a Bigger Altoona and a Cleaner City.
"This, my friends, has been my prime object in bringing you together here tonight, not to make a vain showing, but bring you together hoping we may feel more brotherly kindness, one to another. Years ago the advertisers would quarrel with, each other, through the press. They would criticize their competitors and endeavor to throw bricks through their windows; but of late years that has not been the case, I am glad to say, and I am pleased to state that the press of this city has placed its disapproval on all such advertising. The press is not a sewer. It aims to elevate, to make better men, to create a better feeling and to create a cleaner and more healthy atmosphere in our business and in our homes.
"Be happy tonight in one another's presence, and when we leave here, make up your minds that, if you had any animosity towards your competitor, if you feel that you have had anything to criticize, just overlook it and let it pass. We are all travelling toward the great beyond. We all soon shall pass away, and when we do our neighbors can say of us: 'He was a good man, he was a clean merchant, he was an honest felow.' How much better it will be than if we go down with somebody to say, 'Well, the world's well rid of him.'
"I thank you for your presence here tonight. I feel grateful toward you, and my heart swells with thanksgiving, because you have stood by me in my dark days, especially during the past years of my life. I have been sustained by your patronage, by your good wishes, by the clasp of my friends' hands, wishing me God speed, and God has sped me on. He has been my refuge and He has been my helper. May we all be able to say when we come down to that last moment: 'It is well.' "
Great applause closed his remarks. Turning to Mr. T. Blair Patton, superintendent of the Huntingdon reformatory and a former well known Altoonan, Mr. Slep introduced Mr. Patton as the toastmaster as follows:
"Let me introduce to you our toastmaster, Mr. T. B. Patton, who is the man who gave me the first newspaper (the Gospel Trumpet) to print in Altoona. He is the man who took me by the hand and welcomed me, and gave me a healthy start in my business. It is one of the pleasures of the evening that he is with us."
Mr. Patton proved a most witty and graceful presiding officer. After his introductory remarks, Harry L. Johnston, on behalf of the employes, presented Mr. Slep with a basket of American beauties, one for each year of the Altoona Mirror's history, and also, on behalf of the board of directors, he presented Mr. Slep with a key to the front door of the new office.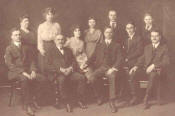 Members of the Editorial, Repertorial and News Staffs
First on the program of set speeches came Hon. Thomas J. Baldrige, president judge of the Blair county courts, who spoke on "The Press as an Aid in the Administration of the Law." He pointed out how the press exposed crime and thereby deterred criminals from preying upon the public, and how it kept people informed about what we ought to do and what we ought not to do from a legal standpoint. Speaking to Mr. Slep he closed with this poetic sentiment: "As the sun of your life speeds towards the western horizon and disappears beyond yon western mountain peaks, I predict that there will be an after-glow of brightness and a radiance of glory of your character that will symbolize integrity and honor and service to your fellow-man and to your God."
William F. Gable commingled wholesome wit and trenchant truth in discussing his subject: "Newspaper Advertising: Does it Pay?" Here is one gem:
"As I look at this fine printing plant and the prosperous looking proprietor, editors, reporters, printers, business managers and all the happy and contented-looking people connected with this establishment, I will unhesitatingly answer that question with one word - 'Yes.'"
He paid this tribute to Mr. Slep: "And now let me congratulate you all on your great achievement here. A printing plant of modern construction, well lighted and heated and with sanitary conditions that promote good health, good cheer and good work. A happy and contented force of writers and printers, business managers, compositors and pressmen, who reward with cheerful and faithful work the many years of kindness and good counsel received through the guiding hand and brain of their grand old commander, Harry Slep."
W. H. Schwartz, veteran editor of the Altoona Tribune, spoke on "Journalistic Observations." Among other things he said: "It used to be a saying in regard to the newspaper editor that he had to go to bed while his wife washed his shirt, and that the general bill of fare of the editor was mackerel and molasses. Those times have long since passed and we have an example here tonight of the success that comes to all well meaning newspapers."
He congratulated Mr. Slep "upon the well-earned success that has attended the efforts of his life."
Herman K. McCauley, then president of the Altoona Chamber of Commerce, spoke on "The Chamber of Commerce." In the course of his remarks he said:
"Every one of us owes our city some service. We are none of us living to himself, selfishly and personally. We should be willing to devote some part of our time in our life to the upbuilding of the city and of the community of which we are a part. We should be willing to set aside our personal business and take at least one evening a month for the discussion of such things as pertain to the elevation and to the advancement of our city. It seems to be a difficult matter for some reason or other to enlist the sympathy, the cooperation, the attendance of the number of men that we should really expect to have in a city of this size.
"I want to congratulate most heartily our very good friend, Mr. Slep, on this achievement of a lifetime, and although he is said to be 75 years of age he will give any young man in this room tonight a new inspiration to energy and industry."
Hon. J. D. Hicks spoke on "The Press of Altoona." Excerpts from his address follow: "This is truly the age of the newspaper. By this I mean the family newspaper - the newspaper that is the welcome daily guest in our homes and at our firesides. How quickly our minds segregate the newspapers of the world, and especially those of our own community, and select as our favorite the paper that smothers with silence and forgetfulness the calamities and the disgraces that overtake the public or the obscure person; and that does not flash in black and red headlines the despair and woes, the villainies and the crimes and the mischief of the underworld. We seek for and maintain the newspaper that glories in the joys, the successes and the achievements of men .... The good newspaper which I have endeavored to portray to you is exemplified in the Altoona Mirror and we rejoice with its founder in its great success."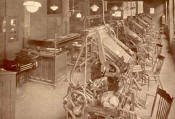 Battery of Linotype Machines In Composing Room
Among those who spoke extemporaneously were Hon. D. J. Neff, Julian Millard, A. W. Beckman, Plymouth S. Snyder, J. N. Tillard, Fred Bendheim and Robert F. Bankert.
Anniversary Day, June 13, 1912, was celebrated with an issue of thirty-two pages, giving a history of the life and work of Mr. Slep, and a detailed description of the new building and its equipment, together with pictures of the officers and other employes and views of the various departments. Not the least feature of that anniversary edition was the numerous congratulatory letters from representative citizens.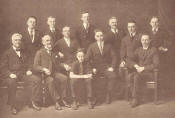 Superintendent of Composing Room, His Assistants and Linotype Operators
COMMODIOUS as the new home of the Altoona Mirror was when first occupied, the president of the company could foresee the time when it also would be outgrown, as all the previous homes had been outgrown. A plot of ground in the rear, 38 by 50 feet, had been reserved for just such a contingency.
While expanding business had crowded all departments Mr. Slep would not hear to building operations during the World war. He felt that the government had first call on the services of the people and it would not be right to promote his private interests under the circumstances.
But after the armistice was signed, he thought it was time to proceed with the needed improvements. Plans were drawn for the extension of the original building to the alley in the rear. Ground was broken June 1, 1919, and the annex completed a year later.
The addition conforms to the original building in both architectural design and construction methods. Steel, concrete and bricks make it as nearly fireproof as possible.
The first floor of the annex is given over to the press room. Here the mammoth new press is located. In one corner of the room is the electrical switchboard, the largest in Altoona outside of the railroad and electrical companies. It contains three panels, with the power, heating and lighting all separated.
What was formerly the old sterotyping room has been combined with the distributing room, enabling the superintendent of distribution to handle the newsboys to much better advantage. The old press room, in the rear of the business office, will become part of the executive offices of the company. When this change is made the first floor will be taken up entirely with the executive and general business offices, the distributing room and the press room.
On the second floor of the annex is the stereotyping department and an extension of the composing room. The ad alley, that is to say, the division which prepares the advertisements for the newspaper, has been moved into these quarters. In the stereotyping division, which is separated from the remainder of the room by brick and glass partitions, the forms are cast for the press and cuts are cast for the paper. It is equipped with a six-ton metal pot, with double casting box, shavers, routers, planers, saw, etc. Over the furnace has been placed a large hood, which, with the aid of an electric fan, carries off the fumes from the molten metal.
The third floor of the annex is being reserved for the installation of an engraving department in the near future. At the present time there is no engraving plant in Altoona. In order to have cuts made from photographs or drawings, the copy must be sent out of town. Altoona needs a good engraving department and the Altoona Mirror intends to meet this need when profitable to the plant.
The cellar of the building is used for storing newsprint and is large enough to accommodate six or seven carloads.
With the completion of the addition and the general shifting of the forces room for further development has been provided, but meanwhile the daily tasks can be performed with greater dispatch and to better advantage.
Some facts in Mr. Slep's life that have not been heretofore covered in this modest sketch were revealed in a speech which he delivered at a banquet of employes of the Altoona Mirror and their wives held at Caum's cafe on the evening of Saturday, Oct. 20, 1917.
That banquet was held to celebrate three anniversaries - the 81st birthday of Mr. Slep on Oct. 24, 1912; the 45th birthday of Daniel N. Slep, director of the company, on Oct. 20, 1912, and the founding of the Mirror Printing House, forerunner of the Mirror Printing company, Oct. 21, 1872.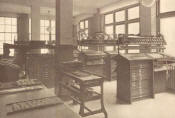 Ad Alley, Located in New Addition to Mirror Building
Following the dinner came the toasts. "Birthday Reminiscences" was the subject of Daniel N. Slep's address. He had grown up in his father's printing offices and he told of the early trials and struggles.
Other speeches were made by F. M. Hetrick, circulation manager; Samuel S. Schmittle, then the advertising manager; E. J. Slep, director, and superintendent of the composing room; Elmer C. Ake, city editor; Alonza Spencer, foreman of the job department; Roy Raichle, pressman; Harry E. Slep, foreman of the composing room; A. J. Holtzinger, assistant circulation manager; D. L. Potter, business manager; Miss Ada Reynolds, cashier; Oscar A. Nelson, pressman, and Rev. Dr. H. H. Stiles, pastor of Mr. and Mrs. Harry Slep.
The sentiments expressed by the speakers breathed loyalty to Mr. Slep and The Mirror and expressed the composite hope that he may live many years to enjoy the fruits of his labors. They were congratulatory also to Daniel N. Slep.
Inspiring and helpful was the address of Mr. Slep, which brought a happy evening to a close. His subject was "The Realization of a Dream - A Glance Backward and a Vision of the Future." He said:
"Tonight I want to talk from memory. I want to go over the past years through which I have passed in order to reach the point I set for myself to attain when I was a boy of only 12 years, and even before that - before I left the old country for the new.
"I came over to this country to escape the hardships that, as a child, I saw there. As I left the old country and the school I was attending, the schoolmaster said:
"'My boy, you are at the head of the class, don't get down to the bottom. Keep up your reading by all means. Try to learn and to talk the language that is in use in America.'
"I said, 'Yes, sir.'
"He was a man of whom Professor G. D. Robb reminds me. He was a great, tall, stout man and had a hand about so big (indicating with his own). He never used the rule, but he used his hand and we got (making a sweeping stroke with his hand).
"But I didn't cease my reading or studying when I got to my trade. I studied the primer of the English language. I learned my trade in a German office from 1848 and 1854. We had no electric lights then, but we had little candles and I would take my candle - and I had to buy it, too - into the loft where I slept and study the English language. What do you do? Do you go to the movies every night? Do you stand on the corners? Do you run the streets? Or are you trying to make of yourself a man, strong and able to tussle with this world of many troubles? I want to ask these questions of the young men, my young men, the apprentices particularly, because of the advantages you have to get an education in the night schools. If you are spending your time uselessly, carelessly, foolishly, stop, take advantage of the night schools open to all. The Mirror will pay your tuition, if it is necessary.
"But I will go back now to the time when I was learning my trade. I had already spent six months at sweeping, washing the rollers and pushing the rollers over the press. I made up my mind then to own a printing office some day. An old gentleman by the name of Gilbert, the father of the district attorney of Dauphin county, used to twit me, saying:
"'My boy, you are dreaming. How will you own a printing office? Do you know how much it costs to buy machinery?'
"'No, I don't,' I said, 'but I am going to have one.'
"'How will you have one?'
"'By being a good printer when I get through with my apprenticeship.'
"'Well, that's a good thing; keep on,' he said.
"I did keep on and I passed from my apprenticeship, studying the English language all the time, and although I was a 'Dutch' printer, I was an English printer also. I had an object in view - that some day I would have a printing shop, never expecting one like I have now, or we have now, but that was the object that was always before me and by night and by day I would strive to get the education that I needed. I never went to school after I left Germany. I never went to an English school, but I learned English by putting my time to good use. You may never have the desire to become a boss printer, but if you are an educated printer, you will always have a situation.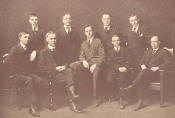 Men Who Set Up the Advertisements In the Altoona Mirror
"In 1872 I succeeded in gathering together a little press; a box of type and a table to make up the forms and in October 21, 1872, the day after this boy (D. N. Slep) came to us, I turned out the first job, and what do you think it was? It wasn't a dun for my church; it was a dun from the Temple of Honor stating: 'Mr. Smith, you are back in your dues for so much. Please attend to this at once,' and I thought to myself: 'Well, if you are going to belong to that society, you will have to keep up with your dues' and I have always tried to do that.
"In the next two years I was persuaded to go into the newspaper business. I hesitated; I had no money laid by to go into the business and I knew it took money to buy machinery, but a friend promised to see about the finances. On the 13th of June, 1874, we started the Evening Mirror. It was a four column, four page paper and sold for one cent a copy. The other paper was charging 3 cents a copy. I enlarged the Mirror to six columns and raised mine to 2 cents.
"During the railroad strike I was hoodoed and boycotted. The paper fell from about 1,600 copies to so low a degree it wouldn't even buy white paper and I gave The Mirror away to two lawyers and I have the money coming to me, but I saved my job office.
"You young men here present who want to be in the printing business; or any other business, do you think you can spend your time idly? I know all work and no play makes Jack a very dull boy, but the dull boy will stay if there is all play and no work. And what wonderful opportunities you have now to educate yourself! The schools are thrown open to all and if you have to work to help support the family, you can attend a night school and make men of yourselves. If you have an education, you will never be out of work.
"As far as I am concerned, I was never out of employment except when I worked for the state on a German school report. When that was finished they had no more use for a German printer and I went to Baltimore to work on The Sun, so that there were only about two weeks that I was out of a good, paying job.
"Now, I think that the dream or dreams I had, or the ideal point I wished to arrive at, I attained, as you all know who have been with us a good many years. You may say those were castles in the air, and they were to a certain extent, but castles in the air can be made substantial. They are not castles in the air like the balloons sent up on the Fourth of July, which in time go out and there is nothing more of them.
"If you have dreamed anything, if there is a position you want, you can aspire to it if the Lord gives you help and strength. My success depended on the great goodness and the help of the Lord. Don't forget Him in all your studies. He is your greatest friend and helps you out of every difficulty.
"I was reading the other day and I want to close with Gladstone's advice. I don't suppose that many of you have read Gladstone's writings, but this is one of them that I wish to impress upon your minds, if you forget everything else I have said tonight:
"'Get knowledge all you can, and the more you get the more you breathe upon its nearer heights their invigorating air and enjoy the widening prospect, the more you will know and feel how small is the elevation you have reached in comparison with the immeasurable altitudes that yet remain unscaled.'
"My dear friends, after the war is over, the first question asked when you apply for a position will be: 'Are you a High school graduate? Have you gone through the schools? How much education have you?' You must have that. In the past we took any boy if he could just read. Now you must know how to read, spell and have a knowledge of grammar at least to know whether the sentence you are setting up agrees with the meaning of the writer. The higher your education, the higher your position will be; and the more you study, the easier it will be to attain this position and you will never be out of a situation.
"May the Lord help you to rise above the troubles you may meet in this world."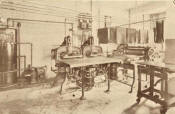 Matrix Roller and Electric Driers
PERHAPS nothing so admirably evidences the amazing development of the publishing business during the past generation as the evolution of the presses on which the Altoona Mirror has been printed.
The original press was a hand-fed Cottrel & Babcock, with a cylinder like a miniature roundhouse, and operated by manpower. It was succeeded by a double-cylinder Hoe.
When the Altoona Mirror took possession of the building at 1000 Eleventh avenue, in March, 1900, a Cox-Duplex was installed. All these presses printed from the type and were limited as to speed and capacity.
Three years later a Goss Perfecting press was purchased, and with it a stereotyping outfit. This machine could print twenty pages at one time and had a speed of 12,000 an hour. It was considered a marvel. Also, it rendered obsolete the practice of printing from the type and substituted therefor the semi-circular form cast from molten metal. The late W. H. Slep watched this press running one afternoon and remarked:
"I hope we are through buying presses now." And it did seem as if another one would not be needed for years and years. Yet in a decade the advertising patronage and an extending circle of readers compelled the company to invest in a press of still greater capacity and speed.
So a Goss Quad Straightline Perfecting press was ordered and in due season set up in the office that was just then being made ready for occupancy at 1000 Green avenue. It could print thirty-two pages at one time, and its output was 24,000 sixteen page newspapers an hour. Standing four decks high, it was really four presses in one. Surely this machine was sufficient to meet all demands for an indefinite period!
But in eight years it has outlived its usefulness to the Altoona Mirror and the new Goss Sextuple was purchased.
The installation of this marvelous and intricate piece of machinery required several weeks. It printed its first Altoona Mirror on May 24, 1920, and there was not a single hitch in running off the three editions on that day. It has been operated ever since without trouble, indicating perfection in construction.
The Goss Sextuple is really six presses in one. Forty-eight pages can be printed at one time. The running speed is 72,000 twelve page papers or less per hour; 36,000 fourteen, sixteen, eighteen, twenty, twenty-two or twenty-four page papers an hour, and 18,000 twenty-eight to forty-eight page papers an hour.
No newspaper anywhere has any better press. It represents the last word in press construction.
The press is driven by a chain drive, and there is a silent drive which can be applied to any deck, operating it independently of the other decks. All told the big machine weighs about seventy-five tons and stands on a specially built foundation of concrete and steel.
With the press there is a complete set of machinery for making stereotyped plates rapidly and efficiently. Everything has been provided to reduce time and increase production.
A control system makes it perfectly safe for the pressman to work at any point, for, when he presses the safety button nearest him, the press cannot be started from any other station. It is possible, by pressing a button, to move the cylinders a fraction of an inch. Another button starts the press on slow motion and by touching a third button repeatedly the speed is gradually increased until full speed is attained. The speed is decreased in the same manner.
Connected with the new press is a dispatch conveyor which conveys the Mirrors from the press to the distributing room as fast as they are printed. At the folder it makes a right angle turn, which is difficult to construct, and has a run of forty-five feet. This conveyor is a very convenient labor-saving device.
In the fall of 1919 the Altoona Mirror was changed from a seven to an eight-column-to-a-page newspaper. When the new Goss Sextuple was placed in operation the appearance of the newspaper was again changed by increasing the length of the columns one inch, making them twenty-one inches long instead of twenty, which gives the page a better proportion.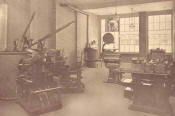 View of the Stereotyping Department
CIRCULATION is the business barometer of a newspaper. The journal with a large circulation invaribly is favored with a large advertising patronage, is a powerful influence in the community and enjoys the esteem of the public.
The Altoona Mirror is known as the People's Paper because it is so widely read. Its increases in circulation have been healthy and substantial, averaging over 700 new subscribers a year during the past twenty-five years.
This circulation was not purchased. Mr. Slep was always opposed to giving premiums of any sort as a special inducement to subscribe for the paper. He preferred to put all his money into the improvement of the newspaper and the facilities for printing it, and the soundness of this policy has been amply proven.
Also, he has always insisted upon giving preference to home news, believing that the average reader would sooner be informed of what his neighbors were doing and saying than read about what was transpiring in China or Australia. As usual, his judgment was good.
Nor did he ever run much to features, unless they were the product of the members of the Altoona Mirror's own staff. He wanted, and still wants, his newspaper to print substantial matter - current news, educational and informing miscellaneous articles, conservative and thoughtful editorials.
And then, too, he has always stood for a square deal for all. The humblest citizen has ever received the same courtesy and consideration as the most influential. The welfare of the city as a whole came first and the individual second. Service has been his watchword.
That a strict adherence to these principles has won him a goodly measure of success is attested by the following figures of the daily averages by years which were taken from the sworn statements in the files of the office:
1895 4,009

1896 4,667

1897 4,809

1898 5,506

1899 5,938

1900 6,513

1901 7,074

1902 7,587

1903 8,187

1904 8,825

1905 10,024
1906 11,041
1907 11,480

1908 11,390

1909 12,032

1910 13,215

1911 13,451

1912 14,113

1913 15,886

1914 17,731

1915 18,509

1916 19,838

1917 18,799

1918 22,271

1919 22,496

1920 22,945 (five months)
It may be interesting to know just how many copies of the Altoona Mirror are sold in Altoona. The circulation manager has prepared a statement which shows that the average daily circulation in the city is 14,204, distributed as follows
Altoona Mirror carriers 8,811

News dealers 863

Street sales 3,910

Sold over the counter 27

Independent carriers 593

Total 14,204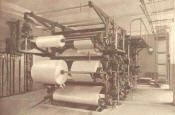 View of New Goss Sextuple Press Taken From Rear
THE NEW ANNEX to the Mirror building was dedicated with appropriate exercises on the evening of June 14, 1920, the day following the Altoona Mirror's forty-sixth anniversary.
The guests, who included the patrons and employes of the Altoona Mirror, together with personal friends of President Harry Slep, numbering some 200 in all, assembled at 7 o'clock.
After paying their respects to Mr. Slep and registering, they were escorted through the addition, shown the new Goss Sextuple press and other recently installed equipment, and then passed on to the third floor, where the banquet was served.
When cigars were lighted, Mr. T. B. Patton, of Huntingdon, was introduced as toastmaster. Expressing his pleasure at being again called upon to officiate at the re-dedicatory ceremonies, he said of Mr. Slep:
"I am sure that on this auspicious occasion there is much he will remember in looking back into the past, some of which perhaps may bring a shadow to his heart, and on the other hand, when he remembers how he was so wonderfully blessed in paving the way to touch the many hearts and homes in this community through his excellent newspaper, I cannot help but think that the experiences of the past have brought joy and rejoicing to him, and, having reached the pinnacle of fame, it seems to me there must be a measure of satisfaction as he looks boldly out into the future and fears no ill it may bring to him."
Judge Thomas J. Baldrige was the first speaker and his subject was "The Law and the Press." He first emphasized the responsibilities that rest with the men who publish newspapers and write for the press, and then showed that they mould public opinion on which the laws are based. Turning to Mr. Slep in closing he said:
"I want to extend to you my heartiest congratulations, and, as you are still a young man, may I express the hope that we may all gather here in the future and see this plant even larger than it already is and exerting a greater power than it does at the present time, which is saying a great deal?"
Discussing "The Value of Newspaper Advertising," Mal H. Neuwahl, manager of Simon's Shoe Store, said that as a boy he carried the Altoona Mirror, later wrote advertising copy for the same paper and now sends it a check each month for the firm's advertisements. In the course of his remarks he said:
"Without doubt, the daily newspaper is the only advertising medium which has become a routine necessity. To the retail merchant who must turn his stock quickly and therefore make known its fluctuating values to the buying public, the daily newspaper is unquestionably the most valuable means for this communication."
In conclusion he said:
"I cannot close without some reference to the esteemed founder of The Mirror to whose courage in starting, forty-seven years ago, a fourth newspaper in Blair county the development of the present flourishing organization is due. I wish to liken him to our very beloved Benjamin Franklin, who in 1728 started the fourth newspaper in this entire United States. His prospective mother-in-law objected to him on this very ground, claiming he was entering an already overcrowded field. It is interesting to note that the paper he then established, nearly 200 years ago, has developed into our most widely read national weekly, the Saturday Evening Post.
"May our own Altoona Mirror have as creditable an evolution and reflect as worthy a history on its venerable founder and president, Harry Slep, whom we hope to see in good health at the helm for many years to come."
In his remarks on "The Press," W. H. Schwartz, editor of the Altoona Times Tribune, declared that the great American press was never more independent than it is today. Of the host and his life work, Mr. Schwartz said: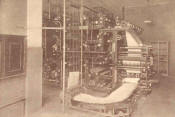 Folder, Counter and Conveyor Attached to New Goss Press
"I esteem it a very high honor and great privilege to be the guest of the Mirror Printing Company on this occasion, and to be able to congratulate my friend, Harry Slep, whom I have known since he came to Altoona in 1872.
"The Mirror has every reason to feel proud and happy on this the forty-sixth anniversary of their establishment, almost half a century since our venerable but still active young friend, Mr. Slep, began in a very modest way the job printing enterprise which soon began to expand and which has grown during the passing years into the superb plant we now behold; a plant which is the best possible monument to the energy, the sagacity and the wisdom of its founder, a monument erected during his lifetime and largely by his own efforts.
"I am sure we all participate in some measure in the happiness which has been the logical result of his well ordered life, and we anticipate for him a richer reward in the invisible country than is his portion here, although he is and has been surrounded by hosts of friends who delight to do him reverence. We all hope he will be permitted to spend many additional years with his family and his friends. In the meantime we congratulate him and all his helpers on the truly splendid results of their labors."
H. Gordon Hinkle, Altoona's first city manager, responded to the toast, "Our City." Among other things he said:
"The city of Altoona might take the example of the Altoona Mirror in its progress during its forty-six years, and how it has grown into this beautiful structure in which to house this plant. The Mirror is going to leave Altoona behind if we don't waken up and pull together for all that makes for a beautiful, an attractive and a desirable town.
"I want to see every citizen of Altoona get the unselfish viewpoint of making Altoona a bigger and a better city in which to live and emulate The Mirror in looking ahead. This building may not be utilized to its capacity for several years to come. When The Mirror Company built the present home eight years ago I presume they thought it was ample enough to meet the needs for many more years than the eight. Now they find it necessary to almost double the size.
"So in closing I wish to extend to Mr. Slep, and the staff of the Altoona Mirror the congratulations of this city on their progress, their enterprise and their growth and to wish Mr. Slep and The Mirror Company many more years of like growth and like development."
Hon. J. D. Hicks, in his speech on "My Journalistic Friends," gave his idea of a good newspaper, referred to the early days of The Mirror and spoke of its usefulness to the community. Excerpts follow:
"Altoona's best newspaper's wonderful success is an illustration of, first, attention to business; second, integrity in business; third, square dealing in business. The application of these three principles bring their reward.
"Altoona city, and I may say the county of Blair, honor today as the only living pioneer newspaperman of our city, the venerable proprietor of The Mirror, Mr. Harry Slep. I echo the sentiment not only of this audience, but of all our people, when I say, long may our friend live to enjoy the honor of his successful achievement."
J. N. Tillard, chief of police of Altoona, answered the question, "Are Newspapers Useful in Apprehending Criminals and Diminishing Crime?" He said that they can do both sometimes by what they suppress rather than by what they print. He pointed out that criminals are close readers of the newspapers to familiarize themselves with any changes in police conditions that might be to their advantage, and in one instance a man has been known to cross the continent to commit a crime as the result of casual information derived from a press dispatch. However, Chief Tillard said:
"Newspapers are of invaluable assistance to peace officers in the advertisement of certain stolen goods such as automobiles, as they reach the public in general in a way that police flyers cannot do.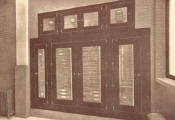 Mammoth Switchboard New Press Room
"The papers can always materially help in the suppression of crime and the apprehension of criminals by working in harmony with public authorities. By taking counsel together, the reporter and the policeman can do much to deter the criminal, though their best efforts will frequently fail because of the shrewdness of those who live in crime."
F. Woods Beckman, president of the Altoona Chamber of Commerce, spoke on "Altoona's Future." Disclaiming any gift of prophesy, he contended that Altoona's future depends entirely upon the people themselves. He thought a city plan would be a great benefit to the city's development in many ways. He urged looking ahead and planning and preparing for years to come. He closed with these remarks:
"We have just been through this building, which shows as somebody already has said, that there are some who look ahead, who have the vision and who dare do things. We have also examined that wonderful printing press which can do things that it is hard for me to understand. That shows that these individuals who established it, and Mr. Slep, president of The Mirror Company, had a vision and had courage and faith in Altoona's and Blair county's future. Shall we not as citizens, and many of us still young, have equally large faith in our city's future and help to plan for the entire city so that it will be able to emulate the example that has been set by the Altoona Mirror."
The concluding address of the evening was made by the host, Mr. Harry Slep. Notwithstanding his 83 years, he spoke extemporaneously, and from the heart. The full text of his speech is given:
"Our dear friends, I am not going to make a speech. It won't take me more than five minutes, the allotted time, to close the ceremonies because it is getting late and some of us are getting restless, but not quite as much so as the industrial world is today.
"I want to say a few words to our merchants, our advertisers, who have so splendidly helped us to attain our business growth. A gentleman said to me the other day, 'Slep, where did you get all the money that it must have taken to make all these improvements? I guess the business men must be very generous to enable you to establish a business such as your paper proves.'
"I was a little stunned for a while as to how I should make answer, but I will make my answer here and you will all know where we got the money. It was not the merchants only, it was not the subscribers only, but it was the manner of conducting the business economically, carefully, never buying anything we couldn't pay for, and reaching out after bills that we could discount, which was profit. We walked carefully and I will guarantee you I never missed coming to the office when I was well enough and I thank the Lord I never had any serious ailment.
"I walked with my men as though they were my own brothers. I encouraged them to be economical, to be saving. I got the best men and the best mechanics I could find and I treated them just as they were capable of appreciating, and I had good results from my men, every one of them. If we didn't get the results we asked for we got rid of them and got better men. If you want to make money and if you are making money, please don't spend it all; put it away for a day when you need a little cash.
"There is something else that is important - that is, paying your bills promptly, and in so doing you are making character that helps you with every dealer with whom you come in contact. When we started our little job office, my son, William, and myself, we never permitted our expenditures to exceed our receipts if we possibly could help it, and we did help it. We never got into what they call 'a hole'- as some people do by spending everything they make.
"My dear merchants, watch your employes. Don't drive them, don't expect them to do what you do not know how to do yourself. Watch your customers and see that they pay promptly, just the same as we do. Sometimes they don't take it very good naturedly; but we must have cash and have no losses to disturb our slumbers. If we have the cash in hand we can spend it as we need it or we can save it for the needs to come.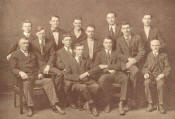 Employes of the Press and Stereotyping Departments
"There is another thing, and that is strict attention to business. Don't be afraid to put on your working clothes and go among your working men. If you have one who is dilatory, perhaps a few words will bring him up to the standard. There is nothing so wasteful as an employe who does not render the services for which you pay.
"That is all I have to say, except that we are going to be more strict hereafter in collecting our debts and not let them go from month to month. The subscriber knows that if he doesn't pay his 40 cents a month for two months he doesn't get The Mirror, because he doesn't appreciate, as we think, The Mirror enough to pay what he owes the publisher.
"I want to talk to my employes a moment. If you want to hold your positions don't stop at the knowledge of a little smattering of the printing trade. There are such elegant and such instructive and such readable articles along the printer's line that you should study instead of reading 'Dick the Highwayman.' Go to your room and read good periodicals or come to the office and we will furnish them to you. They will help you rise in your business. Don't be slothful, but be up to the mark and maybe some day you will be able to build a home like this. At least, you will never regret any knowledge that you can get about your trade, whether you are a printer, a carpenter, a bricklayer or a machinist. If you read the instructive publications of your trade and profit by your reading, you will rise to the top and command respect and will never be out of a situation if you are a thorough mechanic in your line.
"Don't waste your time. I have put in fifteen hours a day for several years. Why? Because I had to do so to make the business. You cannot expect to make business and fold your hands and say: 'John, you go do this, Pete you go do that.' If you see he is busy about his work, save his time and increase your value by doing it yourself. That is the way to do business. That is the reason we were able to lay by a good nest egg so that when we wanted the money John Lloyd was ready to furnish it.
"As I said in the beginning, my heart is full of gratitude for the many friends of The Mirror in the city of Altoona and the business zone around us.
"In a week or ten days we will have our correspondents and many agents of The Mirror, our carriers who carry faithfully through sunshine and storm, gathered here together to inspect our plant and enjoy a dinner with us. If you gentlemen want to make money, don't be selfish and don't be a cad, and if you live as long as I have lived you will realize that the only way to really live is to live right and serve the Lord and the public."
Rev. Dr. H. H. Stiles, pastor of the Second Presbyterian Church, offered this prayer in closing the re-dedicatory exercises:
"'Oh, Thou Eternal One, whose presence bright all space doth occupy, all motion guide; through time's all devastating flight, Thou only God, there is no God beside.'
"On this happy occasion we return heartfelt thanks to Thee, oh Jehovah, for the manifestations of Thy grace, here and elsewhere, bestowed upon the labors of Thy servants. We rejoice in the prosperity which they have enjoyed in the prosecution of their labors, and the more so, that they have endeavored to obey Thy precepts diligently.
"We rejoice in, and thank Thee for, the success achieved by Thy venerable servant in the work so humbly begun here, years ago. With affection we gaze upon his patriarchal countenance; with profit we listen to the inspirational words flowing from the abundant resources of his ripe experience; with quickened interest we observe his sons and his assistants, sharers in the fruits of his labors and in the achievements which we celebrate.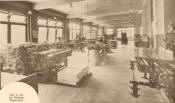 View of the Job Printing Department
"Now, oh God, we pray Thee to extend Thy Fatherly hands in gracious benediction upon Thine ageing servant, granting that he may continue in that undisturbed serenity and that spiritual tranquility which have graciously characterized his life; yea, even as a beauteous star proceeding serenely down the western slope of the all-encompassing firmament, the light of which shall remain an impelling inspiration to younger men to follow the pathway of industry and of righteousness, and in daily life to exemplify the principles of God's revealed Word. Now unto Him who is able to keep us from falling, and to present us faultless before the presence of His glory with exceeding joy; to the only wise God, our Saviour, be glory and honor, dominion and majesty, both now and always, Amen."
Following the re-dedication of the Mirror Printing Company's completed home, Mr. Slep invited the agents, carriers and correspondents of the paper to be his guests on June 23, 1920.
A banquet was served in the same room in which the re-dedicatory ceremonies were held. Agents and correspondents representing 150 points within the Altoona trading zone and eighty-five carriers were present. The wives of a number of the employes were also in attendance.
Before being seated, Mr. Slep led in prayer, invoking divine blessing on all present. At the conclusion of the feast he delivered a short address to the carriers, in the course of which he said:
"I welcome you all, ladies and gentlemen, to this newly built festal hall. We don't propose to have this (referring to the banquet) every day, you know, but we are very glad - the directors, the officers and stockholders of the Altoona Mirror - to have you with us on this great occasion. We had the advertisers and employes with us on Monday evening, June 14. Today we wanted to have with us our correspondents, agents and carriers - the faithful little newsboys who travel through storm, rain, heat and cold.
"My address shall be very short. I wish to thank you (addressing the carriers) for your efficient work during the year. The winter has been very wet, windy, cold and the streets in some places muddy and still you have continued to faithfully deliver The Mirror to its thousands of subscribers. I thank you that so few complaints reach us through the subscribers - so few that it is really astonishing that almost 100 carriers of The Mirror could serve so well. We are glad you have given such good service. Keep at it, boys. I was a newsboy myself in 18- (well, I won't say now), and I carried the Vaderlands Wachter in - Harrisburg. I, too, had to carry through snowy weather and rainy weather in Harrisburg, which was then nothing but a mudtown, but which now is so beautifully paved and so easy for the carriers to get from one end of the city to the other without going through mud as formerly.
"Please remember this: That as a boy grows in business (and newspaper carrying is a business, a good business, for it leads up to a higher point), if he is faithful in the little situation that he holds now, he will some day occupy, perhaps not the president's chair - I hope you won't, for it is too bothersome - but occupy situations of profit and of honor. I say, be honest with yourself, with those who have engaged you and you will grow up to be a practical business man.
"One thing I wish to impress on your minds, and that is that the newsboy who is punctual, who goes through wind and storm, can grow up to be a good business man. I could show you dozens of letters from the boys who carried The Mirror when we were up on Eleventh avenue in what used to be called Bowman's corner, now the Goldschmid building, and in their letters they have stated that it was while carrying The Mirror they experienced their first desire to move upward in society, in education and in business and they have succeeded. Some of them are doctors; others are men in large stores occupying prominent positions.
"So, I say, be careful in your youthful days, grow up to be honest and persevering and in due time this part of your body (pointing to the head), which wants to be fed with good common sense, will demand a situation for you in after days.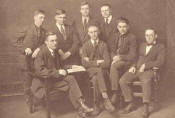 Employes of the Job Printing Department
"One thing more: I want to announce to you that all who are faithful, against whom there are no complaints, except trivial complaints, from now until Oct. 1, your wages will be increased, and you will be paid according to the number of copies of The Mirror you have to carry under your arm."
F. M. Hetrick, circulation manager, then spoke to the agents and Harry L. Johnston, managing editor, spoke to the correspondents. Their remarks consisted chiefly of helpful suggestions on how to serve the public better, how to get more news and how to present it to readers clearly and concisely.
June 23 was Altoona Mirror day at the Kiwanis club, and Mr. Slep extended an invitation to the members of that livewire organization to take their weekly lunch at The Mirror office with the agents, carriers and correspondents. Upwards of 100 of them were present.
After the addresses to The Mirror employes, the agents, carriers and correspondents retired and the meeting was turned over to the Kiwanians, who requested that the ladies remain.
W. S. Aaron, vice president of the club, assumed the chair. Upon motion of M. P. Neighbor, manager of the Altoona Chamber of Commerce, a vote of thanks was extended the Mirror Printing Company for the entertainment of the day.
Mr. Aaron, in opening the meeting, said that if Ponce de Leon, who came to this country seeking the fountain of youth, had met Mr. Slep in his travels he might have learned the secret. He paid a glowing tribute to Mr. Slep, whom, he said, was not a visionary man, but was animated by the right ideals and stood for high principles. He thought that it would be a good thing for the country as a whole at the present time if it would turn to such men to lead it back to the paths of safety.
J. G. Humes, vice president of the Mirror Printing Company, formally welcomed the Kiwanians.
Mr. Slep then followed in a brief speech. He regretted that he was unable to attend the club's meetings, but commended the work the club is doing. He advised them to "stick together; don't throw bricks at one another, but rather to remove the obstacles in the way of friendship." He concluded as follows:
"Let us have the patience to endure, not trusting entirely to our own ability, but to that of the Higher Power to lead us. I thank you again for your attendance today. I want to assure you that I would like to live a few more years to enjoy that which the help of the merchants and subscribers of The Mirror has enabled me to accomplish."
The meeting closed with three rousing cheers and a tiger for Mr. Slep.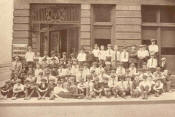 Group of Altoona Mirror's Hustling Regular Carriers - June, 1920
ROSTER of EMPLOYES
Business, Advertising, Circulation Accounts Departments
J. G. Humes

David L. Potter

Francis M. Hetrick

Fred G. Pearce

Ada E. Reynolds

Albert J. Holtzinger

Charles A. Greer

Leland E. Roundsley

Ella Allen

Teresa Myers

Mildred Shuss

Sara France

Almeda Ehredt

Viola O'Donnell

Richard E. Beeler

Holmes M. Nale

Carl A. Barger

Harold E. Miller
News Department
Edward J. Slep

Harry E. Slep

Harry DeGabrielle

C. Foster Grazier

G. Edmund Brehman

Samuel R. Miller

Nevin J. Wagner

J. Joseph Mentzer

William E. Patterson

William M. DeArment

W. Edwin Malone

John H. Fox

Earl Myers

Lee R. Stull

Ernest W. Brookbank

Albert J. Ruth

William E. Cox

Oscar J. Humbert

Thomas V. Bowen

W. Clyde Huston

Roy E. Boslet

Charles E. Bollinger

Walter W. Yon

Arthur G. Walter

Clair E. Boslet

Malcolm Baird
Editorial Department
Harry L. Johnston

Elmer C. Ake

R. Max Lewis

Jesse C. Sell

Herman S. Reifsnyder

Frank B. White

D. Elmer Sell

J. Edward Benney

Hilda D. Howard

Gertrude M. Bunker

Margaret E. Downing

Helen Warner

Hazel E. Dell
Press and Stereotyping Departments
D. Oscar Nelson

Roy E. Raichle

Charles Love

Charles F. Flower

John Smith

Allen Kay

Carl Duganne

Henry Curran
Job Department
Alonza Spencer

Charles F. Skelly

Homer Mentzer

John H. Wood

Edward W. Schettig

Earl Miller

Godfrey Wohlbruck

Howard Kensinger

William Weigley
Janitors
John G. Wood

Mr. Carney

Mr. Grazier
List of Carriers that Deliver the Altoona Mirror
1 Smithmyer, Earl, 1516 Third Street

2 Freet, Milton, 817 Crawford Avenue

3 Hill, John M., 1708 Fourth Street

4 Whittaker, Robert, 1110 Sixteenth Avenue

5 Frum, Robert, 904 Sixteenth Avenue

6 Harris, Leonard, 426 Sixth Avenue

7 Allison, H. Brinton, 1120 Seventeenth Avenue

8 Burkhart, John, 1419 Twenty-fifth Avenue

9 Fogle, Regis, 2028 Eleventh Avenue

10 Smithmyer, Harry, 1802 Fourteenth Avenue

11 Graham, Donald, 1915 Fourteenth Avenue

12 Smith, Raymond, 1436 Thirteenth Avenue

13 Lingenfelter, Lynwood, 1306 Sixth Avenue

14 Stange, Charles, 1527 Fourth Avenue

15 Riley, Russell, 1016 Fourth Avenue

16 Buchanan, Leroy, 1006 Seventh Avenue

17 Krepps, George, 810 First Avenue

18 Todd, Myron, 528 Second Avenue

19 Hostler, Alvin, 815 Crawford Avenue

20 Moore, Frank, 713 Sixth Avenue

21 Benton, James, 207 First Avenue

22 Sisler, Donald, 119 East Fourth Avenue

23 Fleck, Donald, 101 East Crawford Avenue

24 Bressler, Ralph, 712 Twenty-second Street

25 Mohler, Russell, 2121 Third Avenue

26 Fowler, Edward, 206 East Third Avenue

27 Shingler, Charles, 120 Fifth Avenue

28 Todd, Byran, 528 Fifth Avenue

29 Barr, George, 2515 Fourth Avenue

30 Wharton, Paul, 922 First Avenue

31 Dixon, Lawrence, 2403 West Chestnut Avenue

32 Baker, Edwin, 1313 Eighth Street

33 McGreger, Kenneth, 513 East Street

34 Feeney, Clements, 2404 West Chestnut Avenue

35 Whitmen, Alvin, 920 Second Avenue

36 Whitmer, Herman, 922 Second Avenue

37 Lindsey, Merrill, 1113 Twenty-first Avenue

38 Gorman, Ray, 112 East Walton Avenue

39 Barnett, Fred, 714 Lexington Avenue

40 Lindsey, Eugene, 113 Twenty-first Avenue

41 Fleck, Duane, 316 Willow Avenue

42 Hess, Lawrence, 422 Cherry Avenue

43 Fleck, Ray, 316 Willow Avenue

44 Hill, J. Levan, 224 Cherry Avenue

45 Hamilton, Raymond, 418 Walnut Avenue

46 Strong, Clarence, 310 Maple Avenue

47 Baker, John, 209 Maple Avenue

48 McCune, Wayne, 306 Twenty-second Avenue

49 Dick, Clarence, 2109 Ninth Street

50 Robeson, Walter, 2445 Fourth Street

51 Herr, William, 422 Cherry Avenue

52 Hanley, Raymond, 527 Second Avenue

53 Hurm, Blair, 1548 Grant Avenue

54 Zeirs, Edward, 1517 Second Avenue

55 Weir, Donald, 309 Fifteenth Street

56 Fasick, Russell, 827 Seventh Avenue

57 Miller, Irvin, 1510 Third Avenue

58 Robeson, Fred, 813 Seventeenth Street

59 Davis, John, 1908 Eighth Avenue

60 Smith, Donald, 1910 Fourth Avenue

61 McHugh, John, 1537 Crawford Avenue

62 Boring, Paul, 2120 Fifth Avenue

63 McKee, Lloyd, 408 Lexington Avenue

64 Heltman, Paul, 2624 Broad Avenue

65 Lantz, Paul, 2502 Oak Avenue

66 Brubaker, Jay, 2912 West Chestnut Avenue

67 Sutton, Harold, 2829 Maple Avenue

68 Chippenfield, Charles 3018 Pine Avenue

69 Flemming, Wilbur, 228 First Avenue

70 Miller, Charles, 127 East First Avenue

71 Stoner, Carl, 229 Twenty-first Avenue

72 Burkhart, Donald, 800 Crawford Avenue

73 Jeffries, Andrew, 927 Second Avenue

74 Mahan, Kenneth, 300 Seventh Avenue

75 Goodman, Leroy, 1404 Eighteenth Avenue

76 Owens, Herbert, 2705 Sixth Avenue

77 Zeigler, George, 2409 Fourth Avenue

78 Beard, Malcolm, 2613 Union Avenue

79 Tobias, Rodelle, 1712 Twenty-first Avenue

80 Dull, William, 1112 Second Avenue

81 Mays, Russell, 419 East Harrison Avenue
INDEPENDENT CARRIERS
Meyer, Carl, 605 Crawford Avenue

Morris, Paul, 222 Third Avenue

Scott, Fred, Dry Gap Road

Wilt, Kenneth, 2925 Maple Avenue

Weakland Bros, 1928 Thirteenth Avenue
NEWS DEALERS
Adams, Mrs. I. C., 817 Twelfth Street

Bowen, S. C., 810 Ninth Street

Buchanan, S. A., Eighth Avenue and Seventeenth Street

Colonial Hotel, Twelfth Avenue and Twelfth Street

Daugherty, A. G., 929 Seventeenth Street

Ellmore, C., Ninth Avenue and Twelfth Street

Harris, W. K. G., Margaret and Union Avenues

Hartle, E., Logan House

Crepps, G. C., Eighth Avenue and Seventeenth Street

Levan, Walter, Eighth Avenue and Seventh Street

Leix, Louis, 2329 Broad Avenue

Mt. City News Co., 1106 Eleventh Avenue

Orbison, Ollie, 1711 Eleventh Avenue

O'Brien, J., Eighth Avenue and Fourth Street

Pennsylvania News Company, 1108 Twelfth Street

Silverman and Snitzer, 1431 Eleventh Avenue

Weir, Alex, 1204 Eleventh Street

Union News Co., Eleventh Avenue and Twelfth Street

Union News Co., Tenth Avenue and Thirteenth Street
COUNTY NEWS DEALERS
Jos. Crepage, Blair Four

Clarence Harber, Blaine City

Chas. Pryor, Birmingham

A. J. Hunter, Berwindale

A. J. Seifert, Bedford

Carl Gray, Bellefonte

Tony Verbonitz, Cove Forge

James Laing, Coalport

H. Burkett, Curryville

Kurtz Stationery Store, Clearfield

T. & B. K. Wray, Curwensville

K. L. Hull, Fishertown

Postmaster, Fishertown

Geo Williams Irvona

S. S. Exline, Imler

Union News Co., Cresson

G. C. Fretley, Cresson

G. C. Wagner, Everett

Union News Co., Huntingdon

J. W. Clapper, Huntingdon

J. D. Shaffer, Huntingdon

Vance Laird, Huntingdon

Union News Co., Harrisburg

Mary Teeter, Henrietta

R. B. Rohrer, Hopewell

Francis Bradley, Lilly

John Pussey, Madeka

Freeman Tate, Mill Creek

Lester Harshbarger, Mapleton Depot

John W. Rowles, Mahaffy

J. Albert McDonough, Mt. Union

W. H. Miller, Mt. Union

J. C. Gilbert, Mt. Union

P. W. Moore, Mt. Aetna

Paul Miller, Newton Hamilton

O. S. Kagarise New Enterprise

Askey & Catherwood, Osceola Mills

Fay Ehredt, Osterburg

William Bloomer, Philipsburg

Marsden's News Agency, Portage

F. H. Kinkead, Patton

Robert McCafferty,Petersburg

J. C. Nolph & Co., Punxsutawney

D. A. Claar, Queen

Eugene Baker, Saxton

Milton Montgomery, Sandy Ridge

Earl Hammond, Spruce Creek

W. Schwartz, Union Furnace

Frank Goss, Wallaceton

A. K. Waite, Water Street
AGENTS
H. A. Wertz & Co., Tyrone

Union News Co., Tyrone

Jerry O'Mara, Tyrone

Harpster Brothers, Tyrone

Tony Allessi, Tyrone

A. L. Freeman, Tyrone

Dean Shimer, Tyrone

Robert Rupert, Tyrone

Leroy Markle, Tyrone

Fred Philips, Llyswen

Wm. Olewine Feight, Llyswen

James Goodfellow, Llyswen

Clarence Duffy, Gallitzin

Edna Sessna, Gallitzin

Daniel Garman, Hollidaysburg

G. M. Smith, Hollidaysburg

Loy Brothers, South Altoona

Martha Calderwood, South Altoona

Richard Smay, Eldorado

C. M. Johnston, Eldorado

Clair Lecrone Eldorado

James Barr, Eldorado

Richard Wilson, Eldorado

Frank Green, Claysburg

John Hoenstine, Claysburg

Andrew Hershbeil, East Altoona

M. Freedman, East Altoona

John Merritts, Flowing Springs

Edith Stiffler, Flowing Springs

Jean Miller, Greenwood

Cecil Peck, Greenwood

Frank Weaver, Lakemont

Stephen Foust, Lakemont

H. Espey, GY Tower

Thomas Eichenlaub ,Glenn White

Mullen Walker, Lakemont Terrace

Thomas Wertz, Frankstown

Casper Hollen, Duncansville

Eugent Logan, Duncansville

Joseph Isenberg, Duncansville

W. B. Myers, Duncansville

James Isenberg, Duncansville

P. D. Mulhollen, Bellwood

Delia Shoenfelt, Fostoria

Leroy Rettburg, Hill Top

Pete Delo, Hill Side

Warren E. Roy, Juniata

Thomas Cashman, Mill Run

John Young, Spring Meadow

M. D. Pryon, Wertz

H. S. Brehman, Williamsburg

John Cawley, Ashville

Lester Baker, Brooks Mills

D. F. Jacobs, Dean

Lovell Poett, Dysart

Smanuel Snowberger, East Freedom

John Scott, Figart Station

Charles Fornwalt, Ganister

Wayde Reynolds, Glasgow

Melvin Merritts, Loop Station

William Loucks, Lloydsville

Russell Thomas, McKee

George Myers, Mountaindale

C. N. Johnston, Martinsburg

Guy Fissell, Newry

E. E. Rhodes, Royer

Charles McGee, Roaring Spring

Melvin Showalter, Pinecroft

H. R. Fickes, Sproul

J. E. Wilson, Tipton

J. D. Turner, VanOrmer
County and Suburban Circulation of The Altoona Mirror
Blair Four, 10

Blaine City, 15

Birmingham, 38

Berwindale, 35

Bedford, 46

Bellefonte, 21

Cove Forge, 22

Coalport, 32

Curryville, 22

Clearfield, 17

Curwensville, 7

Everett, 36

Irvona, 50

Imler, 4

Fishertown, 10

Cresson, 105

Huntingdon, 123

Harrisburg, 25

Henrietta, 18

Hopewell, 25

Lilly, 7

Madeira, 27

Mill Creek, 20

Mapleton Depot, 45

Mahaffey, 46

Mt. Union, 77

Mt. Aetna, 15

McGee's Mills, 5

Newton Hamilton, 30

New Enterprise, 4

Osceola Mills, 43

Osterburg, 18

Philipsburg, 51

Portage, 28

Patton, 13

Petersburg, 40

Punxsutawney, 35

Queen, 25

Saxton, 20

Sandy Ridge, 24

Spruce Creek, 42

Wallaceton, 5

Water Street, 16

Union Furnace, 13

Tyrone, 439

Llyswen, 197

Eldorado, 194

Claysburg, 190

East Altoona, 290

Flowing Springs, 37

Greenwood, 155

Gallitzin, 125

Hollidaysburg, 867

Lakemont Park, 179

Bellwood, 529

South Altoona, 289

Duncansville, 259

GY Tower, 6

Kittanning Point, 4

Lakemont Terrace, 18

Frankstown, 54

Fostoria, 18

Hill Top, 33

Hillside, 19

Juniata, 1,119

Mill Run, 28

Spring Meadow, 42

Wertz, 44

Williamsburg, 284

Ashville, 23

Brooks Mills, 27

Dean, 19

Dysart, 9

East Freedom, 60

Figart Station, 49

Ganister, 22

Glasgow, 28

Loop Station, 41

Lloydsville, 7

McKee, 30

Mountaindale, 28

Martinsburg, 154

Newry, 67

Rover, 17

Roaring Spring, 346

Pinecroft, 34

Sproul, 66

Tipton, 47

VanOrmer 7