Pen Pictures of Friends
and Reminiscent Sketches
by John N. Tillard
Published 1911 by
William F. Gable & Co.
Altoona, PA.
Edition Limited to 500 Copies
Mirror Press
A Project of Blair County PA USGenWeb Archives
Copyright 2003. Contributed by Judy Banja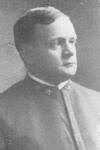 Tombstone Photo, Oakridge Cemetery, Altoona
Author's Foreword
Upon dropping a policeman's baton to take up a reporter's pencil some three years ago, my editor, Mr. Harry L. Johnston of the Altoona Mirror, suggested that I might venture a little way out and make a few character sketches of the men in the community, in all walks of life, who had impressed their personality upon the time.
The following pen pictures were the result. In writing them, I drew the portraits as they appeared to me, without flattery, but with a sincere desire to be truthful and accurate. With an exception or two, they were all living men at the time of the writing, and I hope they have received some little enjoyment out of the nosegay handed them while they were yet on earth. Some of them have since been gathered to their fathers, but the articles now appear as they were originally written.
Some of my friends have been kind enough to suggest that they were worth preserving in more durable form; hence this little volume.
J. N. Tillard, December 1, 1911.
Pen Pictures of Friends

Time Has Dealt With Him Kindly

Durb. Hughes, Acute Discriminator

Has Taught Three Generations

Robert Steel, Railroad Builder

Eventful Life of Joseph Brown
Fifty Years a School Teacher

Life's Cares Lie To the Rearward

Varied Career of Blain McCormick
THE POWER OF A SMILE
There's a wondrous lot of power
In an honest, wholesome smile;
It often starts a blessing
That will travel for a mile.
Why, when hearts are sad and heavy
And the days are dark the while,
You can notice that things brighten
From the moment that you smile.
What the rose is to the bower,
What the jewel to the ring,
What the song is to the robin
In the gladsome days of spring,
What the gold is to the sunsets
That oft our souls beguile,
All this, and more, to people
Is the blessing of a smile.
When you see a face that's saddened
By the cruelty of strife,
Into which have come the wrinkles
From the toils and cares of life,
Just send a ray of sunshine
To smooth its brow awhile,
And bestow a passing blessing
By the giving of a smile.
By B. W. BURLEIGH - Advance
Jacob White, Inland Sailor
Splendid Type of Self Made Man

P. B. Clifford, Preacher and Mechanic

Geneal "Father Tom" Kantner

Pen Picture of William F. Gable

He Worked His Way to the Top
Scions of the House of Hamilton

"Uncle Ben" Stein Plays Vesper Tunes

Creative Genius and Organizer

Frank McGuire, Molder and Merchant

Thinker, Teacher
An All-Around Man of Affairs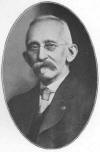 Soldier, Citizen and Friend

Wrought Righteously and Well

Billy Brennecke, Farmer's Lad

A Typical American Citizen
Fred Duany, Cuban Patriot
Great Enough to Grasp Content

Helped To Make Our City of Homes

One of County's Pioneer Railroaders

Famous Singer of the Olden Time

Druggist, Jeweler and Sportsman

Has Made Pain a Pleasure
A Railroader of Ye Olden Time
The March of a World's Citizen
From Canal Driver to Editor

He is Faithful in All Things
A Philosopher With a Level Head

Life of Thrilling Experiences

He Made the New Land His Own

Found Fame in Sporting World

The Bright Side of City Hall

Father of Local Militarism

He Has Moved the Town Along

A Representative Citizen
A Long Time Citizen of the Town

Pioneer of The Produce Business

Superintends Our Water Department

The Dean of Hotel Clerks
The Terror of the Valley
Sunny, Cheery Nature
Sketches of Early Local History
AUTHOR'S NOTE - The following articles were written for the Altoona Mirror at odd times, several years ago, the subject matter having been gleaned by the author partly from various publications; partly from the folk lore stories he heard told in the old Pottsgrove flour mill during his childhood, and partly from personal recollection.
J. N. Tillard
December 1, 1911
Timber Wasted That Would Be Valuable Now
Famous Mills That No Longer Exist
Clearing the Forests That Once Covered This Section
An Old Time Business That Is About Extinct
Making New Counties In The Olden Times