Tyrone-Waring Canteen News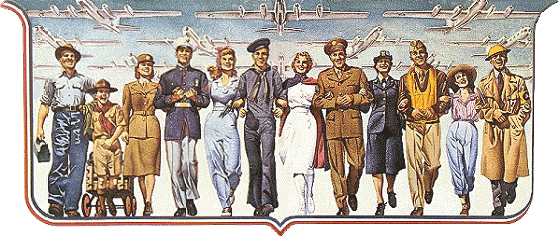 A Project of the Blair County PA USGenWeb Archives
Contributed by Sharon Miller
October, 1943
Ernest V. Focht, Prisoner of War in Germany
Robert Brower, Navy Electrician 1/C
John C. Yenter, Jr., Singer Extraordinary
Victor L. Mannino, Master Sergeant U.S.M.C.
A Sailor Giving Check to Chesterfield Representative from Ann Calderwood and Rose DeFerie at Desk
Tyrone Police Officer Robert Bilger
December, 1943
James R. Kahler, Prisoner of War in Germany
James Curtis Anderson, Prisoner of War Held by Japanese
Sgt. William T. Williams, Missing in Flight
Harold E. Evans, First Place, Canteen News Sales

Copyright 2004. All Rights Reserved.
Blair County PA USGenWeb Archives
Blair County PA USGenWeb Archives - Newspapers
USGenWeb Archives Project: Pennsylvania
Graphics: 4th of July Fun & USAF Security Forces