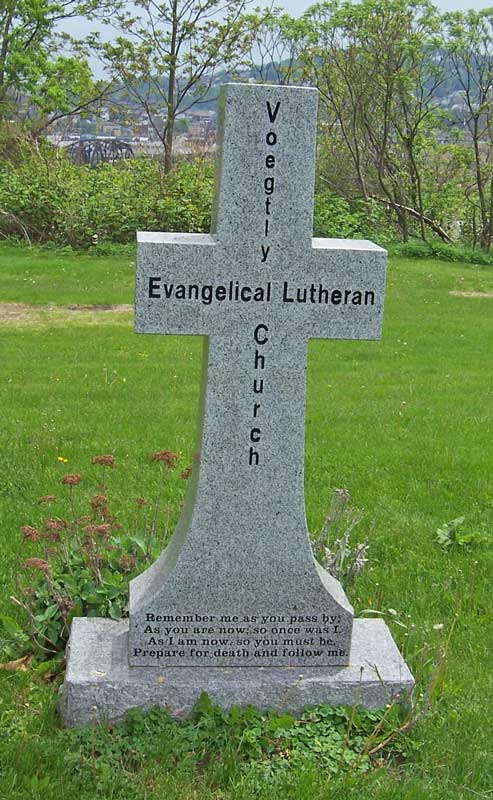 General Views 1 , 2 , 3 , 4 , 5 , 6 , 7 , 8 , 9 , 10
Firemen's Memorial Views 1 , 2 , 3
(contributed by Rich Boyer)
---
Cemetery is administered by:
CMS-West, Inc
2700 Mt. Royal Blvd.
Glenshaw, PA 15116
(412) 487-5100
---
Transcribed from the Pittsburgh Post Gazette, Pittsburgh, PA, Tuesday, 28 Oct 2003,
(contributed by Ellis Michaels)
New burial site for 727 souls will be blessed
I-279 excavation and archaeological tests finally over

By Patricia Lowry, Post-Gazette Architecture Critic
At 10 o'clock this morning, in an old Swiss-German cemetery at the edge of a plateau overlooking the Allegheny River, the remains of 727 people will be recommitted to the earth.
It has been well over a century since their bodies were buried, 16 years since they were discovered under a North Side church parking lot, a year since they were reinterred at Troy Hill's Voegtly Cemetery. Since 1987, they have traveled from their not-so-final resting place to the GAI Consultants archaeology lab in Monroeville and to the Smithsonian Institution in Washington, D.C. Some of their teeth and bone marrow was sent to England for DNA analysis.
With the granite gravestone in place, it is time for the Pennsylvania Department of Transportation to put these peripatetic souls to rest, with a religious service befitting their Christian faith and German heritage.
"We have to keep thinking these were not just bones but people," said Patricia Remy, PennDOT's local environmental manager and the woman who wondered what could be learned from the Voegtly graves.
The discovery of the cemetery provided a relatively rare opportunity for insight into the population, settlement, welfare and burial practices of early American immigrants. Few historic-period cemeteries have been excavated as archaeology sites in America because living relatives almost always oppose it.
"In this case, even the church couldn't identify who was in the cemetery or how many," Remy said. Elders of the disbanded congregation endorsed a historical and archaeological investigation, one that would eventually yield the largest number of 19th-century graves ever studied archaeologically in America.

Unearthing the past

On June 3, 1987, a backhoe operator was carefully excavating near East Ohio Street for the highway construction project that would link I-279 with Route 28. Standing by, as required by state and federal law, was archaeologist Ward Sutton, who had been monitoring the excavation because the site could have historical significance. But that day, Sutton discovered something unexpected in the layer of soil peeled off by the backhoe: fragments of bones.
"A layperson probably would have walked right by them," said Remy. She called in Dr. Joshua Perper, then Allegheny County coroner, who confirmed what Sutton suspected: These were human remains. But whose?
Remy and Sutton knew there had been a church on the site; Voegtly Church was sold to PennDOT for $148,000 in 1984 and demolished the following year.
"We thought maybe this was a few scattered bones of forgotten people when they moved [the cemetery] up to Troy Hill," Remy said. "But every day we revealed more and more graves."
Archaeologists watched as the backhoe operator peeled away thin layers of earth. When they saw a darkening of the soil indicating a decomposing coffin, they would begin excavating by hand. By mid-July 1987, they suspected there may have been as many as 300 burials, but a couple of weeks later it was clear the number would be much higher.
By the end of September, as many as 50 technicians and osteologists, working 10-hour days six days a week under the supervision of archaeologist Diane Beynon Landers, had removed, documented, numbered and packaged the remains of 727 graves. They had been found on less than a half-acre of land under an asphalt and gravel parking lot that the church had paved in 1950.
Clearly the cemetery had never been moved. But why had the church eliminated all trace of it from the face of the Earth?

Life in Swiss Hole
In 1817, Nicholas and Elizabeth Voegtly (pronounced FECKly) sent their oldest son, 21-year-old John Jacob, to America to scout a location for resettlement of their family. He chose the neighboring cities of Pittsburgh and Allegheny. Five years later, the Voegtlys, their children and neighbor Heinrich Richenbach and his family emigrated from Basel, Switzerland. The families already were related by marriage; Nicholas Voegtly Jr.'s wife was Heinrich's daughter, Mary. The next year, the Voegtlys and Richenbachs purchased from James O'Hara 161 acres on the north bank of the Allegheny, just east of the existing German neighborhood on Allegheny City's east side.
Known as Schweizer Loch -- "Swiss Hole" -- because of its low-lying land, the neighborhood soon became a lively mosaic of houses and businesses. By 1840, Nicholas Jr. and his brothers owned and operated the Banner Cotton Mill a few blocks south of the family compound. The immigrant families and their businesses, cemented by intermarriages and a common faith, prospered. Schweizer Loch hummed with a lumberyard, sawmill, flour mill and, to make all that work go down a little smoother, John Straub's brewery.
Ever mindful of life's spiritual side, the families attended the German Evangelical Church at Sixth Avenue and Smithfield Street. But in 1833, they and other German-speaking Swiss immigrants formed their own congregation, the First German United Evangelical Protestant Church, at the corner of East Ohio Street and Church Alley (now Ahlers Way, opposite the Sarah Heinz House.). Because the small brick building was built on a three-quarter-acre lot donated by Nicholas Voegtly Sr., everybody called it the Voegtly Church.
Nicholas Voegtly Sr., who died in 1852, and his wife, who died two years later, were among 823 churchyard burials recorded between 1833 and 1861. When the congregation purchased land for a new cemetery on Troy Hill, the Voegtly family moved the bodies of Nicholas and Elizabeth there. Everybody else in the church graveyard stayed put.

Building on bones
In 1849, the first church was razed and a red brick one erected, a modest, temple-front Greek Revival building with brick pilasters rather than columns. That same year, a schoolhouse was built next to the church, but by 1883 a three-story parsonage was on that site. The graveyard was behind both buildings.
Thirty-eight years later, in 1911, the congregation built a Sunday school addition at the rear of the church. The 1987 excavation showed its foundation was dug through 15 graves.
"Evidence suggests that this disturbance would have been obvious to the architects and builders; distal ends of human fibulas were found cemented into the foundation walls, and broken tombstones, plastered together like a deck of cards, were used to form support pillars for the addition," Landers writes.
There is no evidence that church members knew of the cemetery disturbance in 1911. Exactly how and why the cemetery was neglected and abandoned over the next 40 years was never determined, but old urban church cemeteries traditionally have been vulnerable in the competition for land.
By 1911, the Voegtly Church congregation had assimilated to a point where it was beginning to lose its institutional memory. Services in English were introduced in 1913, and by 1926 Voegtly Church had been renamed the Pilgrim Evangelical Church of Pittsburgh. In 1950, the old cemetery, where there had been no burials for almost a century, was paved and graveled.
The church burial records, written in archaic German script, were deteriorated and illegible, and there were no other written records or maps identifying the graveyard.
"The fact that there was a cemetery associated with the Voegtly Churchyard had become lost to the collective consciousness of the congregation," Landers writes.
In 1959, church elders were told their buildings lay in the path of the East Street Valley Expressway. In 1972, the parsonage was razed. In 1975, with the death of Flora Voegtly, the church lost contact with its namesake family. By 1980, the tiny congregation was meeting in the Sunday school addition to conserve heat. Twenty-one people came to the last service on Nov. 4, 1984; the church was demolished in 1985.

Closure

With the publicity surrounding the cemetery dig, relatives and other Pittsburghers came forward with church histories and other information. Researchers also combed local historical societies, museums and libraries. One document that surfaced, translated in 1989, was the church's death records, listing the 823 individuals buried in its graveyard. Of 774 people whose sex was known, 365 were females and 409 were males. The 151 individuals for whom cause of death was listed died from cholera, tuberculosis, typhoid, scarlet fever, smallpox and other diseases. Four died in childbirth, one fell into boiling water, one was kicked by a horse and one fell from a roof while building a house.
Of the 799 for whom ages were given, 569 were under 20, 311 were less than a year old and 44 had been stillborn.
The skeletal remains of 544 people could be aged with some accuracy, reports Smithsonian anthropologist Douglas H. Ubelaker. For those who had reached at least the age of 20, the average age at death was 35.4 for women and 37 for men.
All of the coffins were six-sided and wedge-shaped. Seventy-five coffins, most belonging to children, were painted red; some had faded to a rosy pink. Because the bones of children deteriorate more rapidly than those of adults, most of the children's coffins contained only the objects that had been buried with them, such as shoes, a bell and a whistle.
By comparing coffin style and hardware ornamentation with the dates on coins found with the deceased (over the eyes or in the hand), archaeologists identified an early period of initial settlement (1833-1840) and a later period of assimilation (1840-1861). The plain and painted coffins of the early period, made by a cabinetmaker, often gave way to the professional undertaker's coffin, decorated with ornate handles and a ribbon-like copper wire and fabric trim unique to the Voegtly cemetery.
A year ago, the numbered remains, reunited with their grave goods, were packed into 200 cardboard boxes. The boxes were placed inside 25 concrete vaults and buried.
This morning's recommitment service will be led by the Rev. Doug Patterson, pastor of Smithfield United Church of Christ, which evolved from the Voegtly congregation's mother church. It will include German prayers, a German hymn and a blessing of the graves. After the 20-minute service, those gathered will walk to nearby Grace Lutheran Church for coffee and doughnuts.
Among those attending will be Dorothy Davies, who was baptized at Voegtly Church 80 years ago but has no relatives among the 727 reinterred.
"Isn't it funny how you remember things? I can remember that church so plain. It was painted white [inside]. It was very stark. The pews were wooden and the floor was bare," Davies said.
"And everybody dressed up, you know, the hats and the gloves. And the men wore suits and ties and hats and the children were dressed up in their Sunday best."
Remy and others who worked on the $500,000 project also will be there for a moment of closure.
"I like to think that we handled them respectfully and did what was appropriate and added to the knowledge, extracting the right amount of information in a dignified and respectful manner," Remy said. "But it's not an experience I want to live through again. I wonder, when I meet my own end, if I'll be meeting 727 people."
---

Map of Voegtly Cemetery Site as discovered during excavation