Rowland Family Cemetery
947 Castle Shannon Boulevard
Castle Shannon Borough, Allegheny County, PA
(complete survey)
A Project of Allegheny County PAGenWeb Archives
Copyright Information Pennsylvania Tombstone Project
Tombstone Photography Tips Photo Submission Form
this page was last updated 20 Aug 2019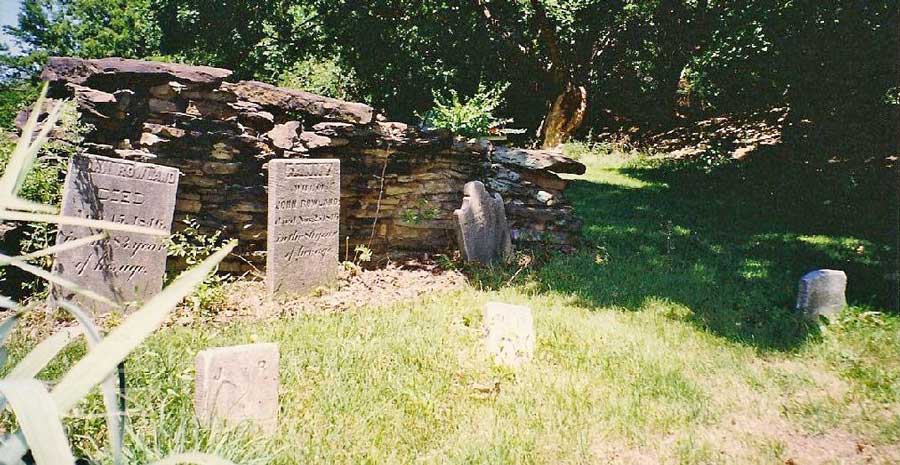 ---
Special thanks to Norm Meinert who graciously shared this information with the USGenWeb after originally posting it on his Allegheny River Archives Cemetery Page, Contributed by Nancy Long, nancylong3@veri-nospam-zon.net and Jeanne Will, willty1@earth-nospam-link.net
---
Cemetery is located behind the Castle Shannon Auto Body shop at 947 Castle Shannon Road. It is located behind a stone wall in the middle of the yard on the hill. It is located on private land, and please ask the owner's permission before trespassing on site.
---
Tombstone Photos
(complete survey)
printer friendly text version of tombstone transcription
Rowland, Fanny
, (view
2
,
3
,
4
), wife of John Rowland, died Nov 25, 1846 in the 80 year of her age (Records of Bethel Park Presbyterian Church identify her as Mrs. Frances McCully Rowland), (photos contributed by
Ellis Michaels
)
Rowland, John, (view 2 , 3), died Aug 15, 1846 in 83 year of his age, (photos contributed by Ellis Michaels)
Rowland, Margaret Ann, (view 2 , 3), departed this life May 5, 1844, (photos contributed by Ellis Michaels)
---
Allegheny County PAGenWeb Archives File Manager Debra Crosby
Copyright: USGenWeb Archives Project 1997 - Present ~ All rights reserved.
Allegheny County PAGenWeb Archives - Tombstone Photos
Allegheny County PAGenWeb Archives - Cemetery Records
Allegheny County PAGenWeb Archives