Lincoln Memorial Cemetery
a.k.a. - Lincoln Memorial Gardens
a.k.a. - Lincoln Colored Cemetery
a.k.a. - Lincoln Cemetery
Pittsburgh, Allegheny County, PA
(partial survey)
A Project of Allegheny County PAGenWeb Archives
Copyright Information Pennsylvania Tombstone Project
Tombstone Photography Tips Photo Submission Form
this page was last updated 20 Aug 2019
Marker located in Woodlawn Cemetery,
Wilkinsburg Borough, Allegheny County, PA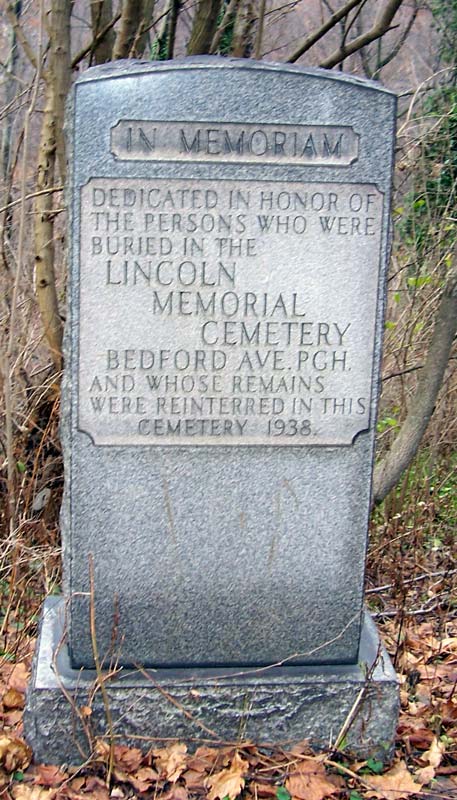 In Memoriam, dedicated in honor of the persons who were buried in the Lincoln Memorial Cemetery, Bedford Ave., Pgh., and whose remains were reinterred in this cemetery 1938.
(contributed by Rich Boyer)
---
Originally located in the Hill District (7th Ward) at intersection of Bedford Avenue and Janella Street. Graves were moved in 1938 to new location on Lincoln Avenue, or to the Woodlawn Cemetery in Wilkinsburg.
printer friendly text version of tombstone transcription
---
Allegheny County PAGenWeb Archives File Manager Martha A Crosley Graham
Copyright: USGenWeb Archives Project 1997 - Present ~ All rights reserved.
Allegheny County PAGenWeb Archives - Tombstone Photos
Allegheny County PAGenWeb Archives - Cemetery Records
Allegheny County PAGenWeb Archives


---
PA USGenWeb Archives banner & bg © Sheila Helser
PA USGenWeb Archives Logo � Pam Reid