Homestead Cemetery
a.k.a. - Franklin Churchyard
2257 Main Street
Homestead Borough, Allegheny County, PA
(partial survey)
A Project of Allegheny County PAGenWeb Archives
Copyright Information Pennsylvania Tombstone Project
Tombstone Photography Tips Photo Submission Form
this page was last updated 20 Aug 2019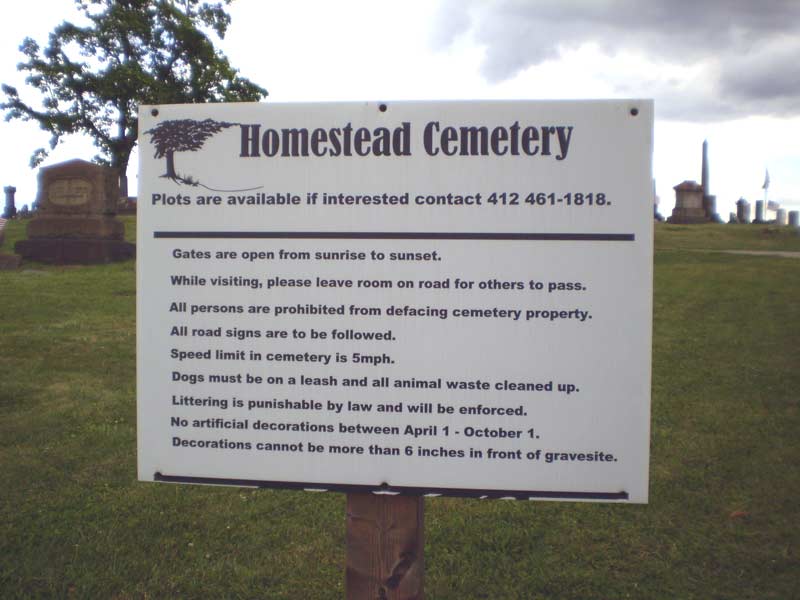 General Views 1 , 2 , 3 , 4 , 5 , 6 , 7
Civil War Veteran Memorial Views 1 , 2 , 3 , 4
(photos contributed by Ellis Michaels)
---
The Homestead Cemetery is administered by:
Homestead Cemetery
2257 Main Street
Homestead, PA 15120
(412) 461-1818
---
The Local News, Saturday, May 21, 1887
THE NEW HOMESTEAD CEMETERY TO BE DEDICATED ON MAY 30.
For years people have been talking about the necessity of a new cemetery where the dead of Homestead and vicinity might rest in peace. More than a year ago a company was organized, a charter obtained, and ground purchased for cemetery purposes. Since that time the company has been busy laying out the ground, fencing it in, and otherwise improving it. An elegant plan of the lots has been prepared by Engineer Risher, which may be seen at the office of the Company by any one. The cemetery is beautifully situated adjoining the free burial grounds of the Franklin Church. On the highest elevation a plot of sixty feet square is reserved for Grand Army purposes, and on the 30th of May, a deed for the same will be turned over to Gen. Griffin Post, of this place. The grounds have been enclosed with a fence, walks have been laid out, trees and grass planted, and under brush and fallen trees removed.
A Superintendent is constantly employed on the grounds, directing the further improvements being made, and watching and guarding the repose of the dead. Several thousand pamphlets have been sent out this week, containing the description of the new cemetery, and the rules and regulations governing the same. The office of the Secretary is in THE LOCAL NEWS building, where, Messrs. Files & Co. have charge of the plans, and will be pleased to show any one the plan of lots and give any further particulars desired.
(contributed by Jim Hartman)
---
---
Allegheny County PAGenWeb Archives File Manager Debra Crosby
Copyright: USGenWeb Archives Project 1997 - Present ~ All rights reserved.
Allegheny County PAGenWeb Archives - Tombstone Photos
Allegheny County PAGenWeb Archives - Cemetery Records