Bingham Street Methodist Episcopal Cemetery
a.k.a. - Center Street Methodist Cemetery
a.k.a. - Mt. Oliver Cemetery
Corner of Ormsby and Hays Avenue
Mt. Oliver Borough, Allegheny County, PA
(cemetery no longer extant)
A Project of Allegheny County PAGenWeb Archives
Copyright Information Pennsylvania Tombstone Project
Tombstone Photography Tips Photo Submission Form
this page was last updated 20 Aug 2019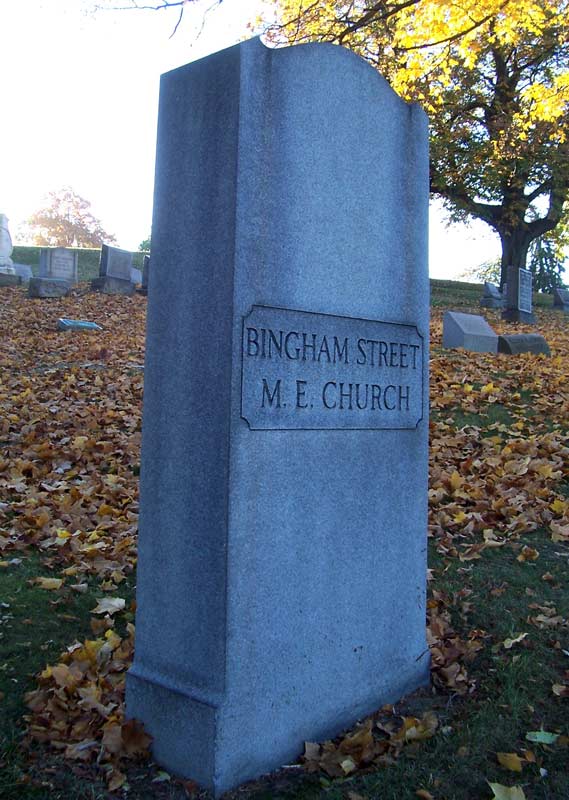 Monument located in The Southside Cemetery
(contributed by Rich Boyer)
Monument Inscription:
Bingham Street M. E. Church
In Memory of those buried in the Bingham St. M. E. Church Cemetery 1839 - 1927
---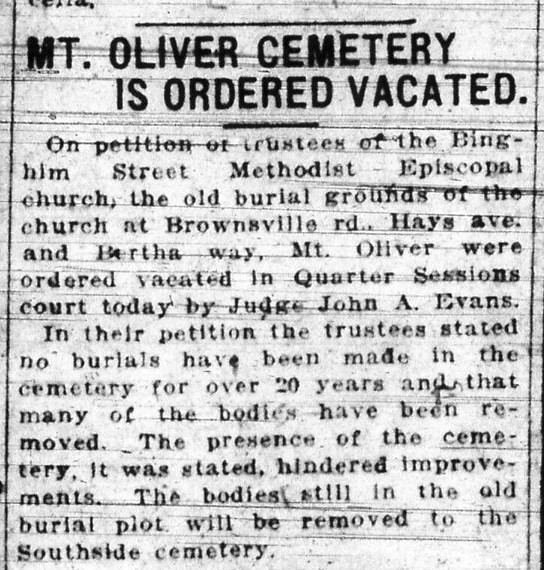 Pittsburgh Press, 17 Sep 1926, page 5
MT. OLIVER CEMETERY IS ORDERED VACATED
On petition of trustees of the Binghim Street Methodist Episcopal church, the old burial grounds of the church at Brownsville rd., Hays ave. and Bertha way, Mt. Oliver were ordered vacated in Quarter Sessions court today by Judge John A. Evans.
In their petition the trustees stated no burials have been made in the cemetery for over 20 years and that many of the bodies have been removed. The presence of the cemetery, it was stated, hindered improvements. The bodies still in the old burial plot will be removed to the Southside cemetery.
---
Cemetery was previously administered by Bingham Street (a.k.a. Birmingham) M. E. Church which no longer exist. Some graves were moved to the Southside Cemetery.
printer friendly text version of tombstone transcription
Allegheny County PAGenWeb Archives File Manager Debra Crosby
Copyright: USGenWeb Archives Project 1997 - Present ~ All rights reserved.
Allegheny County PAGenWeb Archives - Tombstone Photos
Allegheny County PAGenWeb Archives - Cemetery Records
Allegheny County PAGenWeb Archives


---
PA USGenWeb Archives banner & bg © Sheila Helser
PA USGenWeb Archives Logo ? Pam Reid