Woodmen of the World
(information and photos contributed by Bill Plack)
printable text version of information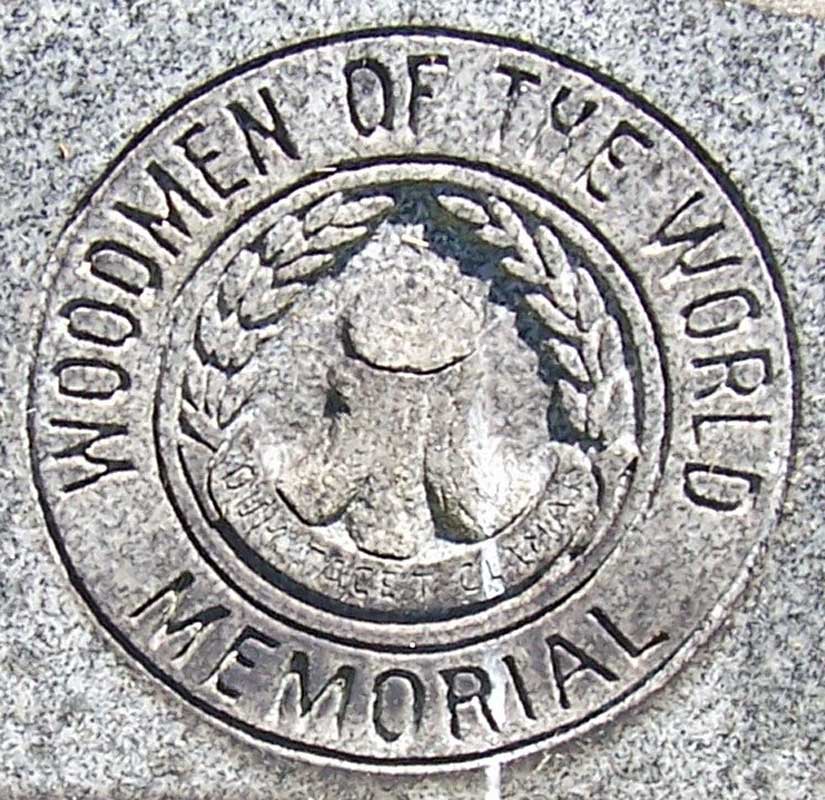 DUM TACET CLAMAT - Though silent he speaks
Woodmen of the World (WOW) Tombstones - According to the Woodmen of the World website, WOW is a fraternal and beneficial society that was founded in Omaha, Nebraska in 1890 by Joseph Cullen Root. In the early years, the society provided free tombstones to members but this practice was eventually discontinued due to the increasing cost of tombstones. Members could then receive $100 towards the cost of a tombstone provided that the WOW logo was prominently displayed, but that was also eventually discontinued. Treestones were not mandatory, members could choose any style of tombstone that they wanted, but the treestone design was chosen by most members because of the obvious connection to "woodmen". Contrary to popular belief, WOW did not originate the treestone style of grave marker, nor do they have any sort of exclusive right to it. Treestones had been growing in popularity for years before the Woodmen were founded.

Although the Woodmen of the World are still in existence, very few treestones are erected for Woodmen today. Considering the amount of skilled hand labor involved in making them, they would be extremely expensive and since there is no longer any financial provision from the society I think most Woodmen simply choose more conventional, less expensive tombstones. Bronze WOW plaques can be purchased for attaching to conventional tombstones but these are extremely rare here in western Pennsylvania.
---
---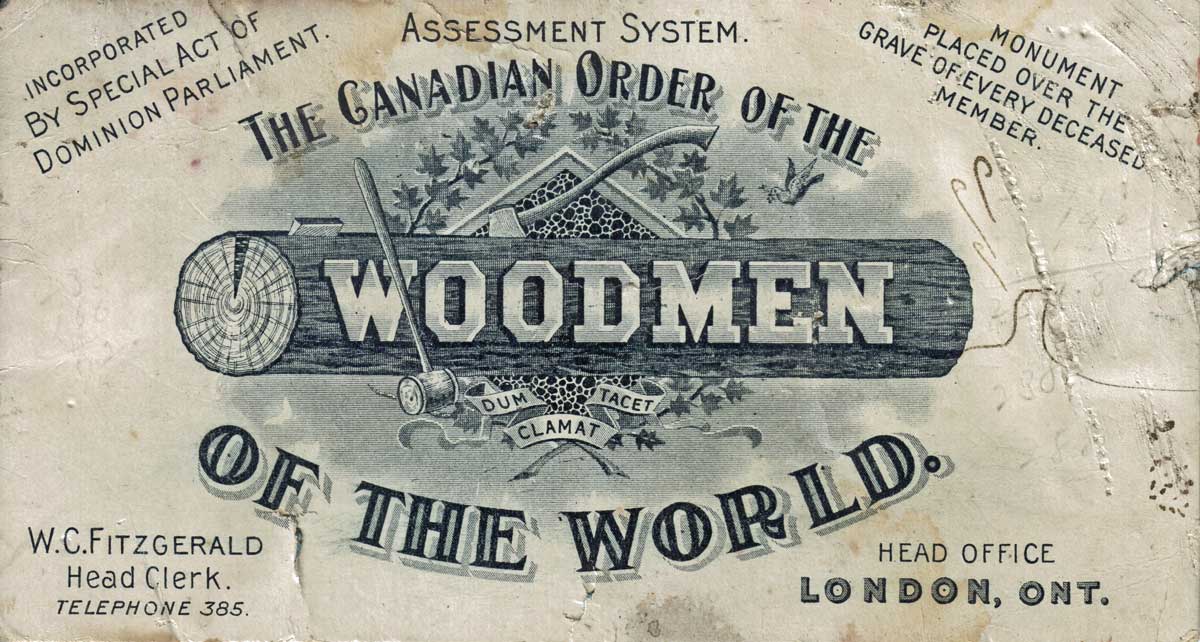 ---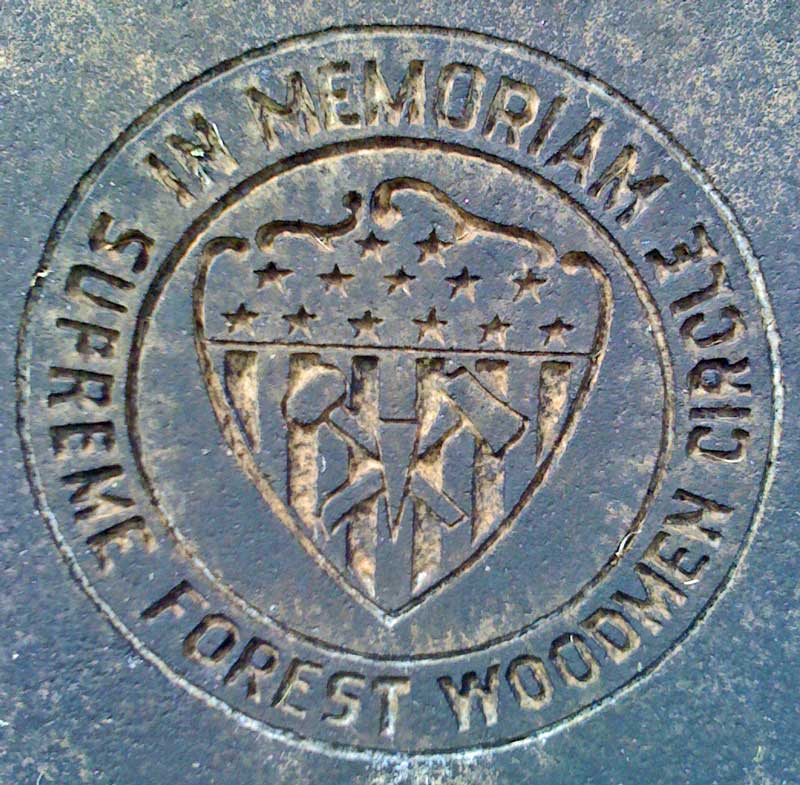 The Supreme Forest Woodmen Circle occupied an important place in Woodmen of the World history from the time of its incorporation in 1895 until it merged with the organization on January 1, 1965. For 70 years, the Circle and Woodmen of the World worked closely together. Woodmen of the World founder Joseph Cullen Root, who was also instrumental in founding the Circle, had envisioned it as a women's auxiliary to Woodmen of the World and made provisions for its existence when he created Woodmen of the World. The Circle was created in 1891. May Falkenburg, wife of Woodmen of the World co-founder F. A. Falkenburg, served as president of the women's auxiliary from 1891 to 1895. But, it was not until Root and Secretary John T. Yates took personal control of the organization's planning that the Woodmen Circle was born on September 5, 1895, and incorporated as a separate fraternal benefit society.
---
Known Examples of
Woodmen of the World Tombstones
---
Calvary Cemetery
Port Vue, Allegheny County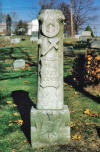 Frank Nones, 1872 - 1917
---
Mt. Vernon Cemetery
Elizabeth Township, Allegheny County

---
Richland Cemetery
Dravosburg, Allegheny County

Jones, John W., 1866 - 1913, & Jones, M. Isabelle 1876 - 1913
---

Reichwein, Henry Dean, 1874 - 1905
---
Bridgeport Cemetery
Redstone Township, Fayette County

Louis B. Crawford, 1888 - 1911, s/o Emma
---
Fairview Christian Cemetery
Mann Township, Bedford County

Edward Potter, 09 May 1897 - 04 Jun 1924
---
Hillview Cemetery
Hempfield Township, Westmoreland County, PA
---
St. John's Cemetery
East Huntingdon Township, Westmoreland County

George A. Barnett, 02 May 1874 - 17 Oct 1914
---
St. Mary's Byzantine Cemetery
Derry Township, Westmoreland County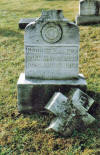 George Zalepa, 16 Mar 1896 - 16 Aug 1918
---
Graceville Lutheran Cemetery
East Providence Township, Bedford County

Mary Latta, 09 Jan 1874 - 19 Oct 1925
---
The illustrations below are from the catalog of an unknown company that apparently specialized in making Woodmen monuments for sale throughout the country.

Return to Tombstone Carver Index