Peter Charles Reniers
and sons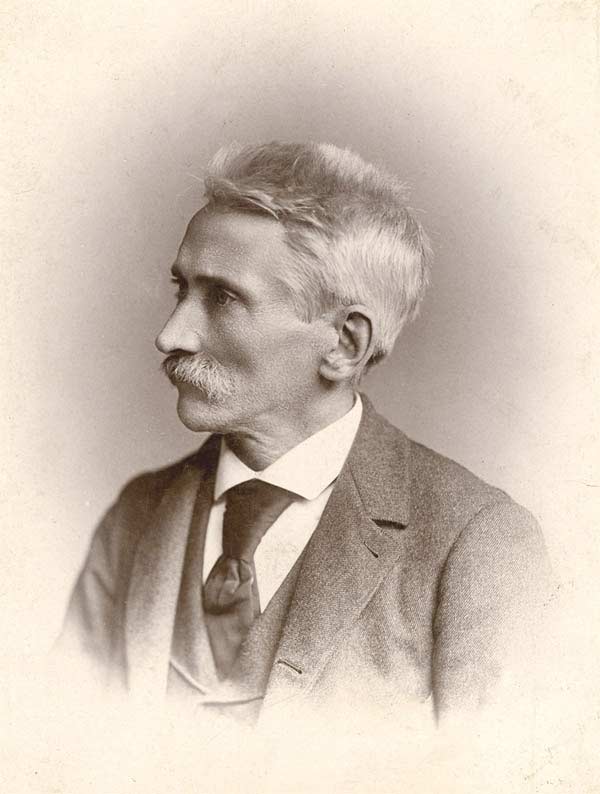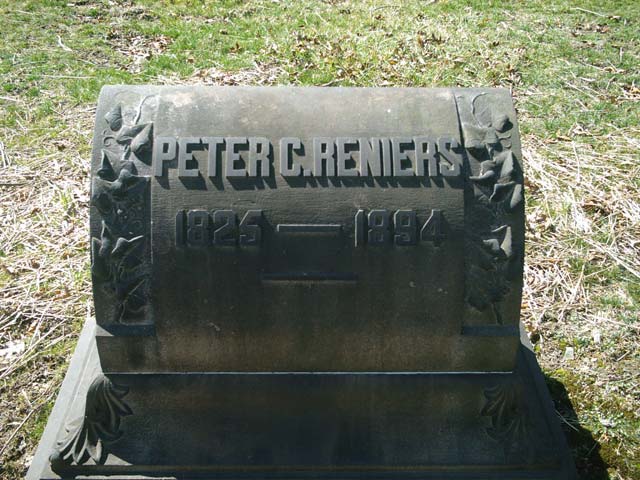 (Biographies and Photographs contibuted by Rich Bentley)
I can offer my great-great grandfather, Peter Charles ( "P.C." ) Reniers, for your list of "Tombstone Carvers"

Most of what I know of him is drawn from an article in the History of Allegheny County Pennsylvania (W. Warner & Co., 1889, Pages 569 - 570) transcribed below:

PETER CHARLES RENIERS, sculptor, post office Turtle Creek, a native of Antwerp, Belgium, is a son of Cornelius Joseph and Mary Reniers, and was born March 28, 1825. He was educated in his native city, Brussels and Paris, where he gave special attention to art. In 1848 he contracted to execute some sculpture for Bishop Purcell, of Cincinnati, and set out for America. He was so pleased with the scenery about New York harbor that he resolved never to
return to his native land, and has kept the resolution. In 1850, having finished his work in Cincinnati, he came to Pittsburgh, where he has since remained in business. In addition to monumental work he gives attention to interior decoration and furnishing, and is now engaged in fitting up the magnificent Westinghouse building on Penn avenue. In 1868 Mr. Reniers purchased ground at Turtle Creek, on which he erected his present home, in which are some superior frescoes. Part of these decorations were destroyed by a meteoric ball which burst in the hallway one summer afternoon. Mrs. Reniers and her youngest son were in the hall at the time, but escaped unhurt. In religious ideas Mr. Reniers is very liberal. He married Hannah Armitage, a native of Huddersfield, England, who has borne him the following-named children: Cornelius (a resident of New York city), Mary, Fanny (deceased), Alice (Mrs. William Bentley), Pittsburgh, Thomas and William. The last two are assisting their father in business. Mr. Reniers is a democrat.

---

Additionally, the little research I have done tells me that P.C. died at his son's home in Brushton in 1894. Renier Ave. now runs through the original estate. He was buried in the family plot (section 8, plot 94) at the Homewood Cemetery, in the Squirrel Hill section of Pittsburgh.
Transcribed from the Pittsburgh Leader, Oct. 28, 1894
DEATH'S CALL.
Peter C. Reniers, One of the Finest Sculptors in Pittsburgh.

P. C. Reniers, one of the finest sculptors in the city, died on Friday morning, at the residence of his son, Thomas Reniers, No. 225 Elliott street, Brushton. He was at the marble works the Saturday previous, and feeling slightly indisposed, he went to the home of his son, instead of returning to his own residence at Turtle Creek. He was taken with sharp pain in the night and in very short time was delirious. A physical was hastily summoned, he pronouncing the trouble an attack of pneumonia, and declaring that recovery was impossible. Despite all care and attention, Mr. Reniers passed away, thus ending a long and useful life.

Peter Charles Reniers was born in Antwerp, Belgium, March 28, 1825. In 1848 he came to America, first locating in Cincinnati. In '51 he came to Pittsburgh, and at different times was connected with the firms of W. W. Wallace and John Lawton. About that time he married the niece of Mr. Lawton, Miss Hannah Armitage, shortly afterward moving to Philadelphia, on account of his health. When there he was connected with the firms of John Baird and J. F. Jacobi. He returned to Pittsburgh in the early '60s, starting in business for himself on Liberty street, removing from there to Ninth, and from that location to 914 Penn avenue, where he remained for a period of 16 years. During the last year he purchased property and erected a shop and office at the new entrance of Homewood cemetery, East End.

He was a sculptor of note, having made busts of Dr. Kane, the Arctic explorer; President Pierce, Charles Spang, Alexander King, Thomas Scott, and other equally well known men. He perfected himself in his art in the schools of Paris. The figures on St. Paul's cathedral were cut by him, likewise those on St. Peter's, in Allegheny. General Hay's monument, in Allegheny cemetery, was his work; also the Kearney monument, in St. Mary's cemetery, and the magnificent altar donated to Trinity church by the late J. H. Shoenberger.

His wife and five of a family of six children survive him: C. J., The oldest son, at present in New York; Miss Mollie, who resides with her mother at Turtle Creek; Mrs. William Bentley, of Rochester; Thomas and William Reniers, who were connected with their father in business. The deceased was a loving husband, kind father and true friend and is mourned by a host of friends.

The remains were taken to the old home at Turtle Creek where funeral services will be held on Monday at 1 P. M. The pallbearers will be as follows: Charles McKenna, David Woods, William Bentley, William McMillan, David Caruthers and James Dykeman.
---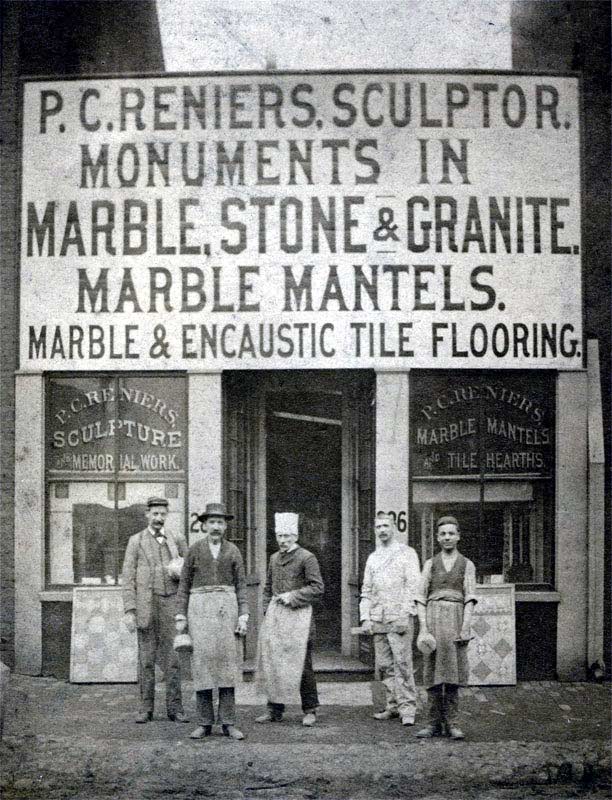 P. C. Reniers wearing hat, in front of his business at 286 Penn Avenue, with his son Cornelius to his right wearing the white shirt
It is not clear when his sculpture career evolved completely into a cemetery monument and mausoleum business, but his sons Thomas and William continued to operate it until at least 1910, when the advertisement below was placed in a local Catholic Church yearbook. The business is listed it as being near the Homewood Cemetery in Pittsburgh.
printable text version of biography
---
Known Examples of
Peter C. Reniers'
and sons' stone carvings
---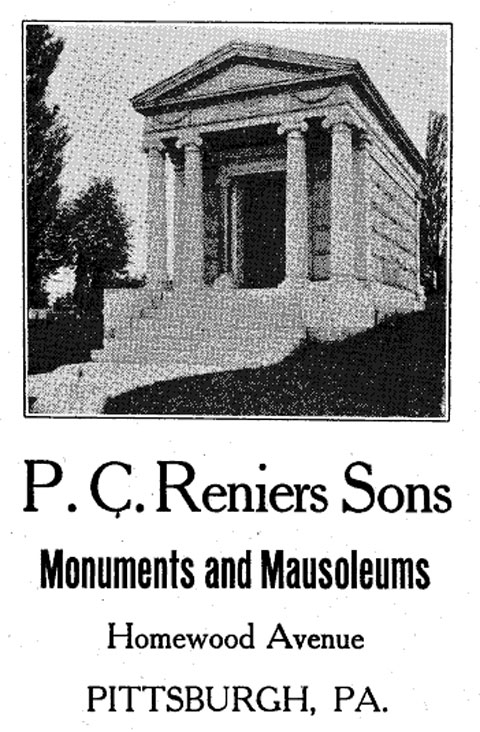 ---
Civil War Soldiers Monument in the North Side section of Pittsburgh, near the National Aviary.
(photos by Rich Boyer)
---
Allegheny Cemetery
Lawrenceville Section of Pittsburgh, Allegheny County, PA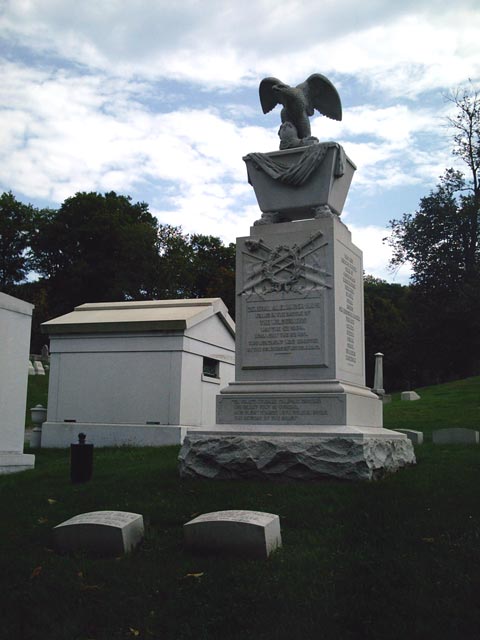 General Alexander Hays, (view 2 , 3 , 4)
(contributed by Ellis Michaels)
---
Cross Roads Presbyterian Cemetery
Monroeville, Allegheny County, PA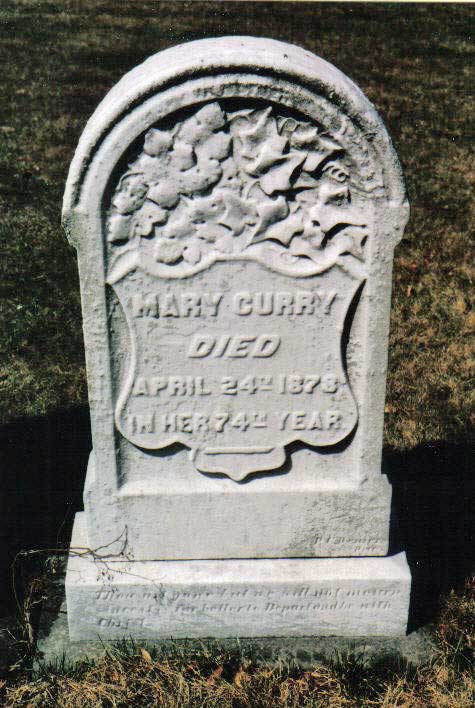 (contributed by Bill Plack)
---
Beulah Presbyterian Cemetery
Churchill Borough, Allegheny County, PA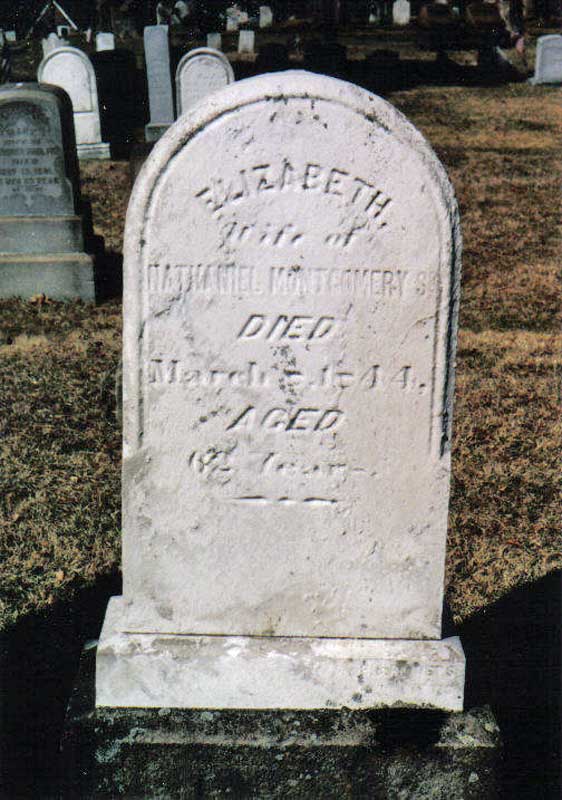 (contributed by Bill Plack)
---