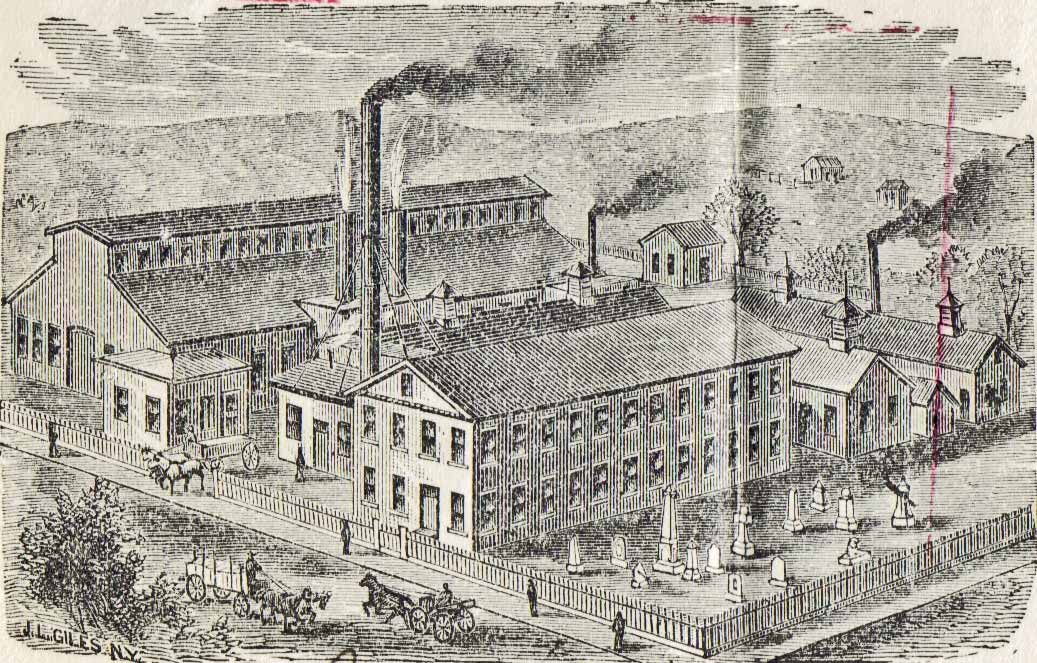 Monumental Bronze Company
Bridgeport, CT
1874 - 1914
(Biography and Photographs contibuted by Bill Plack and Ellis Michaels)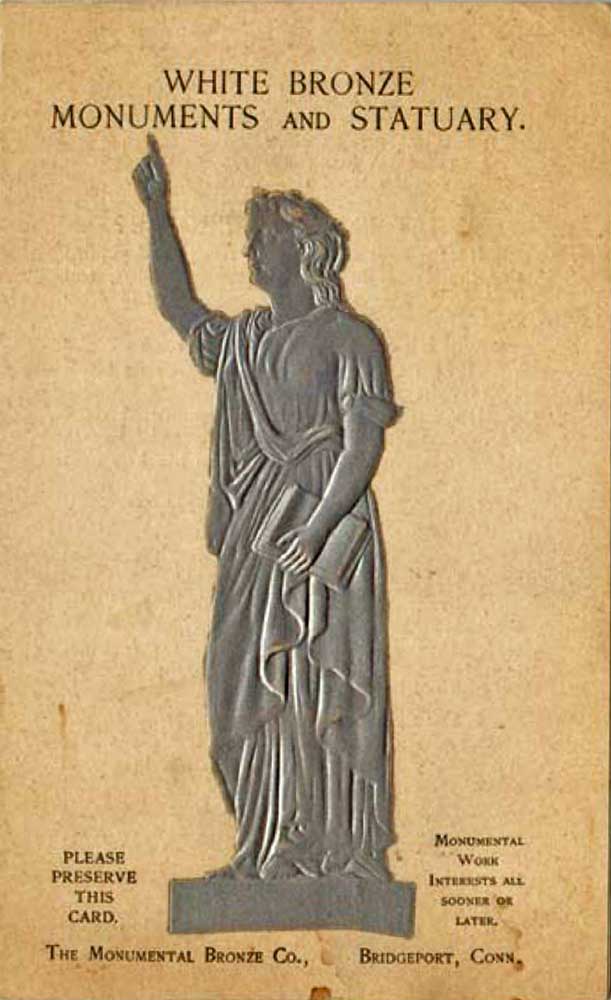 (printer friendly version of text)
The products of Monumental Bronze Company do not technically belong on this site because they are not stone, they are not carved, and they were not manufactured in Pennsylvania.
However, they are attractive, they are unusual, and they are common enough as to likely be encountered by any genealogist researching Pennsylvania cemeteries.
The company had its beginnings in 1874 and was incorporated as Monumental Bronze Company in Bridgeport, CT in 1879. They stopped production of grave markers in 1914, but continued casting bronze and other metal moldings until final bankruptcy in 1939.
The grave markers (one can not really call them tombstones) made by Monumental Bronze Co. were referred to as "white bronze", although they are neither white nor bronze. They are made of zinc, and exposure to the elements gives them their distinctive blue-gray color. (Zinc is also the material found as the coating on galvanized nails that make them weather resistant).
The Monumental Bronze Co. was the only company in the eastern United States to make these unusual markers, and all the casting was done in Bridgeport, although some assembly of the final product was done by a few subsidiaries. The variety was virtually unlimited since each marker was cast in individual pieces and then assembled. There were no dealer showrooms where you could go and look at various markers, just an "agent" with an illustrated catalog, who could sometimes send you to a nearby cemetery to see a marker that he had sold. In fact, the marble and granite tombstone makers often resented the Monumental Bronze agents because, with no stock, no tools, no facilities, and no training, the agents could sell the least expensive white bronze marker for as little as $2.00, underselling the traditional carvers who had a considerable investment in time and money.
For whatever reason, Monumental Bronze markers never became really popular. I have been in many cemeteries that do not have any white bronze markers at all; some have only a few; and if I find a cemetery that has more than a few it is an indication that an unusually successful agent served the area.
Monumental Bronze Co. also manufactured the Civil War statues that stand in some larger cemeteries, and on many court house lawns. The company reported that they had soldier and sailor monuments in 31 states.
Whatever else may be said about white bronze markers, they certainly are "genealogist-friendly". After 100 to 125 years, every word, every name, every date is as clear and legible as the day it was cast.
Taken from a company catalogue ca. 1890
A FEW SCIENTIFIC ENDORSEMENTS OF WHITE BRONZE.
"These monuments will, in my opinion, last for ages."
Prof. B. F. CRAIG,
U. S, Government Chemist.

"I can see no good reason why these monuments should not last as long as the Pyramids of Egypt."
Prof. J. W. ARMSTRONG.
N. Y. State Normal School.

"Judging from a scientific and chemical standpoint, these monuments will last thousands of years."
Prof. S. P. DUFFIELD,
State University, Michigan.

"The durability of the White Bronze Monuments is an unquestionable scientific fact."
GEORGE A. KONIC, Ph. D.
Prof. Metallurgy and Applied Chemistry,
University of Penn.

"I take great pleasure and feel no hesitation in recommending these monuments to the public, as filling every requirement for cemetery purposes."
Prof. F. L. BARTLETT, of Portland,
State Assayer of Maine.

"The White Bronze Monuments are not porous like marble or stone and will not absorb water, and are not, therefore, subject to injury by frost, and are unchangeable after oxidization takes place."
ELIHU THOMPSON, Esq.
Prof. Chemistry, Central High School of Philadelphia.

"I have examined the material for making monuments manufactured by the Monumental Bronze Company. It is well adapted in all respects for use in monuments. It will not be altered by the action of any constituents of the atmosphere, nor will it absorb the moisture and become coated with green, cryptogamous plants.''
E. P. HARRIS, Prof. Chemistry,
Amherst College, Mass.

When marble, sandstone and granite have crumbled to atoms, these monuments will remain untouched by the destroying hand of time.

A large variety of new and elegant designs to select from, in prices to suit all.
---
Known Examples of Monumental Bronze Company's

Zinc Grave Markers

Antis Cemetery

Antis Township, Blair County, PA

(contributed by June Weston)

Gilgal Presbyterian Cemetery

East Mahoning Township, Indiana County

Casebeer Cemetery

Lincoln Township, Somerset County

Union Cemetery

SomersetTownship, Somerset County

Eastview Union Cemetery

Delmont Borough, Westmoreland County

Old Zion Lutheran Cemetery

East Huntingdon Township, Westmoreland County

Mars Hill Baptist Cemetery

Sewickley Township, Westmoreland County

Unidentified Cemetery in

Jefferson County, PA

Example of White Bronze Vault Door

Union Cemetery, Hastings, Cambria County, PA