Black Fork Cemetery, Nashoba, Oklahoma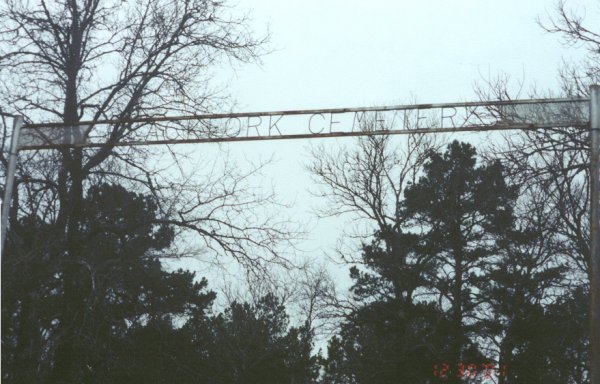 Entrance to Black Fork Cemetery, Nashoba, Oklahoma
Thanks to Teri Cochran for submitting this cemetery!
*** Click the small photos to enlarge view ***
Maron H. Cockrum
Jan. 16, 1879
May 4, 1925
Submitted by: Teri Cochran
Military Marker
Kelley M. Robbins
OKLAHOMA
CPL 4 INF 25 INF DIV
WORLD WAR II
Feb 16, 1921 - May 29, 1943
Submitted by: Teri Cochran
Jesse Lee Robbins
May 21, 1931
Oct 21, 1998
Submitted by: Teri Cochran
Willard Robbins
Mar. 6, 1958
Feb. 1, 1997
Submitted by: Teri Cochran
Donna Robbins
June 2, 1963
Dec. 23, 1992
Submitted by: Teri Cochran
---
This page is maintained for the Oklahoma USGenWeb Archives Project by: Gene Phillips
Gene Phillips - Oklahoma State File Manager
Oklahoma Archive County Site
USGenWeb Archives
Oklahoma US GenWeb Archives Logo (Shield) &
Indian Nations/Indian Territory Rattle Logo Lettering courtesy of:


Updated: 05/26/02
This material is donated by people who want to communicate with and help others. Every effort is made to give credit and protect all copyrights. Presentation here does not extend any permissions to the public. This material can not be included in any compilation, publication, collection, or other reproduction for profit without permission.
Copyright 1998-2002 for the USGenWeb Archives Project