The USGenWeb Project
Oklahoma US GenWeb Archives - Noble County
Submitted by: George Cannon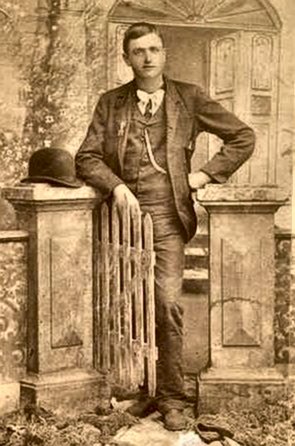 Clay Noid (Claynoid) Isreal
Birth: 27 Nov 1876
Death: 12 Oct 1899
Murdered in OK Terr.
(click wanted poster to enlarge view)
See text version below
Among my family records is a notation that Claynoid Isreal was buried near Perry, Noble Co (poss).
Query seeking information:
(1.) Where was Claynoid Israel buried?
(2.) Would the sheriff's report of October, 1899, still be on record? And where?
Anyone with information, please contact: George Cannon
Text version from Murderer Wanted Poster:
(missing or faded words are assumed & enclosed in parenthesis by the transcriber)
Noid Isreal was murdered by an unknown man on or about Oct. 12, 1899 and thrown into a pond near Perry O. T. About two days before th(e) murder, Isreal traded a team of mare(s) for a big, thin, black team of mule(s). The trade was made some place (be)tween Arkansas City and Blackwe(ll). One of the mares was an iron g(ray) weight about 1,100 pounds, four ye(ars) old at that time, moon eyed, bli(nd) and light face, blocky build. Peculi(ar) hind feet which were kept shod (to) save them.
The other was a sorrel or brow(n) mare about seven years old, paced u(n)der saddle, weight about 1000 pounds, well broke to buggy and would wa(lk) under the shafts when held up.
An old wagon that had been repaired coupling pole broken and spliced with hewed pole. Six inches broken off end of tongue, but spliced with iron above and below.
One churn of a peculiar make, made with a seven gallon square zinc can set in a wooden frame, with dasher, and run by cog gearing on top of frame, and two hand cranks. Made by J. W. Buffum, Salina, Kans.
The Governor of Oklahoma has offered a reward of $200. for the arrest and conviction of the murderer.
Anyone knowing anything about the horse trade or the whereabouts of the horses, mules are any of the other things described, might very materially assist in finding the guilty man by writing to the sheriff at Perry, O. T.
George A. Foster, Sheriff
PLEASE POST
---
NOTE: For more info on this family, see this page in Lincoln, Co., OK.: Cannon & Allied Families
---
Gene Phillips - Lincoln County Archivist
Gene Phillips - Oklahoma State File Manager
Oklahoma Archive Table of Contents Page
Oklahoma USGenWeb Archives (Shield) Logo by

© 2001-2003 by Gene Phillips for the Oklahoma US GenWeb Archives Project
Friday, November 07, 2003 05:53:13 PM