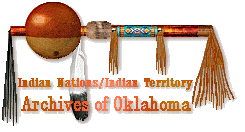 Welcome to the Seminole Nation Archives of the state of Oklahoma!
The Seminole Nation
The Seminole tribe was formed in the 1700's when groups of Southeast Indians fled white encroachment and enslavement and settled in the plains of Spanish held Florida. In 1817, with the accusation that the Seminole were harboring runaway slaves, Andrew Jackson commanded nearly 3,000 American troops to attack and burn their lands, starting the first Seminole War. Shortly thereafter, Spain ceded Florida to the U.S. bringing the Seminole under U.S. jurisdiction. A treaty later provided the tribe with a reserved tract east of Tampa Bay.
In 1832, the Payne's Landing Treaty took away all Florida land claims from the tribe, and provided for removal to Indian Territory. Ratification of that treaty in 1834 allowed the Seminole three years before removal was to take place. Among the worst chapters in the history of Indian Removal, the war lasted almost seven years and cost thousands of dollars not to mention, lives. It finally ended in 1842 with the agreement that several hundred members of the tribe could remain in Florida.
In 1856, the Seminole were assigned land in Indian Territory, and by 1868, the tribal bands from refugee locations elsewhere in Indian Territory had settled on those lands. The Seminole are one of the Five Civilized Tribes in Oklahoma.
Until the first railroad opened in their area in 1895, the Seminole were more isolated than any of the other Five Civilized Tribes.
Landmarks
The Five Civilized Tribes Museum (Muskogee); The Seminole Nation Capitol/Museum (Wewoka); exhibits at Woolaroc (Bartlesville); The State Museum of History (OKC); Gilcrease and Philbrook Museums (Tulsa); The Mekasukey Mission Grounds (Seminole)
Seminole Nation Archivist
Gene Phillips - State Archivist
Linda Simpson-Indian Nations/Indian Territory Archivist
Please help the Seminole Nation Archives Grow, Kindly Submit Data
If you have any cemetery records, bible records, deeds, applications for citizenship, census, probate, tax, etc.. in the Seminole Nation, please send them in an attachment to me. Please be sure to identify that it is for the Seminole Nation. It also needs to be a plain text file, no HTML and no images. This ensures that everybody will be able to read it, no matter what kind of web browser. Here is a help file.
Please read the Guidelines.The information found below has been submitted to The USGenWeb Archive Project. It is offered free to all who visit. The ownership - copyright stays with the submitter. Please read and respect the copyright on all submissions.
Cemeteries
Arbeka Trading Post Cemetery -1K-Nov 2001-Linda Simpson
Arbeka Indian Methodist Church Cemetery-1K-Nov-2001-Linda Simpson
Konawa Cemetery (partial)-4K Feb 2000 - Robert W. Smith
Oakwood Cemetery (partial)-5K Feb 2000 - Robert W. Smith
Schoolton Cemetery Database -17K - June 1999- Phyllis Curry
History
Observations on the Seminole Indians-14.6K-May-2002-Lance Hall
Indian Nations to Oklahoma Counties-Oct-2002-Linda Simpson
Obituaries
Richard Allen Bemo - 3K - ***
Alice B. Davis - 3K-Jan-2002-Linda Simpson
Rev. Jackson Edmond Deere -1K -Oct-2002-Linda Simpson
Rolls
Moore's Seminole Roll and Land Guide 1898
Oklahoma Archives Table of Counties
Indian Nations/Indian Territory Table of Nations
Indian Nations/Indian Territory Rattle Logo Lettering
and OK Archives Shield courtesy of

This page is maintained by Linda Simpson
for the USGenWeb Archive Project
©2005 - Present

Last Updated: 13 Aug 2012