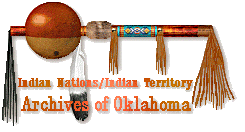 Welcome to the Comanche Tribe Archives of the state of Oklahoma!
Comanche
From Komantcia, a Ute Indian word meaning 'one who fights me all the time.' They call themselves Numunah, meaning 'the people.' The Comanche are of the Shoshonean linguistic family and were the only tribe to leave their Rocky Mountain origins and live on the Plains.
Originally hunters in the Rocky Mountains, they eventually moved onto the Great Plains. As they migrated southward--with their teepee villages--they displaced other Plains tribes. Among them were the Kiowa, with whom they clashed for years, but a peace was made (about 1790) that has never been broken.
Roaming the area between what is now Kansas and Texas, they traded and hunted. At the council on Medicine Lodge Creek in 1867, Chief Ten Bears made a speech seen as one of the finest delivered by an Indian in American history. By treaty that year, they agreed to an assigned reservation in southwestern Oklahoma. But the disappearing buffalo and harsh conditions led to rebellion against the whites and government. In 1875, under Army pressure, Quanah Parker led his people to surrender at Fort Sill--when the open-[rairie tepee gave way to government built two-room houses.
The Comanche were the most skillful horsemen of all American Indians and ranked as one of the most powerful nomadic tribes on the Southwestern Plains.
Oklahoma Landmarks~Quanah Parker Star House and Eagle Park Ghost Town, both at Cache, Oklahoma.
Comanche Tribe Archivist
Lola Withrow
Gene Phillips -State Archivist
Linda Simpson - Archivist-Indian Nations/Indian Territory
Help the Comanche Tribe Archives grow, kindly submit your data.
If you have any cemetery records, bible records, deeds, applications for citizenship in the Comanche Tribe, land patents, probate records, allotment records, etc, that pertain to the Comanche Tribe, please send them to me as an attachment in an e-mail to Lola Withrow
. Please be sure to identify that it is for the Comanche Tribe. It also needs to be a plain text file, no HTML and no images. This ensures that everybody will be able to read it, no matter what kind of web browser. Here is a help file.
The information submitted to The USGenWeb Archive Project is offered free to all who visit. The ownership - copyright stays with the submitter. Please read and respect the copyright on all submittals.
Please read the Guidelines.
---
History
codetalkers.txt 3K 17-Dec-2001 Linda Simpson
Oklahoma Archives Table of Counties
Indian Nations/Indian Territory Archives
page maintained for the USGenWeb Archive Project by
©2001-2009 Lola Withrow
Oklahoma USGenWeb shield logo by


Last Updated: 31 Aug 2009