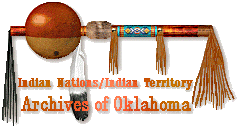 Welcome to the Indian Nation Archives of the State of Oklahoma!
Chickasaw Nation
The Chickasaws are one of the Five Civilized Tribes of Oklahoma. Two agreements with the Choctaw shaped their history here. One, in 1837, provided for Chickasaw settlement in Indian Territory within the Choctaw Nation. The other, in 1854, established the boundary between the two nations. The Chickasaw purchased their land from the Choctaw.
The word Chickasaw is the anglicized version of the tribe's name for itself, "Chikasha," which roughly translates to "he who walked ahead." Traditional tales portray these as "the people of one fire." An advanced civilization, the Chickasaw lived well by Mississippi frontier standards.
The tribe's earliest settlement was on the east side of the Mississippi River. The first Chickasaw contact with Europeans came in the winter of 1540-41, when they defeated Hernando De Soto and his conquistadors. The first of 14 U.S. treaties and agreements was the 1786 Treaty of Hopewell. The tribe's motto is "Unconquered and Unconquerable," from their tradition of never having lost a battle.
Legend has it the tribe came from the West and settled with their leader, who had carried a mystic pole that leaned east until it crossed the Mississippi. Lands under tribal control included present-day Mississippi, Alabama, Tennessee and Kentucky.
Twelve counties in south central Oklahoma comprise the Chickasaw Nation: Carter, Garvin, McClain, Ponotoc, Murray, Johnston, Grady, Jefferson, Love, Marshall, Stephens and Bryan.
If you have information you would like to contribute to the Chickasaw Nation Archives please contact me. Thank you.
Chickasaw Nation Archivist: Gene Phillips
Oklahoma State Archivist: Gene Phillips
Indian Nations-Indian Territory Archivist: Linda Simpson
Join a mail list for the Chickasaw Nation which deals exclusively with the Chickasaw Nation in the Oklahoma Indian Territory.
Send an email to IT-CHICKASAW-L-request@rootsweb.com
Background information in Text format
-T623-1846 INDIAN TERRITORIES 1900 CENSUS: CHEROKEE & CHICKASAW
*T623-1847 INDIAN TERRITORIES 1900 CENSUS: CHICKASAW NATION
-----------Vol. 6, ED 120 to 128; Vol. 7, ED 129 to 139 (190 FOLS 139)
Now available as a work in progress for viewing: ED 121 Sheet 7 pg 101a - 112a


*T623-1848 INDIAN TERRITORIES 1900 CENSUS: CHICKASAW NATION
-----------Vol. 8, ED 140 to 151; (185 FOLS 146)
*T623-1849 INDIAN TERRITORIES 1900 CENSUS: CHICKASAW NATION
-----------Vol. 9, ED 152 to 164; Vol. 10, ED 165 to 178
- T623-1850 INDIAN TERRITORIES 1900 CENSUS: CHICKASAW NATION & CHOCTAW
-Marriages Records-
Southern District, Indian Territory-1895
Grooms-1895 13-Apr-1999 Carl Ann Cast
Brides-1895 13-Apr-1999 Carl Ann Cast
-Newspapers-
Davis Advertiser 14 Feb 1895 20 Jan 2005 Nita
Davis Weekly News 24 Jan 1901 20 Jan 2005 Nita
Davis Advertiser 15 Jan 1895 20 Jan 2005 Nita
Davis Advertiser 14 Mar 1895 20 Jan 2005 Nita
-Newspapers-

Page maintained by Gene Phillips for the USGenWeb Archives Project
Page designed by ©2001-2002 Linda Simpson for the USGenWeb Archives Project
| | |
| --- | --- |
| | OK USGenWeb Archive Logo creator |
---
---
Updated Sunday, 22-Aug-2010 20:34:34 EDT