Indian Nations

Indian Territory

Archives

Ft. Sill Apache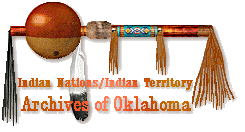 Welcome to the Ft. Sill Apache Tribe Archives of the state of Oklahoma!
Ft. Sill Apache
In their own language, the Fort Sill Apache identify themselves as members of one of the four divisions of the nation anthropologists call the Chiricahua Apache tribe. The Chiricahua sometimes used the term Ndé, meaning 'people' to refer to themselves. The Fort Sill designation comes from the reservation where they were held as US prisoners of war.
Southwestern New Mexico, southeastern Arizona and northern parts of Mexico were Chiricahua territory. In the mid 1800's, the US claimed a large portion of Chiricahua Apache territory, ignoring the tribe's rights. Thousands of miners, farmers, and ranchers began moving onto Apache lands, driving the tribe out. When the people resisted, they were chased and assailed until they agreed to stay on reservations. Some Chiricahua still resisted, and were taken from their reservations and placed on a different tribe's reservation in Arizona. When a few of the Chiricahua refused to stay on the reservation, all the men, women and children were exiled to Florida as prisoners of war. They were kept there two years before being moved to Alabama, and then to Fort Sill in Oklahoma Territory, which was to become their reservation when they were finally released.
While at Fort Sill, they built homes and began raising crops and cattle.
When forced to choose between allotments of farmland in Oklahoma or sharing the Mescalero reservation in southeastern New Mexico, of the 271 remaining tribe members, 187 went to Mescalero and 84 chose to remain in Oklahoma. The last of the Apache prisoners were released in 1914 after 28 years as U.S. prisoners of war. The smaller group who chose to remain in Oklahoma are called the Fort Sill Apache.
Gene Phillips- State Archivist
Linda Simpson-Indian Nations/Indian Territory Archivist
Help the Ft. Sill Apache Archives grow, kindly submit your data.
If you have any cemetery records, bible records, deeds, applications for citizenship in the Ft. Sill Apache, land patents, probate records, allotment records, etc, that pertain to the Apache Tribe, please send them to me as an attachment in an e-mail to me. Please be sure to identify that it is for the Apache Tribe. It also needs to be a plain text file, no HTML and no images. This ensures that everybody will be able to read it, no matter what kind of web browser.
The information found below has been submitted to The Oklahoma USGenWeb Archives Project. It is offered free to all who visit. The ownership - copyright stays with the submitter. Please read and respect the copyright on all submittals.
Fort Sill Apache Archivist
Kiowa Reservation
Apache Birth Rolls-1-July-1924 to 30-June-1925-Linda Simpson
Apache Birth Rolls-1-July-1925 to 30-June-1926
Apache Birth Rolls-1-July-1926 to 30-June-1927
Apache Birth Rolls-1-July-1927 to 30-June-1928
Land Patents
Apache Land Patents-1K-22-Jan-2002-Linda Simpson
Oklahoma Archives Table of Counties
Indian Nations/Indian Territory Archives
page maintained for the Oklahoma USGenWeb Archives Project by
© 2002-2009 Linda Simpson
Oklahoma USGenWeb shield logo by


Last Updated: 29 Aug 2009