Obituary
Tony Leven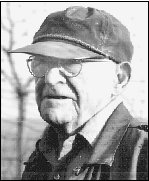 The son of Joseph and Gertrude (Conrady) Leven, Tony was born Nov. 18, 1897 in Ottawa, IL. The family moved to Oklahoma in 1900 and first settled near Nardin. He attained his education in Kay County, first attending Hurley rural school and eventually graduating from the eighth grade at St. Mary's Catholic School in Ponca City. He moved to the Newkirk area when he was 18 and took a four-month course in bookkeeping at St. Francis Catholic High School in Newkirk. With the first money he owned, he left home and joined a neighbor who had a threshing machine and spent 90 days on the harvest route.
Tony and Mary Louise Sheik were married in Newkirk on Sept. 1, 1921. They established their home on the farm, and they operated a dairy farm for 30 years. He was also one of the first farmers in Kay County to have his fields terraced and to plant trees for wind breaks. They retired the dairy operation in 1952. Tony and his oldest son, Otto, along with his family, farmed together until Otto's death in 1982. Mrs. Leven died Jan. 5, 1992. Tony continued living on the farm until he entered the nursing home at the age of 103.
He was a member of St. Francis Catholic Church, the Knights of Columbus, and he had served on the Parish Board. He was a charter member of the Newkirk Coop and, as a young man was elected to serve on the board of directors, a position he held for 24 years. He was also an FHA committee member.
He is survived by two sons, Fr. Marvin F. Leven of Okarche and Andrew "Andy" Leven of Walnut Creek, CA; 14 grandchildren; and 25 great-grandchildren.
In addition to his wife Mary Louise, he was preceded in death by two sons, Harold Stephen Leven and Otto John Leven; one daughter, Mary Louise Jackson Muetzel; his parents; his four brothers, Sgt. Otto F. Leven, Bishop Stephen A. Leven; Joseph Leven and Frank Leven; and four sisters, Gertrude Leven, Mrs. Nick (Katie) Larchey, Mrs. Lyman (Marie) Gray and Sister Rosa Elizabeth.
A Prayer Service has been scheduled at 7:00 p.m. Wednesday, June 4 in St. Francis of Assisi Catholic Church. Mass of Christian Burial will be at 10:30 a.m. Thursday, June 5 in St. Francis Catholic Church with the Most Rev. Eusebius J. Beltran, Archbishop of Oklahoma, the Rev. Marvin Leven, the Rev. Richard Beckman as celebrants, Dr. Dunn Cumby, Deacon, and Rev. Edward Weisenburger as Homilist. Barbara Meiser will serve as organist for the service. Burial will follow in Newkirk Cemetery.
Grandsons serving as casket bearers will be Harold Leven, Wayne Jackson, Mark Jackson, Blase Leven, John Leven, Chris Jackson, and Kirk Leven. Honorary bearers are David Hodgson, Bob Richert, Jerry Psieffer, Rob Simon, and Monte Doeren.
A memorial fund has been established with St. Francis Catholic Church. Contributions may be made in Leven's memory through Eastman National Bank, Box 468, Newkirk 74647-0468.
Arrangements are under the direction of Miller-Stahl Funeral Service.
---