Cemetery's namesake gets belated grave marker
By: Eddie Glenn, Press Staff Writer
After 71 years, Molly Field gets recognition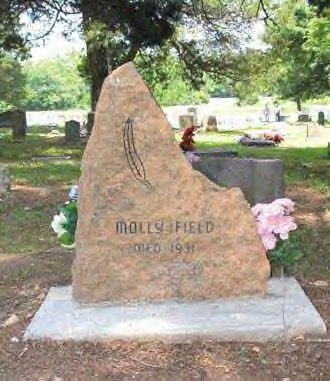 MORE ON MOLLY FIELD
Subj: Mollie Fields
Date: 12/31/2002 5:12:04 PM Central Standard Time
From: Melissa Ogle
Sent from the Internet (Details)
I read, with great interest, the accompanying story about
Mollie Fields and the new head stone she received.
My husband and I had seen the grave marker prior to the
installation of this.
I have additional data to her story. She and her sister, Jennie
Murphy (buried right next to Mollie and I hope she's still there...).
were the daughters of Edward Lowrey, son of Switzler Lowrey.
Switzler made the Trail of Tears and was the son of Sallie Lowrey,
sister of George Lowrey, Assistant Princ. Chief. Mollie was born
about 1856 in Indian Territory.
I have Mollie and Jennie's Dawes application and Miller reports.
Sincerely, Melissa Ogle