This page is maintained for the Oklahoma U S Gen Web Archives Project by: Jeff Smith
Oklahoma State File Manager - Gene Phillips

Lawley & Mathis Families
Photos and Information furnished by Jennifer Sparks
Robert Henry Mathis and his wife Sarah Jane Carroll Mathis. They came to Cookson in 1893.
They were Cherokees from GA. They heard there was land to be had for Indians in Oklahoma.
This picture was taken about 1920. Sarah Jane Carroll Mathis was buried at the old Cookson Cemetery,
but her grave was lost when the cemetery was moved to higher ground to make way for Lake Tenkiller.
RH Mathis outlived her and moved to Sapulpa with his children who had gone to work in the glass factories.
He died and was buried there in the 1930s.

John Lawley and his wife, Susie Mathis Lawley, on the front steps of their homeplace at Cookson around 1940.
The Lawley and Mathis families were living at Cookson by 1890.

Madge Lawley Ballew. This picture was taken at Cookson in the 1920s.
She was the daughter of John Lawley and Susie Mathis.
This is a picture of RH Mathis and his grandchildren and great grandchildren.
The girls are L-R: Jewell Blair, Fannie Lawley and Edna Mae Blair. 1929
This is Fannie (Lawley) & Delmar McDaniel,
(Gertie, Madge, Lola and Fannie Lawley were sisters.)

This is Lola Lawley (from Cookson) and her boyfriend, Bradshaw
Gertie Lawley, Frank Lawley, Bryan Lawley and Maude Lawley. Maude died in the flu epidemic of 1918 at age 10.
Above picture was taken about 1908.
=====================================================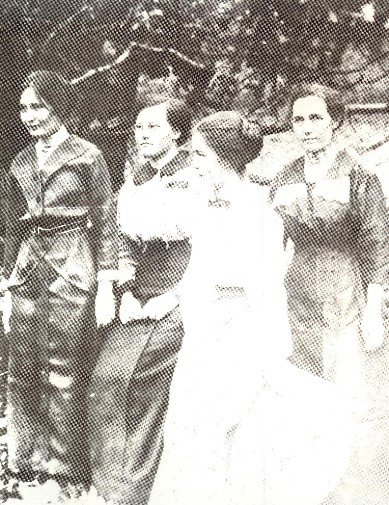 Update: L-R: 1.Mary Ratliff Griffin, 2.Teacher (woman in glasses) 3.Ellen Cookson Griffin (in white) 4.Grannie Elizabeth Altoona Cookson Ratliff Vann (called Lizzie and/or Toon or Toonie).
This picture is a group of Cherokee Female Seminary students. I am not sure who is who. I know one person in the picture is Altoona (Toon or Toonie) Cookson. I was told by my mother it was the woman in the glasses. One of the women is their teacher. I can't remember exactly which one but it's either the woman on the back right or the woman in the white dress. This picture was taken about 1895. It belonged to my great-grandfather, John Lawley, who my grandmother said was always "sweet on Toonie."

Thanks for stopping by!
This page last modified:Wednesday, 06-Aug-2014 09:11:43 EDT
Cherokee County Archive Site
Cherokee County US Gen Web
God Bless America
A SINCERE THANK YOU TO ALL CONTRIBUTORS !!!!!!
Oklahoma US Gen Web Archives Logo (Shield)
courtesy of:


This site maintained and copyrighted by the U S Gen Web Archives Project
USGENWEB NOTICE:
In keeping with our policy of providing free Information on the Internet, data may be used by non-commercial entities, as long as this message remains on all copied material. These electronic pages may NOT be reproduced in any format for profit or for presentation by other persons or organizations. Files may be printed or copied for Personal use only. Persons or organizations desiring to use this material for purposes other than stated above must obtain the written consent of the file contributor.