This page is maintained for the Oklahoma U S Gen Web Archives Project by: Jeff Smith
Oklahoma State File Manager - Gene Phillips

Photo of Tahlequah, 1923

Submitted to the Cherokee Co., OK archives 1\02\2002 by: Paul Davis
The submitter has given permission to the USGenWeb Archives to store the
file permanently for free access. Cherokee Co., OK, Archives page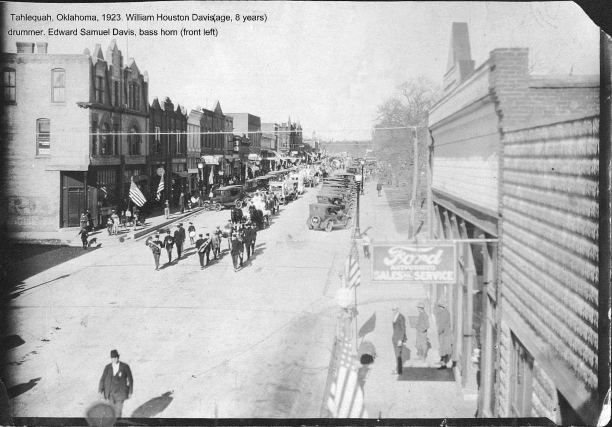 Hi Bill- As promised, I am attaching a photo of downtown Tahlequah taken in 1923. I am unsure of the
occasion. It seems that most everyone is in long sleeves. But many flags are out so it could be the 4th.
A clock on the background (above 4th flag from left) indicates that it was taken at 12:50. The shadows
are a bit longish for 1:00 in the summer. And there seems to be little foliage on the tops of the trees in front
of the courthouse. Thus, it is likely a fall or winter occasion. A tower of the college can be seen far in the
background. The man in the foreground is Mayor (? first name) Thompson. Or maybe he was the sheriff.
The man front row, left, playing the bass horn, is my Grandfather Edward Samuel (Sam) Davis. The kid in
back on the same row, playing snare drum, is my six year old father, William Houston Davis. Sam Davis was
a barber in town for many years. He was also an Illinois River patrolman.
I hope the photo will prove to be of some use eventually.
Paul Davis

Thanks for stopping by!

This page last modified:08/04/14
Cherokee County Archive Site
Cherokee County US Gen Web