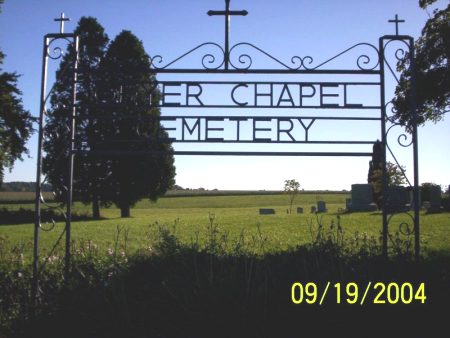 To donate Cemetery photos for any of the cemeteries located in Ohio,
please read our How to Donate Page.
We need your help to grow!
---
These tombstone photos have been generously donated by Emmett Shaffer, Oct. 15, 2004.
This cemetery is located at the corner of Geyers Chapel & Hutton. North of Wooster, at the west end of runway of Wayne County Airport. Coordinates: 40 52.779N - 081 53.879 W
---
Please Note: Click on underlined name to view tombstone image.
Oxenrider
, Jacob V., 1882 - 1942
Oxenrider
, Glennie R., 1882 - 1944
Oxenrider
, Jefferson D., 1853 - 1932; Mariah, his wife, 1855 - 1926
Back to Wayne County Index
[an error occurred while processing this directive]