---
This page is part of a FREE site located at http://www.usgwarchives.net/oh/tompics/index.htm. If you
have arrived here from somewhere else, and are in a frame, you can
click the correct url of this page to break free of the frame.
---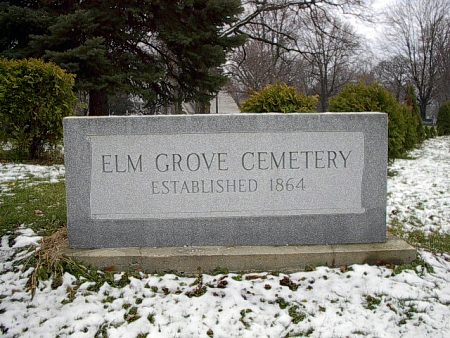 St. Marys Twp.
Auglaize County
To donate memorial photos for any of the cemeteries located in Ohio,
please read our How to Donate Page. We need your help to grow!



---
These tombstone photos have been generously donated by Tracy Steinbrook Grant, Feb. 22, 2004
This cemetery is located on Greenville Road, southern edge of St. Marys Twp. This is a very large cemetery, and if anyone is interested in additional information there is a Elm Grove Cemetery Association with an office located on the property. Phone number is 419-394-2164.
---
Please Note: Click on name to view tombstone image.
Werts, Albert N., 1857 - 1947 Albert was born Feb. 1857, married Callista Orilla Drury about 1879 in Mercer Co., OH.
[Row 2 of Section E (South part of Section E and North part of Section A. This south of the large tree with thge letter E and runs to the far south end where the drive turns west. It stops at the large tree with letter A on it at the front near corner of drive. all stones south of this are in the next part of Section A.
Werts, Callista Orilla Drury, 1861 - 1945 She was born in Aug. 1861. Her tombstone is butted against the back of Joseph X. & Fredonia A. Pfenning memorial. To view this memorial, click here. Row 4, same section as Albert Werts.
Werts, Amanda J., died March 26, 1910, aged 57 yrs Row 18 of Section I )This section is the large center just south of the Chapel. Row 1 is on the west side and it is read from south to north. Row 2 is read back down the row from north to south with uneven read north and even row3s read south. At the back or east side of this section was the township section or Potter's Field with many unmarked graves.
Werts, Nelson C., 1845 - 1929 This inscription is on ther other side of the memorial stone for Amanda J. Werts.
Back to Auglaize County Index
---
Return to the OHGenWeb Tombstone Photo Project Index
Return to the OHGenWeb Tombstone Project
Return to the OHGenWeb Archives
This page is maintained by, Robert M. Sizelove, Sr., your Project Manager.
---
Files contributed are for use by the OHGenWeb Tombstone Photo Project
and by the OHGenWeb Archives Project
USGENWEB NOTICE: All documents, including these electronic photographs placed in the USGenWeb Archives remain the property of the contributors, who retain publication rights in accordance with US Copyright Laws and Regulations. In keeping with our policy of providing free information on the Internet, these documents may be used by anyone for their personal research. They may be used by non-commercial entities, when written permission is obtained from the contributor, so long as all notices and submitter information are included. These electronic pages, may NOT be reproduced in any format for profit. Any other use, including copying files to other sites, requires permission from the contributors PRIOR to uploading to the other sites. The submitter has given permission to the USGenWeb Archives to store the file permanently for free access.
© 2001-2017 Robert M. Sizelove, Sr. © 2001 Mary Ann Hetrick © 2000 Debbie Barrett