Millersport Cemetery
13890 Lancaster-Newark Road Northeast
Millersport, OH 43046
(740) 467-2647

Millersport Cemetery is located at the west end of Main Street in Millersport, Ohio (Walnut Township, Fairfield County). The coordinates are 39° 53' 50.63" N, 82° 32' 15.05" W.

The Cemetery is still active. There are quite a few old gravestones, and most are in terrific condition. The oldest stones are located on the north side in a separate section. The cemetery is very well maintained by the township with many veterans of the Civil War and Spanish American War. The cemetery is located next to the old Canal.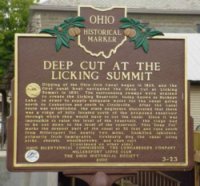 Click Here To Visit some goodies provided by the Fairfield County Historic Millersport Village [Fairfield County Historic Villages, Millersport, Ohio -- Ohio Erie Canal System The Deep Cut]. For more info on Millersport, Click Here.
Millersport Cemetery at the Ohio Gazetteer. [This Includes a Map.]
Other Photos by William Fischer, Jr., Mar 27, 2011.