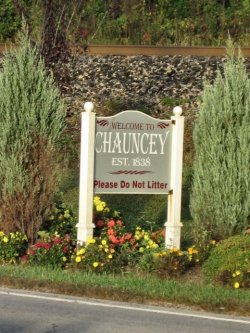 Nye Cemetery is located on the east side of OH-13 in Chauncey, Ohio (Dover Township, Athens County)

GPS N 39.40534 and W -82.12785

Nye Cemetery is fairly good size, and it is still active. Most of the gravestones are in good shape, there are very few broken ones. The cemetery grounds are very well maintained by the township. Layed out in a oval shape driveway with graves in the center and around the oval shape with another section separated by a water runoff ditch.

From looking at the remains of the town of Chauncey today, you wouldn't know that this town was once a huge industrial city in Athens county. In the earliest days the natural salt springs are what brought the pioneers to the area. Later the coal industry is what made Chauncey thrive.

From the 1883 History of the Hocking Valley, " Chauncey is situated on a level plot of ground forming a tongue of land between the mouth of the Sunday Creek and the Hocking. It has been a town of considerable trade, especially during those years of the active manufacture of salt. It's location is favorable for the building up of a large town. There is ample building room for 20,000 inhabitants. Should some of our Eastern capitalists make Chauncey a center of operation on coal mining and iron making, there would soon gather into its locality a large and thriving population. It being situated on the Ohio Central and at the terminus of Sunday Creek Valley it would have the advantages of two valleys, Hocking and Sunday Creek."

By 1905 some capitalists did just that and opened up mines in Chauncey. For about half a century the mines brought many people to the area and many made a satisfying life from the profits of the coal industry here. Today Chauncey is going the way of other coal mining towns, just a few residents left that enjoy the beautiful scenery of the valley.