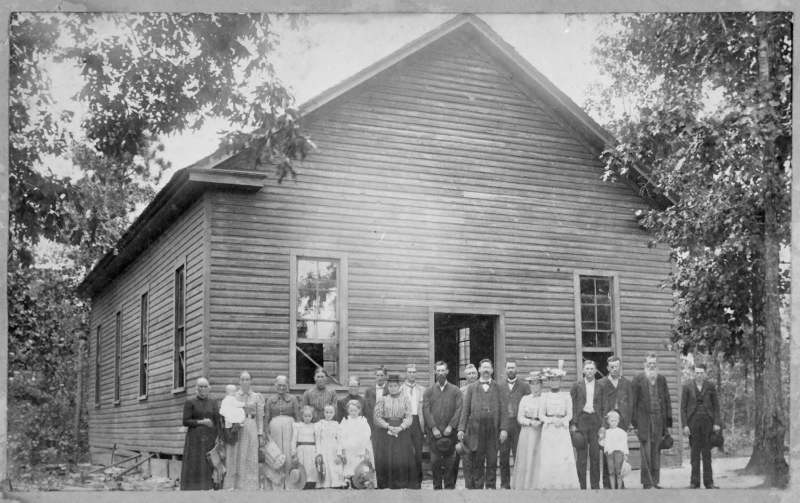 ---
There are three known people in this photo
Newman Potts, 3rd from right
James Addison Fields, 2nd from right
Mary Fields Potts, 2nd from left (w/o Newman Potts; d/o James Addison Fields)
Mary had a child in 1894 who may have been the child in her arms
---
Emmaus Baptist Church - 100th Anniversary - 1890-1990
Records indicate the church was organized in 1890, and minutes of the Neuse-Atlantic Association show that Emmaus, along with the churches at Seven Springs and Eureka (Mt. Nelson), were admitted to the association in 1891 while sessions were being held at Beaufort on the 13th and 14th of October; and the messengers from Emmaus petitioning for admission were Newman Potts, Major Lewis and Dr. Ezzell.
Oct 13 1892 - Daily Journal New Bern
The Baptist Association at ten o'clock yesterday morning the delegates to the Atlantic Association and a number of visitors re-assembled in the Baptist Church. After a half hours devotional exercises, which were led by Rev. C. J. Nelson of Goldsboro, the work of the Association was resumed. Standing committees for the incoming year were appointed by the moderator, Rev. J. T. Albritton as follows: Home missions, Rev. D. McLeod, Beaufort; R. A. Riggs, Pollocksville; Newman Potts, Emmaus Church, Wayne County.
Wayne County, NC Register of Deeds, Bk 66, pg 191
April 17, 1893 - Deed for one acre of land from Samuel E. Casey and wife Sarah Casey and H. Weil and Bros., for one dollar, land conveyed to M. C. King, W. T. Smith, John H. Edwards, Newmon Potts and J. E. Peterson, trustees of Emmaus Missionary Baptist Church in Indian Springs Township, Wayne County, North Carolina adjoining the lands of Rebecca Hardison beginning at a fork in the road leading from Spring Bank road to Dudley and adjacent to S. C. Casey and said Hardison.
A severe storm on Tuesday, March 13, 1923, wrecked the church at the original site; and after some weeks the members voted to relocate the church to its present site about a mile north. Old timbers of the church were brought and used in the auditorium part of the present church.
Emmaus Baptist Church - 100th Anniversary - 1890-1990
Emmaus Church has been located in two places during its 74 year history. It was originally built about a mile from its present location on the spot where Mr. and Mrs. Robert Brock now live [cross the road from today's Brogden Chapel Pentecostal FWB Church]; and it has been at the present location since 1923 or 1924.
______________________________________________________________________

Copyright. All rights reserved.
http://www.usgwarchives.net/copyright.htm

This file was contributed for use in the USGenWeb Archives by
Guy Potts - egpotts@gmail.com
______________________________________________________________________