James Lane Judgments and Executions, 1794-1798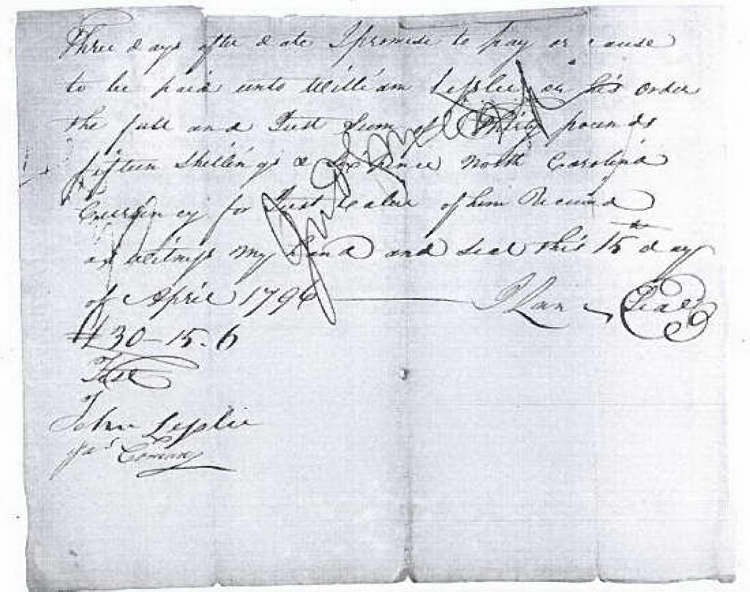 Front side top of page: William Lesslee vs James Lane
Bottom corner same page:
Note - James Lane - L30.15.6
Back side of page: Three days after date I promise to pay or cause to be paid unto William Lesslee or his order the full and Just Sum of thirty pounds fifteen shillings & Six pence North Carolina currency for Just Value of him Received as witness my hand and Seal this 15th day of April 1796
James Lane {Seal}
L30.15.6
Just
John Lesslee
____ Comary
Written across the writing on this page: JUDGMENT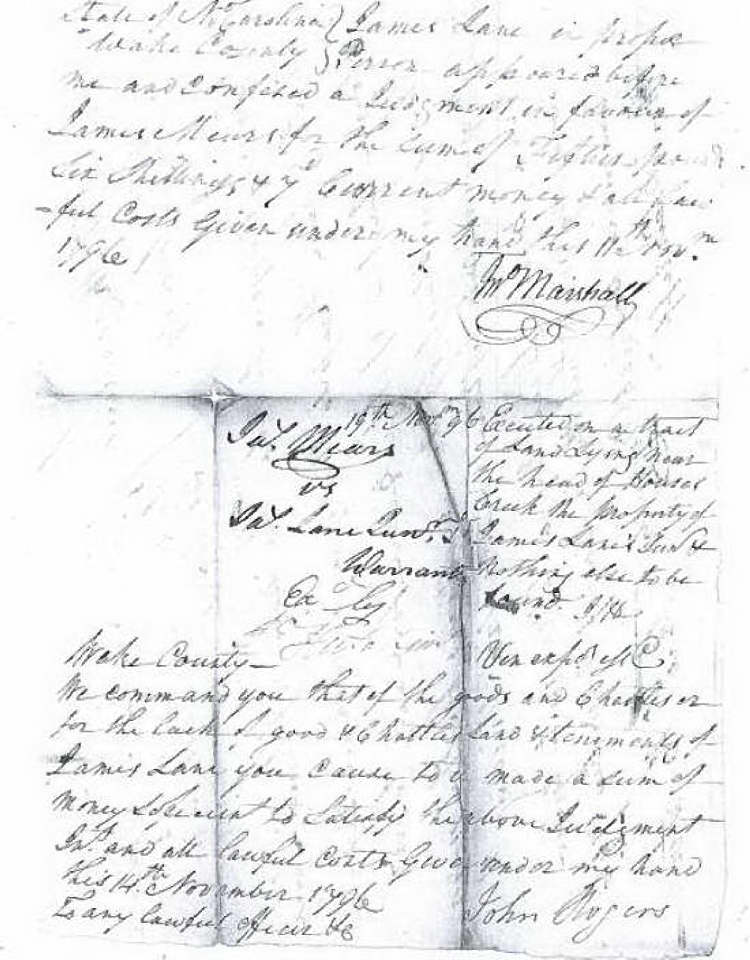 Back side of page
Top half
State of N. Carolina / James Lane in proper Person appeared before
Wake County / me and confesed a Judgment in favour of James Miars for the sum of Fifteen pounds, Six Shillings & 7 Current Money & all lawful Costs given under my hand this 11th Nov. 1796
W Marshall

Back side of page
Bottom half
Jms. Miars
vs
Jms. Lane Junr.
Warrant
Text below written in a different hand
19th Nov. m96 Execute on a tract of Land Lying near the head of Houses Creek The property of James Lane Junr & nothing else to be found. J H
Ven exp.or ips C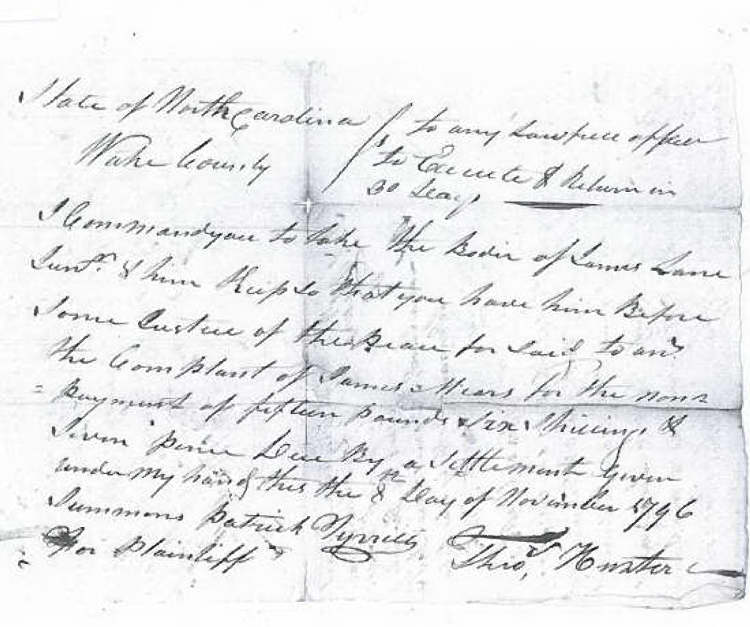 Ex ly
Wake County
We command you that of the goods and Chattles or for the lack of good & Chattles Land & tenements of James Lane you cause to be made a sum of money suficint to Satisfy The above Judgment Int. and all lawful Costs given under my hand This 14th November 1796 John Rogers
To any lawful officer etc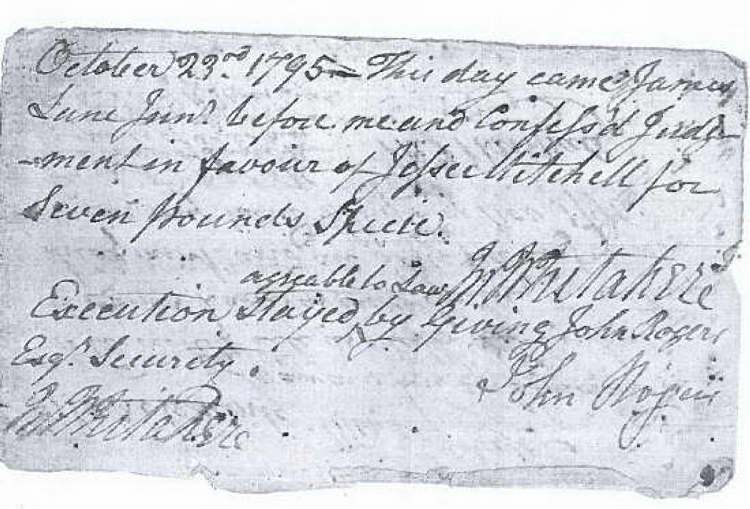 Fourth Document
Separate page
Jesse Mitchell
vs
James Lane
Front side page 2: October 23rd 1795 This day came James Lane Junr. before me and Confessed Judgment in favour of Jessee Mitchell for Seven pounds _______.
W Whitakere
Execution stayed agreeable to Law by giving John Rogers Esq. Security. W. Whitaker John Rogers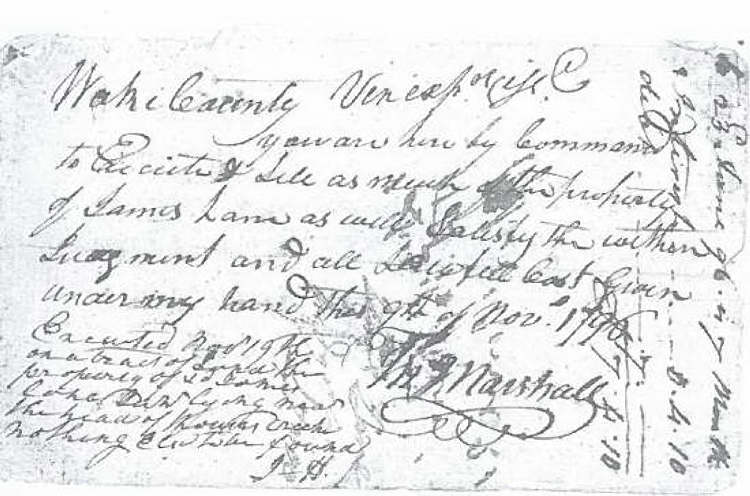 Back side page 2: Wake County Ven exp.or ips C [?]
You are here by Commanded to Execute & Sell as much of the property of James Lane as will Satifsy the within Judgment and all Lawfull Cost given under my hand this 9th of Nov 1796
W Marshall
Written in a different hand in bottom left corner:
Executed Nov 19th
on a tract of Land The
poperty of s d James
Lane Junr lying near
the head of Houses Creek
Nothing else was found
J H

Written sideways along right edge of this page:

23rd June 96 ? in 7 Months
Interest-----0.4.10
debt---------7.------
____ 7.4.10

Submitters Note: All spelling, abbreviation, capitalization, punctuation or lack thereof is contained in the original documents. The Latin phrase used in several instances above-Ven exp.or ips-could not be found. It is hard to decipher and I believe it was abbreviated as well, but the nearest I could come is as follows: Ven, is to come back. Exp.or, could be ex parte, something done by one party, or ex post, something done later. The last part looks like yrs or ips, could be ipso, meaning-itself.