James Lane - Court Appearances


December Term 1795, page 115
James Lane Junr. Returned his list of Taxable Property for the year 1795 (to wit) 1245 acres of land and 9 poles which was sworn to-




March Term 1796 page 138
A deed from James Lane Junr. to Gray B Willeford Proved by the Oath of John Rice




June Term 1796 page 164
A Deed from James Lane Junr. to Theophilus Hunter Junr. proved by Nathaniel Jones esq. {initials}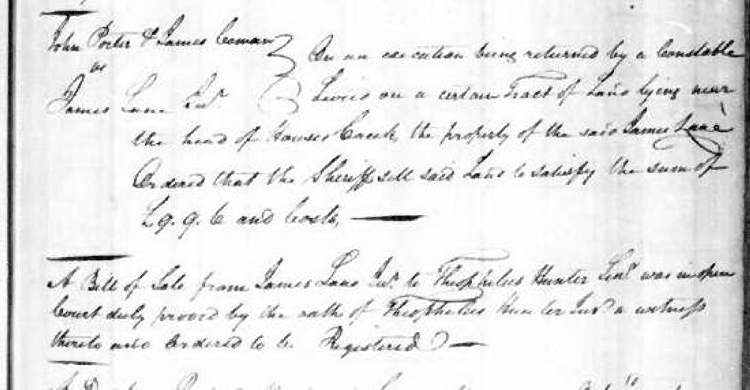 June Term 1796 page 164
March Term 1797 page 227
John Porter & James Cowan [?]
vs
James Lane Junr.
On an execution being returned by a Constable Levied on a certain Tract of Land lying near the head of Houses Creek the property of the said James Lane Ordered that the Sheriff sell said Land to satisfy the sum of L9.9.6 and Costs
A Bill of Sale from James Lane Junr. to Theophilus Hunter Senr. was in open Court duly proved by the oath of Theophilus Hunter Junr. a witness thereto and Ordered to be Registered---




March Term 1797 page 237
William Lassiter
vs
James Lane Junr.
Same Jury etc find the bond not paid of L30.15.6 & assess the pltff damage to One pound thirteen Shillings and Costs




March Term 1797 page 237
William Lassiter
vs
James Lane Junr.
Same Jury etc find the bond not paid of L30.15.6 & assess the pltff damage to One pound thirteen Shillings and Costs




June Term 1797 page 266
A deed from James Lane to Roadham Atkins was in open Court duly proved by the oath of John Adams a Subscribing witness thereto and Ordered to be Registered.




September Term 1797 page 274
Martine Lane is approved Guardian to Thomas Lane, Orphan of Joel Lane decs.d who came into Court and entered into bond in the sum of Two thousand pounds with James Lane Senr. and Joel Lane his Securities. [The above may reference the Joel Lane that was the son of James Lane Sr. and nephew of Joel Lane whom I reference)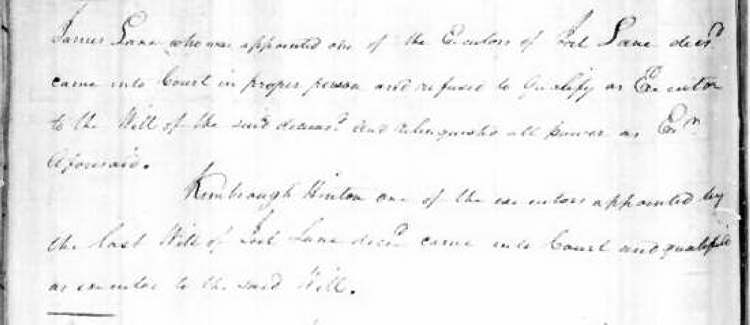 September Term 1797 page 280
James Lane, who was appointed one of the Executors of Joel Lane decs.d came into Court in proper person and refused to qualify as Executor to the Will of the said deceased. And relinquished all power as Ex. m Aforesaid Kimbrough Hinton one of the executors approved by the last Will of Joel Lane decd. came into Court and qualified as executor to the said Will.




March Term 1798 page 341
Ordered that Theophilus Hunter Senr. be Exonerated from the payment of the tax on 700 acres of land and five polls, being the amount of James Lanes Junr. list of taxables for the year 1797. The said Hunter having given in that property in his list of Taxable property for that year.




March Term 1798 page 346
The Same
vs
James Lane Junr.
Presentment Neglect.
Defend.t came into Court & submitted and fine 5/- & in custody till fine & fees paid