---
Lenoir County NC Record Book Abstracts
NC Archives

---
Transcriptions of Lenoir County records, rerecorded after courthouse fires of 1878 and 1880. Volume includes deeds, land grants, patents, surveys and other land records, as well as wills (including Richard Caswell's), inventories, appointments of fiduciaries, indentures, dowers, marriage contracts and licenses, bridge petitions, powers of attorney, sales of slaves, treasurer's receipts, etc.
---
Survey of Disputed Lands - PARROTT & WARTERS vs JOHN S. ALDRIDGE
p 42 - Surveyed 16 May 1848 - On order from Superior Court of Lenoir Co, April Term 1848 we have surveyed lands in dispute wherein PARROTT & WARTERS is plantiff and JOHN S. ALDRIDGE is defendent - viz A B C D E F G H represents the THEOPHILUS BAXTER patent. D E F J K L M represents the THOMAS WILLIAMSON patent for 500 acres. D E F I J N represents the deed from WILLIAMSON to COTTON as plantiff claims. N J L K X with Jumping Run to Falling Creek represents deed from WILLIAMSON to JOHN CLARK as pltiff claims. N O P L K X with Jumping Run to Falling Creek represents the deed from WILLIAMSON to CLARK as the defendant claims.
Signed by JESSIE NOBLE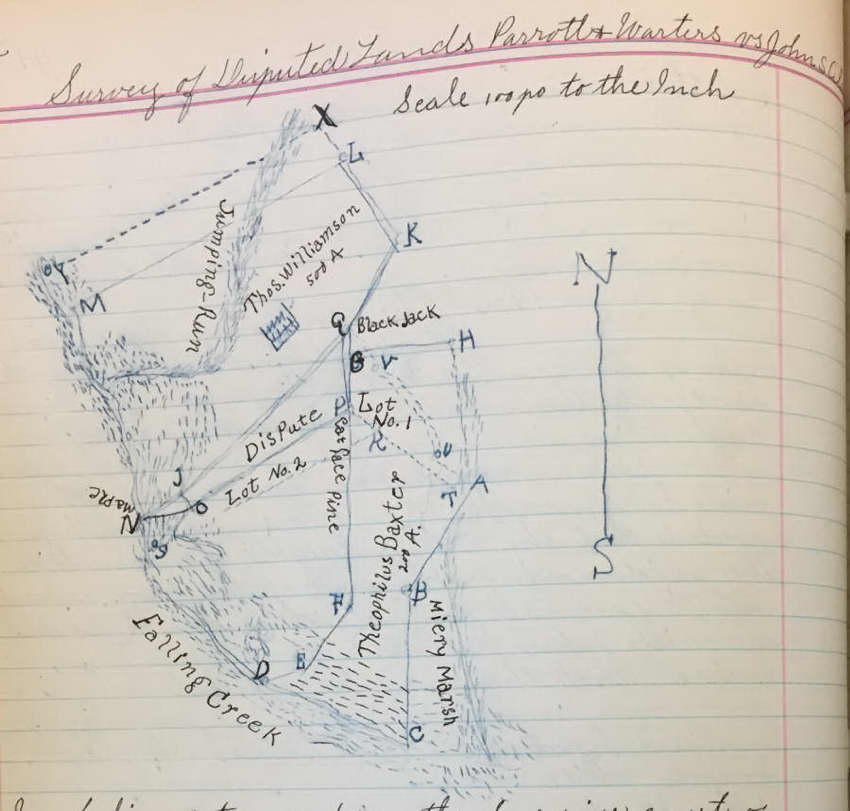 ---
Survey for SIMON BRIGHT, JR.
p 88 - Survey June 30 1767 for SIMON BRIGHT, JR. esq - 500 acres in Dobbs - SS Briery Branch near main road, adj BRIGHT'S corner of 200 acres, LINTON, JOSEPH CARRUTHERS.
Wm ORMAN, Survy.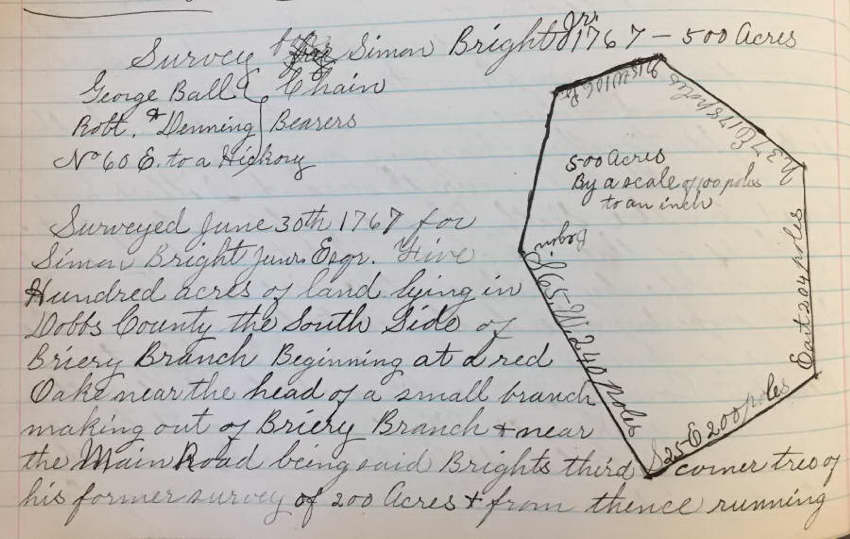 ---
Report of Committee on Division of RICHARD HILLS Land
p 105 - WALTER DUNN, WILLIAM MOSELY, JOSEPH HARDY, ISAAC TULL & HENRY TULL & ROBERT W. GOODMAN county surveyor to set apart to SUSANA HILL, JOHN L. HILL, & RACHEL HARDY WIFE of ABRAM HARDY their shares of the lands of RICHARD HILL dec'd. Lot 1 to SUSANNA HILL side of Briery Branch, 37 acres; Lot 2 to JOHN L. HILL sied of Briery Branch, 36 acres; Lot 3 to RACHEL HARDY side of Briery Branch, 36 acres.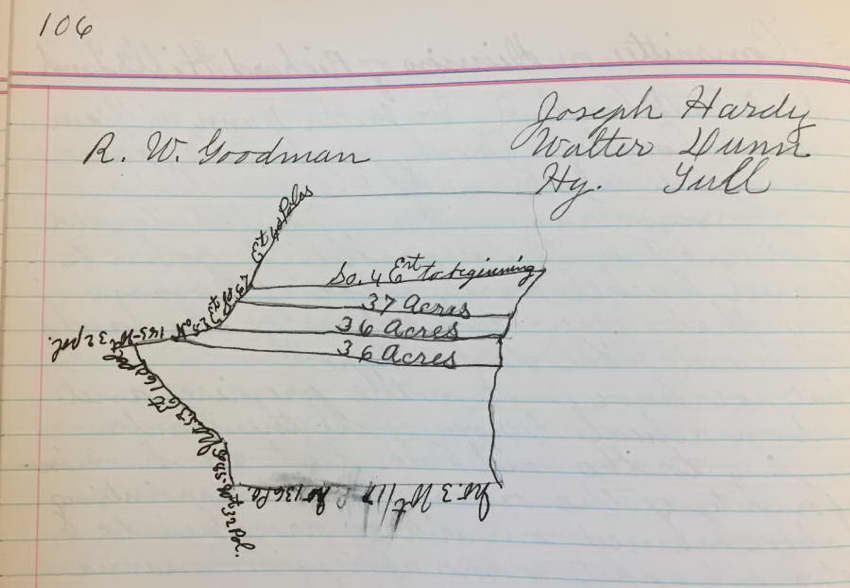 ---
Land Grant to MAJOR HARDY, 10 acres, 20 Apr 1801
Lying in Lenoir County on north side of Neuse River including his Farmer Swamp plantation, adj. corner of land granted to JOSHUA CROOM dec'd, widow of JOSHUA CROOM, MRS. CASWELL'S LINE.
B. WILLIAMS
WILL WHITE Secretary
Enrolled & recorded 20 Jan 1802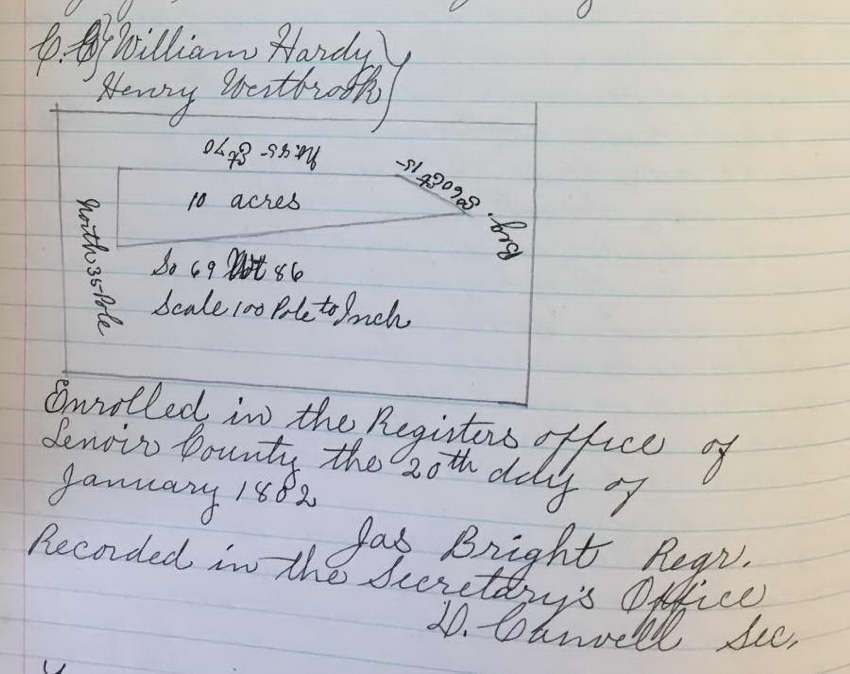 ---
Land Grant No. 308 to MAJOR HARDEE, 19 acres
In consideration of fifty shillings for every hundred acres, granted a tract of lan containing 19 acres lying in Lenoir County, north side of Neuse River, south side of Sam's Pocoson, adj. WILLIAM WILLIAMS, CROOMS and AMBROSE JONES CORNER.
Entered 6 Mar 1806
Surveyed 26 Jul 1806
Recorded 12 Dec 1806
NAT. ALEXANDER, WILL WHITE, SEC.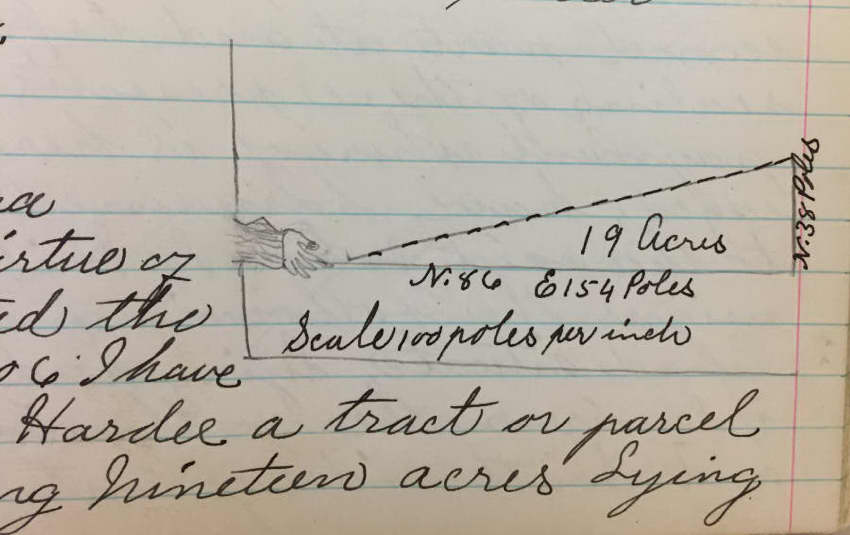 ---
Land Grant No. 276 for FRANCIS CASWELL from JAMES TURNER, Gov., 21 Sep 1802 - 5 acres
In consideration of fifty shillings for every hundred acres, granted a tract of land containing 5 acres in Lenoir County on Farmers Swamp, adj. MARTIN CASWELL dec'd, William Arrendall, JOHN GARROT or PARROT.
Entered 21 Sep 1802
J. TURNER
WILL WHITE, Sec.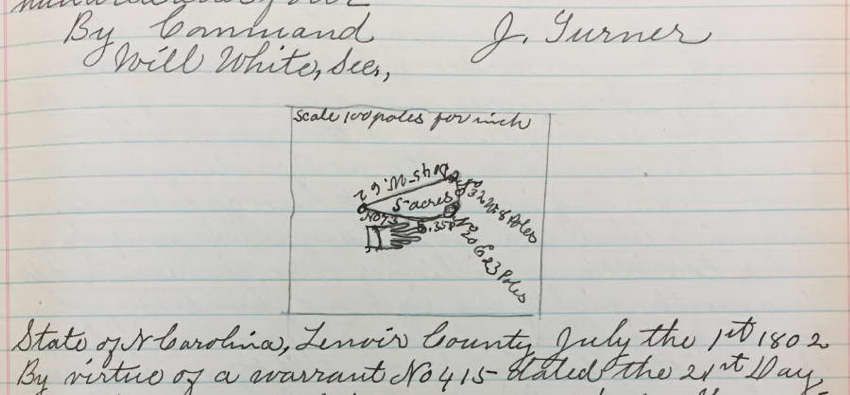 ---
LAND GRANT - WILLIAM HAWKINS GOV TO MAJOR HARDEE
Entered 12 August 1808 - State of North Carolina #344 - 50 shillings for every 100 acres pd by MAJOR HARDEE - grant a tract of 53 acres - NS Neuse, NS Tom's Creek - beginning at a patent line granted to NATHANIEL BIRD, adj WILLIAM WILLIAMS, RICHARD CASWELL'S formerly line.
WILLIAM HAWKINS, Gov
Lenoir County - Warrent granted to MAJOR HARDEE 12 August and #521 and issued 16 December 1808. I have on 17 December 1808 survy sd land containing 53 acres - land description as above - JOSEPH LOFTIN, surveyor WIT WILIAM LOFTEN, ABRAHAM HARDEE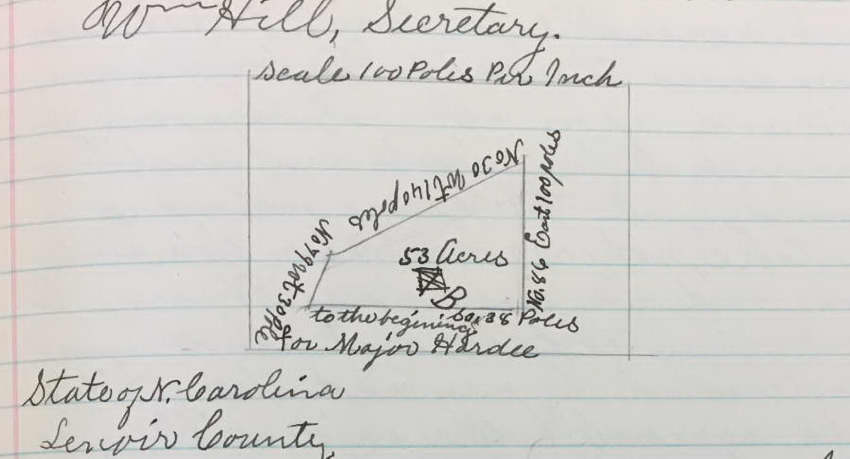 ---
INDENTURE - GEORGE WASHINGTON TO CHARLES ROBINSON
P 209 - 25 February 1843 - Indenture - GEORGE WASHINGTON of County of Richmond, State of New York (or) to CHARLES ROBINSON of Lenoir County (ee) -- $1.00 - tract on NS Neuse, WS Briery - adj corner of a tract sold this day by sd WASHINGTON to WILLIAM SUTTON, Branch --- 58 1.4 acres WIT REUBEN BARROW, WM. SUTTON
To Court April Term 1843 on oath of REUBIN BARROW W. C. LOFTIN, Clk
Enrolled 1 June 1843 JAS. E. METTS, Regr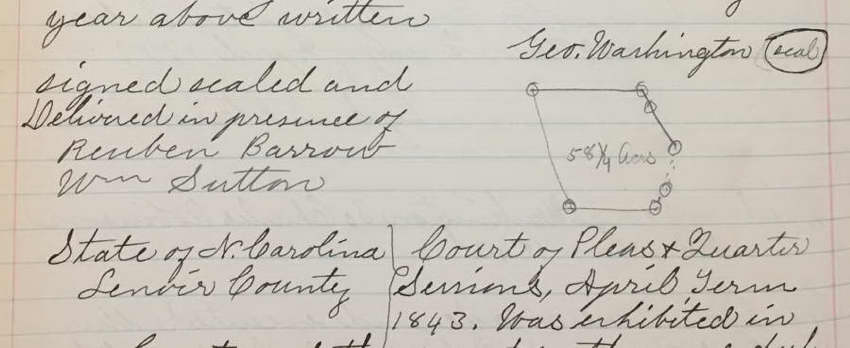 ---
PLATT FOR ROBINSON FAMILY
p 211 - Only a platt - no written information - shows names of MARY E. ROBINSON and G. P. ROBINSON which appears to be their share of someone's estate --- one line has the note - pine stake where MABELDA YOUNG formerly lived ---- one side of property was bounded by the Briery on the SS --- a note says drawn from deed - W. ARTHUR --- it is possible this is connected to the Survey of BENJAMIN ROBERTSON in 1793.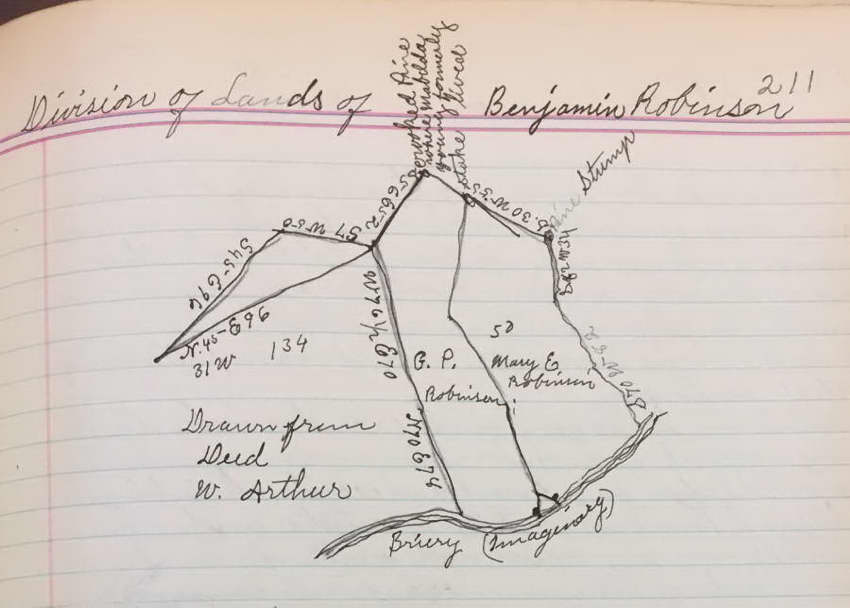 ---
LAND GRANT TO JOHN TURNER
P 296 - 1764 - Land Grant, GEORGE III to JOHN TURNER - 110 acres in Dobbs County - adj BLACKLEDGE, TURNER'S fathers line, FITZPATRICK - yearly rent of 4 shillings
CB HENRY TURNER, JOHN WILLIAMS
Survey for above for JOHN TURNER SON OF HENRY TURNER - R. CASWELL, surv
Enrolled in Wilmington 10 Nov 1764 JOHN LONDON
Recorded Secretary's office Book 1 No 12 p 108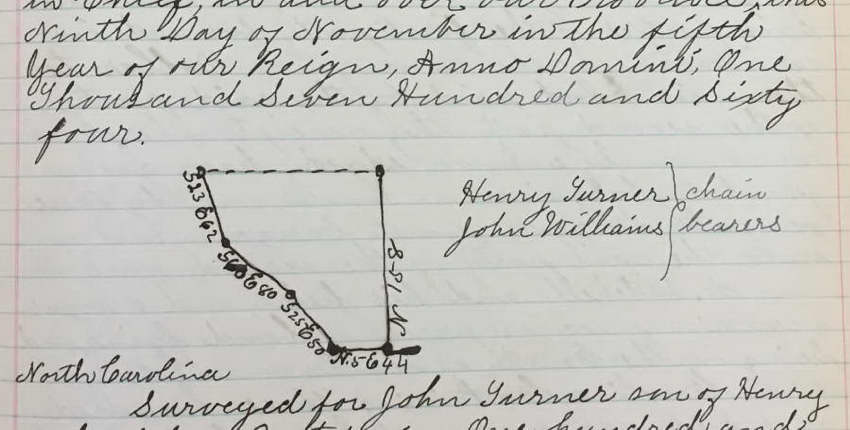 ---
Survey of land for EZEKIEL CREECH, 1 Nov 1792
p 301 - For 30 acres of land in Lenoir County NS Neuse River between Gum Swamp & White Marsh, adj. CASWELL'S line & patent, THOMAS MARTIN patent.
Samuel Byrd C. Surveyor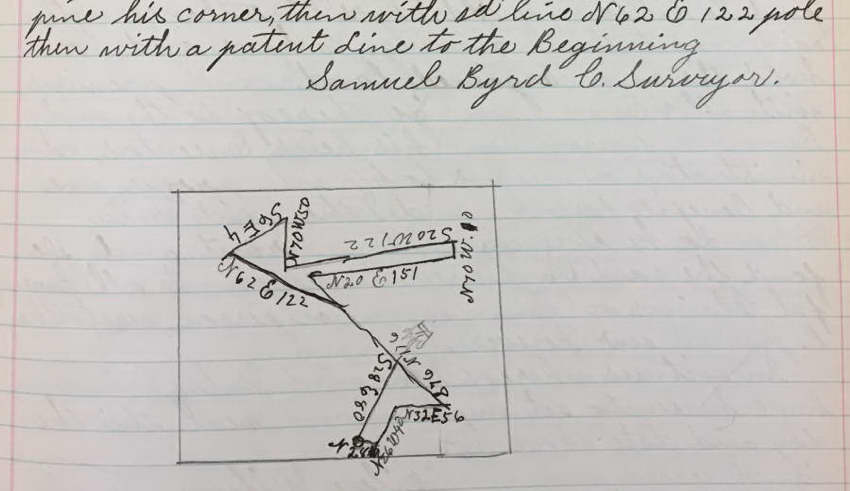 ---
GRANT to BENJAMIN PARROTT
P 311 - entered 30 June 1827 - Land Grant #395 State of North Carolina - ISAAC IREDELL to BENJAMIN PARROTT - $10 for every 100 acres --- grant BENJAMIN PARROTT a tract - 5 acres in Lenoir - NS Neuse, NW of Gum Swamp - adj WM. G. ALDRIDGE dec corner, White Marsh
JAMES IREDELL, Gov 1 January 1828 - WM. HILL, secretary
Survey - Pursuant to a warrant date of 12 October 1827 #721
Entered 30 June 1827
CC JOSIAH POOC ?? for BENJA PARROTT, SENR
THOS MOOSLY, GS

---
SURVEY FOR BENJAMIN PARROTT
P 319 - entered 16 March 1835 - Survey for BENJAMIN PARROTT - 39 1/4 acres - WS Gum Swamp, ES lower Falling Creek adj JOHN SUTTON, JAMES BROWN, his own land, WILLIAM Y. ALDRIDGE.
STANTON TAYLOR - surveyor
BENJAMIN PARROTT entered 50 acres of land per entry #777
LEWIS C. DESMOND, Clk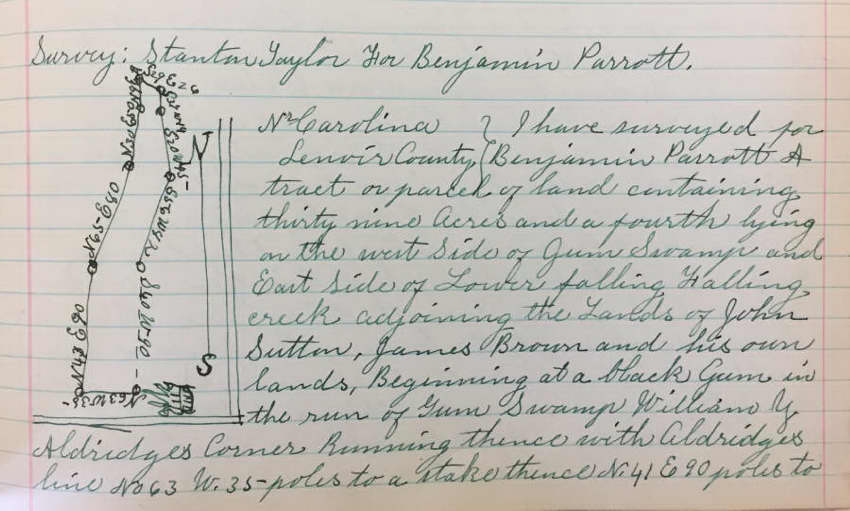 ---