Davie County, NC
Squire and Sarah Boone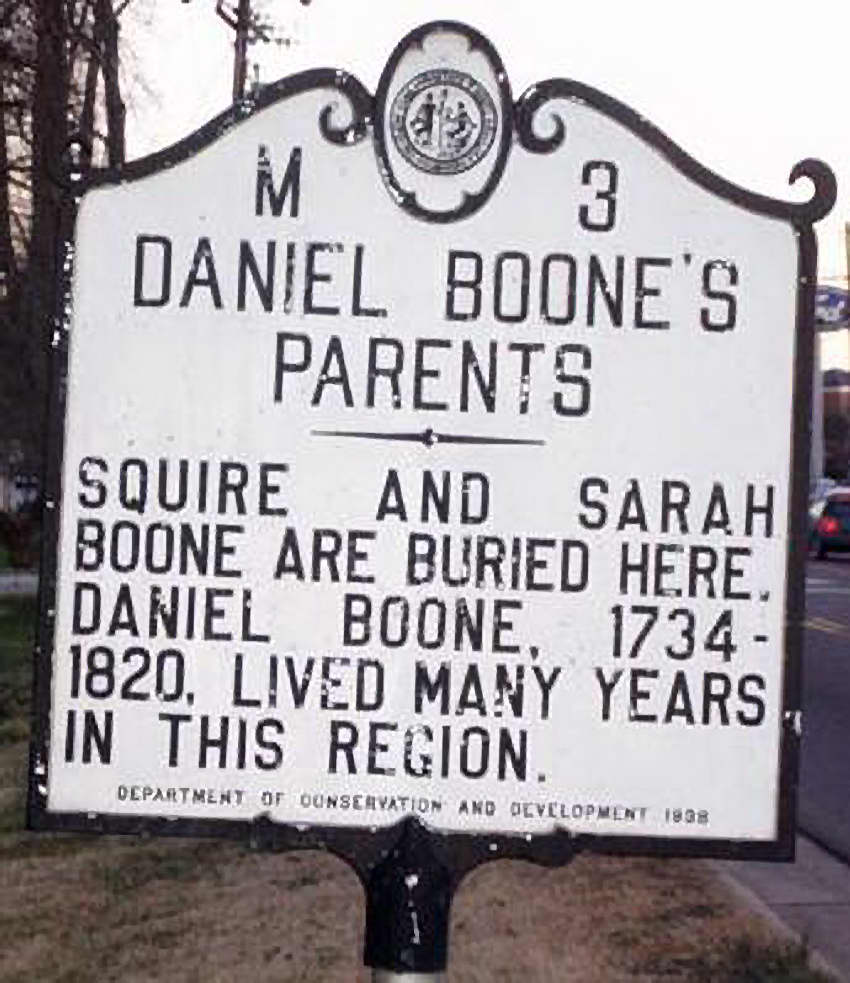 Daniel Boone was born November 2, 1734 (some sources say October 22), in the log farmhouse that evolved into - and was replaced by - the main house of the Daniel Boone Homestead, situated east of Reading in Berks County, Pennsylvania.
Daniel's father, Squire Boone, was an English Quaker born in Devonshire in 1696. While still a youth, Squire, his brother George and sister Sarah embarked for Philadelphia to appraise the possibilities of settlement for their father's family, who immigrated finally in 1717.
Squire settled first in Abington, then moved to Gwynedd, where he met Sarah Morgan, born in 1700 to Welsh Quakers. Married in 1720, they lived first near Gwynedd, then in Chalfont, Bucks County, Pennsylvania, before purchasing 250 acres of the Homestead in 1730. Squire's father and brothers also lived in the area and became prominent in business, local government and the Friends Meeting.
Daniel was the sixth child, one of eleven, born to Squire and Sarah. Although little is known of Daniel's Pennsylvania years, he undoubtedly helped his father as farmer, weaver and blacksmith and had the usual experiences of a boy growing up in the back country.
In 1750 Squire and Sarah joined the growing southward movement of Pennsylvanians, and concluded their long trek in the Yadkin Valley of North Carolina. While their principal motive may have been economic, it is also a fact that Squire had been "read out of Meeting" by the Exeter Friends in 1748 for his unrepentance in allowing his son Israel to marry a non-Quaker.
From: http://www.berksweb.com/boonetext.html

When the original grave stones were in the ground, vandals had chipped pieces off them. The city of Mocksville, NC, put them in a vault until this brick monument could be built to display those stones.