Atkinson Cemetery, Cottage Grove, Washington Co., MN

All images and content contained on this website are Copyright © 2004, E. Katie Holm, unless otherwise noted.
All rights reserved. Images and text may not be duplicated or downloaded in part, or in whole, without prior written permission.
Map
Below is a lay-out map of the cemetery. I attempted to transcribe the cemetery by rows, but many of the stones do not fall into a logical pattern. This map is not to scale, but should help visitors locate the stones they wish to see.
For this transription and information "Thanks go to: Katie Holm"
For transcriptions and credits for this project see page at:
http://files.usgwarchives.net/mn/washington/cemetery/atkinson.txt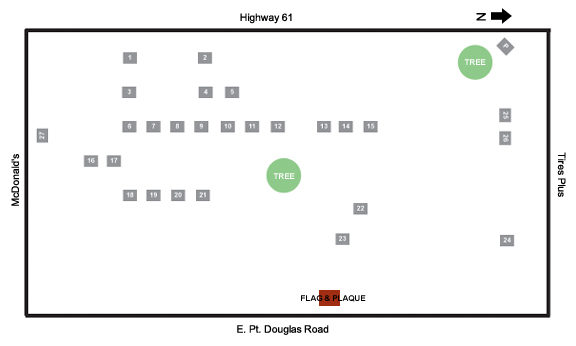 Atkinson Cemetery Biographical Information
These are the biographies of the people known to be buried in Atkinson Cemetery, as well as a few of the people assumed to be buried there, or people who have an important association with the cemetery. They are listed alphabetically by surname, with family heads listed first, and are divided into separate family groups. If there is no apparent head of family or family group, the names are listed alphabetically first by surname, and then by first name. Photographs of each gravestone accompany the appropriate biography. Please see the transcriptions page for actual gravestone transcriptions.

| | |
| --- | --- |
| The Historic Plaque. | The Rubble Pile. |

ATKINSON
JOHN ATKINSON
John Atkinson, founder of Atkinson Cemetery, was born on April 4, 1805 in Lewiston, Maine. He resided in Lewiston until his late twenties, and it was there that he married his first wife, Hannah Moore. Together they lived in Pittsfield, Maine, and began to raise a family. John and Hannah, along with their two adult sons Warren and Charles, moved to Cottage Grove in 1846. Hannah gave birth to a son, Nathan, the same year, and he is believed to be the first white child born in Cottage Grove. John Atkinson was primarily a farmer, but was highly active in the early Cottage Grove community. In 1849 he organized a private school in his home, and in 1853 he served on the board of officers when School District #53 was organized. The Atkinson home was soon referred to as "Atkinson's Corners," and when John's young son Martin was buried in what was to become Atkinson Cemetery, the cemetery was referred to as "Corner's Cemetery." When Cottage Grove was organized in 1858, John Atkinson was appointed an election judge. He was also one of the first elected township officials, being elected as supervisor. The 1858 enrollment for the Old Settlers Association lists a John W. Atkinson; while the name is somewhat common in Minnesota, it is possible this is the same Atkinson from Cottage Grove. In 1867 the Cottage Grove and Newport Universalist Church was organized at the Atkinson schoolhouse. Hannah passed away in 1873, and on October 29th the following year John married Almira B. Fiske of Baytown. John moved to Baytown to live with his new wife, and it is about this time the Universalist Church disbanded. Just shortly before he remarried, John deeded the Corner's Cemetery land to the newly formed Atkinson Cemetery Association. After he left Cottage Grove it is difficult to track what happened to John. It is rumored that he fathered more children, remarried a third time, and finally came to live in Minneapolis. Atkinson Cemetery contains no gravestone for John Atkinson, and it is sad to think that such a pioneer of Cottage Grove would not be buried in the cemetery that is his namesake. The Hennepin County Vital Records office holds the only clue to his final resting-place. A Physician's Certificate of Death contains a listing for John Atkinson who died of old age on December 28, 1892. Listed under place of burial are the words, "To be interred in Cottage Grove." Perhaps John Atkinson came home after all.
no stone
HANNAH M. ATKINSON
Hannah Moore was born in Maine on December 19, 1810. She later wed John Atkinson, and together they and their young family settled in Minnesota. Hannah was a farmer's wife, and would've tended to the home and her children. Along with her husband John and other members of the early Cottage Grove community, Hannah was one of the founding members of the Universalist Church organized at the Atkinson schoolhouse. Hannah passed away in 1873 at age 64 from cancer. Sources for her exact date of passing all conflict on either the month or day, with her tombstone listing September 17th, and the two Registers of Deaths listing October 11th or 12th. Another note of interest is the inscription on her grave, which is attributed to A. B. F. These are the same initials of the woman John Atkinson married the year after Hannah's death. It is possible that Hannah was friends with Almira B. Fiske, and that in passing she brought John and her friend together in marriage.
MARTIN V. B. ATKINSON
Not much is known about young Martin Atkinson, who met the unfortunate fate of drowning on the fourth of July in 1854. Martin was about sixteen-and-a-half when he died, which means he would have been born in Pittsfield, Maine, and was a pioneer just like his parents. Martin is most likely the first person to be buried in Atkinson Cemetery.
AUSTIN
LEWIS AUSTIN
Lewis Austin is the husband of Alzina Munger Austin. Lewis was the director of Langdon School Dist. #30, which was organized in 1872. He also was on the board of managers for the Atkinson Cemetery Association. Lewis passed away at the age of 62. His grave lists his date of death as January 25th in the 1890s. Unfortunately the stone is broken and no death certificate exists to verify the exact year.
ALZINA (MUNGER) AUSTIN
Alzina Emily Munger was born on January 11, 1825 in Orwell, Vermont. She is the sister of Joel and William Munger. Alzina married Lewis Austin, but it is unknown whether they married before or after settling in Cottage Grove. Alzina passed away on March 21, 1909 of a fractured thigh. She is the last known burial in Atkinson Cemetery.
CHURCHILL
FREDDIE A. CHURCHILL
In 1970 when the Ericksons transcribed Atkinson Cemetery, they found a stone for Freddie Churchill. Freddie died on October 20, 1865 at the age of five months. Today no stone exists for Freddie Churchill. It is likely that the stone was either vandalized during the time when the cemetery was still abandoned, or that it was too damaged to repair when Cottage Grove rehabilitated the cemetery.
no stone
WILLIE CHURCHILL
Willie Churchill was born on July 20, 1871 to J. A. and Nellie Churchill, who were farmers. Willie died in September 1872 of dropsy on the brain. The WCVR and CGHPO Registers of Deaths both list the day as the 1st, but his gravestone says the 5th. The CGHPO Register of Deaths also mistakenly lists Willie as being married at his time of death. J. H. Churchill was a trustee and sat on the board of Atkinson Cemetery; it is possible that this is Willie's father, and that Willie's birth record has a mistake, with the initial "A" instead of "H". It is also possible that Freddie is Willie's brother.
DIBBLE
DAVID J. DIBBLE
David J. Dibble died at the age of 10 on October 19, 1861. Nothing else is known about him.
HILL
LEWIS HILL
Lewis Hill was born in 1822 in Hollis, Main. In 1843 Lewis Hill began his pioneering sojourn to Minnesota, contracting fever and ague on the way. First settling at St. Croix Falls, Lewis moved to Cottage Grove in 1843. Of all the pioneers buried in Atkinson Cemetery, Lewis Hill was the first person to settle in Cottage Grove, and like most pioneers he was a farmer. In 1855 he moved to Dakota County, and in 1858 he was enrolled as a member of Old Settlers Association. Sources conflict as to when Lewis married Abba, but it is most likely that they wed when Lewis returned to Cottage Grove in 1859. Lewis and Abba were members of the Universalist Church at Atkinson Corner's (founded 1867), and Lewis was on the board of managers for Atkinson Cemetery Association (1874). The Hills had several children, many of whom are buried in Atkinson. Lewis died on February 11, 1888 of general debility.
ABBA HILL
Abba (Abbie, Abigail) was born in 1836. She married Lewis Hill in 1859. Since she was the wife of a farmer, she most likely spent her time raising their children and tending to the house. Together Abba and Lewis had several children: John W., Maude A., Tennyson, Emma C., Jessie L. and Frederick E. G. Aside from being a member of the Universalist Church, no further information about Abba is known, including the date of her death.
CHILDREN OF LEWIS & ABBA HILL
While no information is available about these children of Lewis and Abba Hill, it can be assumed they were all young children when they died. The single stone, which is for all three children, contains carvings of lambs, a figure reserved for infants and young children. Tennyson died in August 1860, and both John W. and Maude A. died in November of 1861.
CLAUDIA (HILL)
Atkinson Cemetery contains a grave with the inscription "Claudia, daughter of ____." The remainder of the inscription is completely illegible. Both the WCVR and the CGHPO Registers of Deaths list a Claudia Hill, born in Minnesota; WCVR lists Lewis & Abigail Hill as her parents. Could the Hills have had another child, or is Claudia merely Emma C.'s middle name? Claudia died of Typhoid Pneumonia on February 10, 1876 at the age of eleven years.
FREDIE E. G. HILL
Fredie (Frederick) E. G. Hill, son of Lewis and Abbie Hill, was born in 1875. He died in his early 30s in 1907. No further information is available on Fredie.
KELLER
CHARLEY KELLER
Charley Keller was born in Cottage Grove to Henry and Anna Keller. His gravestone lists his death as March 7, 1880, which conflicts with the WCVR and CGHPO Registers of Deaths, which list him dying in 1881. Charley was not even five months old when he died of croup.
MANNING
CORWIN K. MANNING
Corwin K. Manning was born on April 21, 1856 in New York. His parents were Stephen H. and Sarah Manning. It is not known when Corwin pioneered to Cottage Grove, but like most pioneers, he was a farmer. Corwin married Julia A. Munger, and together they had a daughter, Lillie May (January 10, 1871). Corwin died on February 13, 1881. While his gravestone is nearly illegible today, the 1970 Erickson transcription states that Corwin met the unfortunate fate of being "killed on the cars." Did this mean that Corwin also worked on the railroad, or did he accidentally meet his fate while walking along the train tracks?

JULIA A. (MUNGER) MANNING
Julia A. Munger, daughter of Joel and Lucinda Munger, was born on April 4, 1852 in Vermont. Julia was only five years old when her family pioneered to Cottage Grove in 1857. She married Corwin Manning, and their daughter Lillie May was born on January 10, 1871. Lillie was just ten years old when Corwin died in 1881, and was orphaned when her mother passed away the following year. Julia died on June 1, 1882 of consumption. Although Lillie was left parentless, it is most likely that a member of the very extensive Munger family took her in.

MARS
MARS MONUMENT
Atkinson Cemetery contains a modern monument to the Mars Family, which was erected in the early 1980s. The Mars Family, like the Mungers, was a large and prominent family in Cottage Grove and the surrounding area, but there is no solid evidence that any Marses are buried in Atkinson. There are no surviving gravestones containing the name Mars, and many of the Marses listed on the monument are buried in Cottage Grove Cemetery. However, an undated Platt Map of Atkinson Cemetery in the WCHS files lists a plot as being sold to J. M. Mars. John M. Mars, born on July 29, 1865, was the son of Hartley Mars. John died on July 18th in either 1883 or 1888.

After the Mars monument was erected, some Minnesota newspapers claimed that the founder of Mars Candy Corporation was buried in Atkinson Cemetery. Franklin C. Mars, founder of Mars Candy, is believed to have been born in Newport, MN, and is interred in Lakewood Cemetery in Minneapolis. However, Atkinson Cemetery can lay claim to its association with the Mars Candy Corporation. A'Hyatt Munger, son of William Munger, married Placidius E. Mars, daughter of Hartley Mars. Their granddaughter was Gladys Munger, who was one of the biggest proponents for rescuing Atkinson Cemetery during the overpass construction in 1981. In 1979 Forrest Mars, son of Franklin C. Mars, contacted Gladys. Forrest Mars was conducting genealogical research on his family, and knew that his father had come from the Newport area, and that the Mungers were related to the Marses. It turned out that Forrest's great-grandfather was John S. Mars, brother to Hartley Mars, making he and Gladys third cousins. Forrest lent a hand in helping to rescue Atkinson Cemetery, and the monument was erected to commemorate any Marses who might be buried there. (see transcriptions for a full list of names)

MUNGER
JOEL MUNGER
James "Joel" Malancton Munger was born on March 3, 1817 in Orwell, Vermont. His younger brother William was born exactly five years later in 1822. Their parents were William and Betsy Munger. Joel and William apparently like to do things exactly the same. In a double wedding, Joel married Lucinda Belden, and William married Julia Belden, Lucinda's sister, in Johnstown, Wisconsin on December 31, 1843. William was the first to settle in Cottage Grove, but Joel wasn't far behind. He and his young family pioneered to Cottage Grove in 1857. Joel began raising Spanish Merino sheep, but later turned to farming due to problems with wolves. In 1858 Joel served as an election judge, and was also elected justice. He joined the Universalist Church at Atkinson Corner's Schoolhouse in 1867. When Atkinson Cemetery Association was formed in 1874, Joel sat on the board and was a trustee. Joel was also elected overseer of the public highway built on the West Side of town. He and Lucinda had ten known children. Joel died on April 3, 1887 of heart disease. His gravestone bears a carving of a chain with three links, containing the letters "F.L.T." These letters stand for Friendship, Love and Truth, and are a symbol of the International Order of Oddfellows.

HELLEN MUNGER
Hellen C. Munger was born in Vermont to Joel and Lucinda Munger. In 1857 Joel Munger's family pioneered to Cottage Grove. Hellen would've been about ten years old, and most likely helped her mother care for Julia (Manning), her younger sister, and any other small children during the long trek to Minnesota. Hellen was just twenty-seven when she died of typhoid pneumonia on April 7, 1874.
UNNAMED MUNGER (son)
Joel and Lucinda Munger had a three-month-old infant who died on November 1, 1862.
JULIA A. E. MUNGER
Julia A. E. Belden, daughter of Lucas and Roxy Belden, was born in Vermont. She married William Munger in Johnstown, Wisconsin on December 31, 1843, and in 1852 they settled in Cottage Grove. Primarily Julia was a housekeeper, but like her brother-in-law, she too was a member of the I.O.O.F. Her gravestone proudly proclaims her membership in Lodge #154 in Prescott, Wisconsin. She and William had five known children. Their son A'Hyatt married Placidius Mars, and is the grandfather of Gladys Munger. Julia died of heart disease on the 17th of either July or August, 1881. She was fifty-eight years old. Her husband William is buried in Cottage Grove Cemetery.
ELBRIDGE G. MUNGER
Elbridge G. Munger was born on December 30, 1851 (gravestone says 1852) in Johnstown, WI. He was the son of William and Julia A. E. Munger, who came to Cottage Grove in 1852. Like his brother Carl, he would've hunted and farmed in his youth. He attended the St. Paul Business College and School of Telegraphy, but returned to Cottage Grove to raise horses. His horses were considered to be the finest in Minnesota. Elbridge married Ellen ----. On July 23, 1883 they had a daughter and named her Myrta, after Elbridge's sister who had passed away earlier in the year. Elbridge died in 1900.
FRED D. MUNGER
Fred Duane Munger was the son of William and Julia A. E. Munger. He was born on December 23, 1854, and died on August 9, 1856.
.
CARL MUNGER
Carlton W. Munger was the son of William and Julia A. E. Munger, and cousin to Julia A. Manning. Being a farmer's son, he would've spent much of his adult youth helping his father in the fields and hunting. It was doing the later activity where Carl met his untimely death at sixteen. Carl accidentally shot himself while trying to go under a fence. He passed away on August 18, 1882.
STAPLES
MYRTA A. (MUNGER) STAPLES
Myrta "Mertie" Ann Munger, daughter of William and Julia Munger, was born on September 1, 1857. She married Fred W. Staples, who was a farmer, and together they had one son, Willie. Myrta died on March 22, 1883, and her brother Elbridge named his daughter (b. July 23, 1883) after her.
WILLIE W. STAPLES
Willie W. Staples was born on May 10, 1880 to Fred and Myrta Staples. He died two years later on July 2, 1882.
TIBBETS
ALVAH TIBBETS
Alvah Tibbets was born on Christmas Day, 1804, in Wolfborough, New Hampshire (gravestone says 1803). On July 8, 1832 he married Dorothy ----. It is unclear when Alvah moved from New Hampshire to Maine, but in 1845 he, Dorothy and their eight children began pioneering west. They lived for a short time in Stephens County, Illinois, and in 1847 moved to Oconto, Wisconsin. In 1851 they moved to Waupaca Co., Wisconsin, and finally made it to Cottage Grove. Like most pioneers, Alvah was a farmer. He died on October 12, 1877 of asthma and old age.
WELCH
AUGUSTUS A. WELCH
Augusts A. Welch was born in Maine in 1828. The date of his settlement in Cottage Grove is not known, but on February 11, 1865 Augustus enrolled in the Civil War effort. Augustus joined Minnesota's Company I of 1st Regiment of Heavy Artillery. His regiment was mustered into action on February 13th, and served only until September 27th of the same year. He was discharged from service, along with the rest of his company, and lived in Cottage Grove until his death in 1900.


This footstone is not clearly associated with any family. It rests near the Hill monument, but is closer to the Welch monument (see transcriptions). Perhaps it was designed for David Welch?

INFANT WELCH (son)
Augustus A. Welch had an infant son, who died on May 21, 1864.
DAVID WELCH
David Welch was born in 1792 and died in 1846. Little information about him exists, except that he was married to Betsy D. Welch. His grave bears the earliest date in Atkinson Cemetery, but according to oral history passed on by Gladys Munger to Robert C. Vogel in the 1980s, David Welch is not buried there. Settlers would often erect tribute monuments to family members who died along the trail, or who were left behind. If Augustus and William are his sons, it is likely that they pioneered to Cottage Grove after their father passed away, and erected a tribute to him in Cottage Grove.
BETSY D. WELCH
Betsy D. Welch was born in 1799, presumably in the northeastern United States. She is the wife of David Welch. She died in 1887. No conclusive information about her is known, but one can speculate that she is the mother of Augustus and William, and pioneered west with them after her husband passed away.
WILLIAM T. WELCH (WILLIAM WELCH)
William T. Welch was born in 1831 and died in 1861. His epitaph is part of the Welch monument, and of him little else is known. The Erickson transcription in 1970 lists William T. Welch with the dates 1831-1861, and a separate marker for William Welch who was a Corporal in Company B of the 3rd Minnesota Infantry. No separate stone exists today, and the current monument lists no war record for William T. Welch. The war record of 1865 lists a William T. Welch, who enlisted when he was 26. His regiment was mustered into action on September 26, 1861; he was never mustered out. This Welch was a corporal when he died in Cottage Grove on August 18, 1863. Minnesota Pension Records list a William Welch living in Redwood County, who received four dollars a month for being wounded in the thigh. Perhaps William and William T. are actually the same man, but records are inconclusive.
DAVID F. WELCH
David F. Welch is the son of J. D. and A. H. Welch. He died on August 31, 1857 at the age of two months. It is possibled that he is related to David Welch [Sr.].
EMMA H. C. (WELCH?)
Emma H. C. was born in 1857 and died in 1899. Her marker is a footstone that bears no surname. In 1970 when the Erickson's transcribed Atkinson Cemetery, they noted that her stone "appeared to be associated with the Welches." No information exists as to whom she is related, and today her footstone is nowhere near the Welch monument.
Cottage Grove's Historic Atkinson Cemetery
Washington County, Minnesota
E. Katie Holm, author and photographer
Atkinson Cemetery in Cottage Grove, Minnesota, is a small, unassuming cemetery nestled quietly among the urban sprawl of strip malls and fast food restaurants. Although it is visible from Highway 61, most motorists probably never spot the former country cemetery that resides in the shade of a towering oak tree, but are more likely to see its neighbor, the McDonald's restaurant, located just south of the 81st Street exit. Named after its founder John Atkinson, Atkinson Cemetery is the burial place of many of Cottage Grove's earliest settlers, many of whom were formative to the successful development of Cottage Grove. Despite its enormous significance to the community, the cemetery was abandoned and all but forgotten for nearly sixty years. Due to the efforts of the Cottage Grove Historic Planning Office and descendants of the families buried in the cemetery, Atkinson is now a historic site. Benjamin Franklin once said, "Show me your cemeteries, and I will tell you what kind of people you have." By examining the history of the cemetery, and the lives of the people buried there, one can understand the significance this small place holds for the City of Cottage Grove.
Minnesota contains about 4,400 cemeteries and identified farm burials, seventy-five of which are in Washington County. Due to urban development, many early burials and cemeteries were moved from their original locations and incorporated into larger, established burying grounds. Verifiable written records, if any exist, are poor at best for these early cemeteries. Often historians have turned to family oral history in order to establish any information concerning cemetery records and the people buried there. Once a cemetery was relocated, if proper documentation was not made, valuable historical information was lost. Stillwater, the oldest city in Washington County, most likely contains the oldest burial in the county. However, many of Stillwater's early burial sites were relocated into Fairview and surrounding cemeteries. While Atkinson does not contain the oldest burial in the county, it is one of the oldest cemeteries that still reside in its original location.
The earliest date in Atkinson Cemetery is on the Welch family monument, David Welch d. 1846, however it is questionable as to whether or not he is buried in Atkinson. As many settlers moved west into the Territories, many of them left family behind, and many people perished on the journey. Memorial markers were often arranged to commemorate these family members, and it is often difficult to distinguish them from actual burials. In the 1980s Gladys Munger, descendant of the Mungers buried in Atkinson and Cottage Grove cemeteries, passed on family oral history to Robert C. Vogel, then acting City Historic Planning Officer. She told him about people buried in Atkinson for whom no stones exist, and explained that David Welch was not buried there. Since no formal records exist for the cemetery, there is no way to fully verify this information. However, based on oral tradition, one may assume that David Welch's marker is merely a family tribute.
It is likely that Atkinson Cemetery's first burial is that of Martin V. B. Atkinson, son of John Atkinson. At the age of sixteen-and-a-half, Martin drowned on July 4, 1854. It only stands to reason that John Atkinson and his wife, Hannah, buried their young son on a parcel of land they owned, and gradually that parcel of land grew to become Atkinson Cemetery.
Although Atkinson Cemetery is not the oldest cemetery in the county, it is none-the-less very significant to the early history of Cottage Grove. Many of the people buried in Atkinson are the families, or relatives of the families, who helped to establish Cottage Grove. John Atkinson, Lewis Austin, Lewis Hill, and Joel and William Munger were some of the earliest settlers of significance in Cottage Grove. While all of these men were farmers, many of them established some of the earliest schools, churches and government positions in the city.
John Atkinson settled in Cottage Grove around 1846. His home served as a gathering place for many of the early town meetings, and it was here that Cottage Grove's first private school was founded. His residence became known as Atkinson's Corners, and the cemetery on his land was referred to as Corner's Cemetery. He also founded the Universalist Church, of which Lewis Hill and Joel Munger were members.
Lewis Austin was the director of Langdon School Dist. #30, and was a member of the board for Atkinson Cemetery.
Lewis Hill, also an Atkinson board member, was the first of these men to settle in Cottage Grove, sometime in 1843. He was a member of the Old Settlers Association.
Joel Munger and his brother William were also board members for Aktinson Cemetery, and Joel was elected as a trustee. Joel was also an election judge, served as justice, and was elected overseer of the public highway on the West Side of town.
William Munger is not buried in Atkinson Cemetery, but his wife and several of his children are. William loved music, and would often play his violin at local dances. Aside from attending the board of Atkinson Cemetery, William primarily stuck to farming, a love that was handed down all the way to his great-granddaughter, Gladys Munger. She was the last Munger to reside on the family farm, living there until 2001. Although William is not buried in Atkinson, his family relations to the cemetery are also significant on an international scale. William's son A'Hyatt Munger married Placidius E. Mars, daughter of Hartley Mars. In the late 1970s Forrest Mars, son of Franklin C. Mars, founder of the Mars/Milky Way Candy Corporation, contacted Gladys Munger. Forrest was tracing his family history; as it turns out, Forrest and Gladys are third cousins, and many of the Mungers buried in Atkinson are related, through marriage, to the famous Mars family.
Burials in Atkinson Cemetery began in 1854, but the Atkinson Cemetery Association was not formed until 1874. John's wife Hannah died in 1873, and shortly after selling land to the Cemetery Association, he remarried and moved to Baytown. While no gravestone exists for John Atkinson, he is assumed to have been buried in the cemetery that is his namesake.
Interments and upkeep of the cemetery were left up to the cemetery board and trustees. For the next thirty years the cemetery remained active. Plots sold for around $5, a value today of about $80. According to an original hand-drawn, undated Platt Map that exists in the Washington County Historical Society, Atkinson Cemetery sold many plots for people who were never buried there, or whose gravestones were destroyed. This map corroborates Gladys Munger's oral history. Some of these surnames include: Kemp, Hyland, Bailey, Crandall, Churchill, Belden, Fiske and Rosenquist. Many of these surnames belong to cemetery board members; in fact, James H. Crandall was one of the original three cemetery trustees. A name of special interest that appears on the map is that of J. M. Mars. The Mars Family, like the Mungers, was a large and prominent family in Cottage Grove and the surrounding area, but there is no other evidence to indicate any Marses are buried in Atkinson. John M. Mars was the son of Hartley Mars, making him a great-great uncle of Gladys Munger. If in fact John Mars is buried in Atkinson, it further solidifies the cemetery's association with the Mars Family.
The Cemetery Association appears to be inactive by the early 1900s, and, despite the tiny cemetery's significance, it fell into disuse after the burial of Alzina (Munger) Austin in 1909. With no one to care for it, and taxes due to the city, Atkinson became an abandoned cemetery. Eventually the cemetery became overgrown with lilacs and sumac, and fell prey to vandalism. In 1970 Elizabeth and John Erickson, a couple who took on the immense task of transcribing all of Washington County's cemeteries, visited Atkinson and found it in a terrible state. One of the Ericksons noted:
"It has not escaped the attention of vandals, who have left standing only three stones, two of which were apparently too massive to topple and one of which was hidden behind a clump of lilacs….this cemetery is virtually unrecognizable as such from the roads on each side of it."
In 1974 the McDonald's franchise built a restaurant on the land just south of the cemetery. Apparently the cemetery was so overgrown no one even noticed it was there. By 1979 the cemetery was in such a bad state that the county handed it over to the City of Cottage Grove. The City, along with the local Lion's Club, performed a major overhaul on the cemetery. Toppled stones were removed for repair and restoration, and most of the vegetation, save one lone oak tree, was removed. The ground also had to be leveled since it was so pockmarked by gopher holes. The grave markers were then replaced, but due to the effects of vandalism and lack of cemetery records, no one is certain if the stones were returned to their original places.
Just after it's restoration, Atkinson Cemetery suffered one more disturbance. Due to city expansion and the need to build an overpass over Highway 61, utilities needed to be run through a small corner of the cemetery. Gladys Munger sat in on a city council meeting to express her wish to not disturb the cemetery. Both she and her grandmother, Placidius (Mars) Munger, were avid activists for preserving the cemetery. Gladys was recently in communication with Forrest Mars concerning his family history and ties to Cottage Grove, and Forrest Mars lent a hand in the fight to preserve Atkinson. Though both families were adamant about not disturbing the cemetery, progress was inevitable. Early 1982 saw both the designation of Atkinson Cemetery as a historic site, and the construction of the Highway 61 overpass. It is widely believed no graves were disturbed, but Gladys Munger was later quoted as saying, "If bodies were found [in the overpass], they probably didn't tell anyone." The following year the Washington County Historical Society erected a historic plaque, and the dedication ceremony was attended by members of the Munger and Tibbets families, descendants of Atkinson's pioneers, and the Gibson family, who reside in John Atkinson's former house. The Mars family placed a monument to their ancestors on the northern edge of the cemetery.
Today Atkinson Cemetery is well tended, and there have been no further incidents of vandalism. Atkinson is no longer a country cemetery, but stands as a historical symbol of the development it's buried pioneers started over 150 years ago.
Atkinson Cemetery Timeline

1843
Lewis Hill comes to Cottage Grove
1846
John Atkinson comes to Cottage Grove
David Welch dies, later a memorial marker is erected for him in Atkinson
1847
Pope & Fisher incorrectly list this as date of establishment for Atkinson Cemetery
1849
Minnesota Territory formed
October 27th Washington County established
1850
John Atkinson purchases land from James S. Norris in what later becomes Cottage Grove
1852
W. R. Munger comes to Cottage Grove
1854
Martin Atkinson buried in Atkinson Cemetery
1857
J. M. Munger comes to Cottage Grove
1858
Cottage Grove established
May 11th Minnesota becomes the 32nd State of the Union
John S. Mars comes to Cottage Grove / Newport
Frank Tibbets comes to Cottage Grove
1865
Hartley Mars comes to Cottage Grove
1873
October 11th Hanna Atkinson dies
1874
May 12th Atkinson Cemetery Association established
October 7th Land deeded to Atkinson Cemetery Trustees from John Atkinson
October 29th John Atkinson marries Almira B. Fiske of Baytown
1883
November 25th A'Hyatt Munger marries Placidius E. Mars
1887
April 3rd Joel M. Munger dies
1888
February 11th Lewis Hill dies
1892
December 28th John Atkinson dies of old age in Minneapolis
1900s
Cemetery Association fades, property tax delinquent, passes to county
1908
September 27th Premature infant dies, to be buried in Corners Cemetery NO STONE
1909
March 21st Alzina (Munger) Austin dies, last "known" burial in Atkinson Cemetery
1910
June 29th Majorie Danforth dies at age 9 due to inflammatory rheumatism, to be buried in Corners Cemetery NO STONE
1917
November 7th Gladys Munger born
1970
Elizabeth B. & John G. Erickson create the first known cemetery transcription
1974
McDonald's is built
1979
Cottage Grove annexed cemetery as abandoned
City of Cottage Grove & local Lion's Club clean up cemetery, restore 26 remaining gravestones
Communications between Gladys Munger and Forrest Mars begin
1981
Work begins on Highway 61 overpass (now Exit 81)
Gladys Munger active against disturbing graves
December 28th A lawyer writes city on behalf of Mars & Munger families
1982
February 3rd Atkinson Cemetery designated as historic site
Hwy. 61 overpass work cuts through a corner of Atkinson Cemetery, no graves disturbed
Robert Vogel proposes historical maker & documentation
September 19th: WCHS dedicates plaque
1983
Mars monument erected
1998
July Robert Vogel proposes to raise funds for the year 2000 budget for beautification of Atkinson & Old People's Cemetery
2003
October E. Katie Holm receives IFP grant, begins research on Minnesota Cemeteries
2004
February E. Katie Holm picks to concentrate on Atkinson Cemetery for grant
April 27th Gladys Munger passes away
June E. Katie Holm photographs and transcribes Atkinson Cemetery for IFP grant
November Presentation of Atkinson Cemetery project @ Hennepin County History Museum