Knute GLADEN
(1866-1957)
=============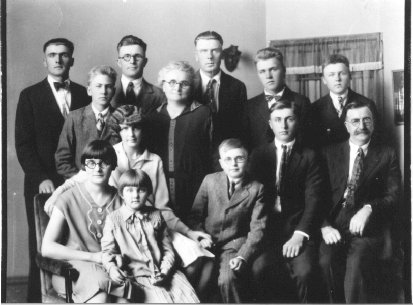 Here are the names of those in the Photo:
The back row shows Herman Silas, Leonard, Clarence, Knute Berton, Milo Oliver.
The next row shows Norman Richard, Hannah (Mother).
The girls in front are Jenella Carlotta (seated w. glasses),
Elsie Adeline (on lap), and Helen Christine at rear.
The right corner shows Arthur Woodrow, George Leon, and Knute K. Gladen (Father)
=============
KNUTE GLADEN
(as translated from Norwegian by Leonard Gladen)
Published in: Aarbok no. 3
Numedal, Kongsberg, og omegn lag 1931
Amundsen Publishing Company
Decorah, Iowa
I was born the 15th of September, 1866, on Southern Gladen in Svene, Numedahl. My father, Knute Shurson owned the farm Gladen, which had been in the family for several generations. My father was born in 1818 and died in 1877. He had two brothers, Guldbrand and Hellick both unmarried and worked at Vinorden silver works. A sister, Ingeborg, was married to Hellick Gaasom, who lived on Dalseter, Eikerskogen.
My mother was Kari Nilsdatter Brekke, born on Brekke in Svene 1828 and died in 1877. Her brothers were Hellick Brekke, Svene, Numedal; Christian Brekke, Skuterud, Modom; Lars Nelson, Madison Wisconsin, and sisters were Ragnild Evenson, Town(ship) of Perry, Dane County, Wisconsin, and Beret of Trempeauleau County, Wisconsin.
All these had families and they have been dead for several years.
My brothers and sisters were: Beret, married to Jacob Rice, Rabey, Minnesota, (they had their golden wedding in 1929); Anne, married to Sjur Klovstad of Sandsvere (she has been a widow many years); Gilbert Gladen, of Laporte, Minnesota (he died the Ilth of November, 1921); Kari Olson, LaCentre, Washington; Henry Gladen, Mount Horeb, Wisconsin, and John Gladen of Guthrie, Minnesota.
My parents died when I was 10 1/2 years old. I then stayed two years with my brother Gilbert until he left for America (1879). Then my battles in this world began because an orphan in Norway at that time faced a very uncertain future. But many were good to me which I appreciated, wish I could have compensated them for it but I have tried to do likewise to others as a compensation wherever I was able.
I left for American when I was 16 years old (1882) and came to Town of Primrose (Primrose Township), Dame (Dane) County, Wisconsin, worked on a farm and went to school some. But I came to America for to make money so I did not have time to go to school much which I have regretted many times.
Four years later (1886) I went to Todd County, Minnesota, where my brother-in-law Jacob Rice lived. Here I began railroad construction work, first as a mule teamster, later foreman. I also tried myself as a contractor. In the winter I worked in the woods. All I got out of this was I learned to work hard and look around several western states. In 1892, 1 bought an expensive team with equipment and started for North Dakota to look around as a farmer, but it was back to railroad work again at Red Lake Falls, Minnesota, where I lost horses and equipment in a fire.
So it was to start over again.
I also tried freighting of goods in Montana to the railroad workers in the Rocky Mountains who were building the Great Northern to the coast. Here I suffered a lot and life was in danger many times.
In 1897, 1 was married to Hanna Larson, who came over with her parents from Sogn, Norway. I bought a piece of land in Todd County, Minnesota, which I lived on one year, but I wanted more elbow room so I sold this and moved up into the woods in Hubbard County where I got a homestead on 80 acres and I also bought 80 additional acres same year. Since then I have purchased a piece of land now and then so now I have in all 600 acres. Three of our oldest sons got 80 acres each where they have a reasonable opportunity in the future. Some of the land is not worth very much as I bought it mostly for the timber on it.
I have beside farming worked some as a timber operator. I have a small saw mill with planer which I have made a little money. This little sawmill has also helped put a good set of buildings on the farm as I manufactured all my own woodwork. It is a fairly good farm for to be in the woods, we have our own electric light plant, water in the house and barn, milking machine also best houses in a pretty location in laporte, also a few shares in the bank. I do not plan on becoming a townsman but will continue to live on the farm where my family and I have done so much hard work. I did not become rich in America but I am quite content with my lot. I have all I need also a family that will see to that I'll never be in need.
We have eleven children. The oldest, leonard is married and lives on his farm 12 miles Southeast of Bemidji; Jenella Charlotte is married and lives in Sacred Heart, Minnesota,- Clarence is married and lives on his farm two miles from here; Helen Christine is married and lives in Minneapolis; Herman Silas has his own farm but lives at home; Knute Berton is home; George Leon is attending the agriculture school at Grand Rapids; Milo Oliver finished high school last year and this year Arthur Woodrow will finish. Norman Richard has two years of high school left, and Elsie Adeline, the youngest is 10 years old.
The oldest children have also had some higher schooling.
I have had enough positions of trust, but mostly those with little income such as church, township, creamery, farm bureau, farmers club, bank director, etc.
So this will have to be enough, you will have to see if you can make out of this something for the year book.
I have a family picture which was taken two years which I am sending.
Please let me know what it will cost.
Greetings to you and all acquaintances.
Knute Gladen.
=============
My Grandfather wrote his autobiography for a year book.
The year book was published by Amundsen Publishing out of Decorah, Iowa in 1931.
I have a copy of the original book which was published entirely in Norwegian.
The English translation was done by my Uncle Leonard. To the best of my knowledge, the translation has only existed since about 1970 as a manuscript and has not been published anywhere.
My connection to the family is through my late father George Leon Gladen. He was one of the younger members of the family.He and all his brothers and sisters are now deceased.
My Grandfather died 7 April, 1957 at the age of 90 in Bemidji. I remember him as an old man who walked with his hands clasped behind his back. I sometimes accompanied him on his daily constitutional as he walked to the mailbox and back at my Uncle Clarence's house - a distance of perhaps several hundred yards. Interestingly, he is shown as a landowner of several forties on the1922 platbook of Hendrickson Township located in the center of the northern edge of the township. He and his family also appear on the1905 census. He is buried in Evergreen Cemetery located in Hendrickson Township. All three documents are available online at http://www.rootsweb.com/~mnhgs/.
I have some other pictures if they might be of interest.
Thanks.
Curt Gladen
=========================================================================
Copyright Curtis Gladen 2005. All rights reserved.
http://www.usgwarchives.net/copyright.htm
=========================================================================