Harwick Cemetery
Antwerp Township, Van Buren County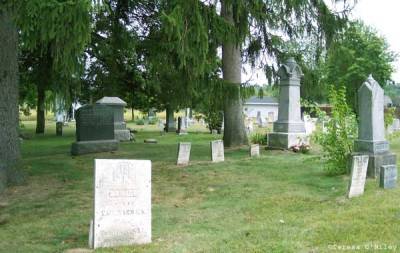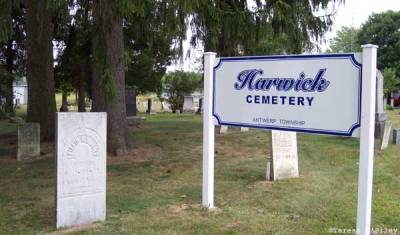 Tombstone Photographs
Harwick cemetery is located on 28th Street/CR 657 in Antwerp Township, Van Buren County.
---
Headstones
(Click on the underlined links to view the tombstone photograph)
---
Text & Description (Click this Link for Description, Photo Link for Image)
Photo Link
Date
Submitter
Harwick Cemetery Entrance
Image
xxxx
Teresa O'Riley
Harwick Cemetery Sign
Image
xxxx
Teresa O'Riley
Castle, Alice Marie
Image 47K
Jan 2007
Email Linda
Dutton, Daniel
Image 38K
Jan 2007
Email Linda
Harwick, Harmon V. Malitta L., Marion A., Elvira M., Polly
1823 - 1904 --- His Wife Malitta L. 1821 - 1895 ---- Marion A. 1848 - 1871 --- Elvia M. 1849 -- 1860. Polly, Love, Rose
Image
xxxx
Teresa O'Riley
Klobucher, Matt And Martha
Image 100K
Jul 2011
Laurie Schiller
Klobucher, Peter Sr And Helen
Image 180K
Aug 2011
Laurie Schiller
Korteway, Jacquelyn
Image 198K
Jul 2011
Laurie Schiller
Markle, Family Stone

Side #1:
Markle, Jacob C. March 17, 1812 - Nov. 13, 1886 & Adeline Potter Wife of J.C Markle April 1, 1822 - Dec. 23, 1894.
Side #2:
A member of CO. H. 7. Mich. Cal. Benjamin F. Died Aug. 12, 1864 Age 21 yrs 6 m's; --- Sarah M. March 21, 1845 Age 1 mo 21 d's; --- George W. March 4, 1850 Age 1 yr 4 m's 16 d's; --- Alice A. May 6, 1854 Age 3 yrs 2 m's
Children of J.C. & A. Markle

Side #3:
Markle, Josua Died Aug. 17, 1829 Age 41 years; --- Maria C. Wife of J. Markle Feb. 27, 1850 Age 58 yrs; --- Benjamin B. Nov. 5, 1838 Age 24 yrs. --- Hariet Sept. 20, 1839 Age 13 yrs
Children of J & M Markle; --- Frankie, son of J & E. A. Markle Oct 19, 1885 Age 6 m's

Side #4:
Potter Reuben Died Nov. 17, 1833 Age 48 yrs; --- Sarah C. Wife of R. Potter Aug. 23, 1856 Age 67 yrs.; --- Daisy A. Dau. of W.J. & E.A. Markle Oct. 28, 1878 Age 13 m's
Image
xxxx
Teresa O'Riley
Spikings, Floyd J.
Image 55K
Jan 2007
Email Linda
Stark, Fred And Flossie
Image 201K
Jul 2011
Laurie Schiller
Stark, Henry And Violet
Image 183K
Jul 2011
Laurie Schiller
Stark, William And Martha
Image 194K
Jul 2011
Laurie Schiller
Usher, Elias L.
Image 30K
Jan 2007
Email Linda
Van Antwerp, Daniel
Image 29K
Jan 2007
Email Linda
Would you like to help by submitting your photos to this project? If so, please read How to Take and Submit Photos.
Then you can submit your photos by clicking here or here.
---
Return to: Michigan USGenWeb Archives

Return to: Michigan USGenWeb Tombstone Photo Project
---
Table of Contents maintained by:
Wayne Summers - Van Buren County File Manager
COPYRIGHT NOTICE
All materials contained on these pages are furnished for the free use of those engaged researching their family origins. Any commercial use, or, electronic publishing on another site without the consent of the host/author of these pages is prohibited. All images used on these pages were obtained from sources permitting free distribution, or generated by the author, and are subject to the same restrictions/permissions. All persons contributing material for posting on these pages does so in recognition of their free, non-commercial distribution, and further, is responsible to assure that no copyright is violated by their submission.
Thanks to the volunteers who sponsor the counties and everyone who has donated files to the site.
Copyright © 1997-2019 The USGenWeb Archives Project