Roselawn Memorial Gardens Cemetery
Saginaw, Saginaw County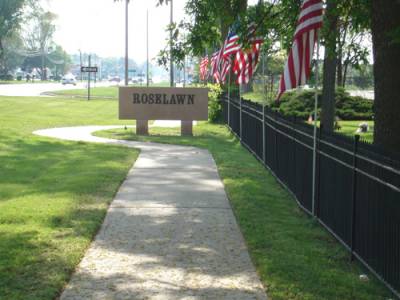 Tombstone Photographs
The Roselawn Memorial Gardens Cemetery is located on 950 N. Center Road, Saginaw.
---
Headstones
(Click on the underlined links to view the tombstone photograph)
---
Text & Description (Click this Link for Description, Photo Link for Image)
Photo Link
Date
Submitter
Roselawn, Main Entrance
Image 21K
Jun 2006
Lynn Simon
Roselawn, Main Entrance - View Ii
Image 24K
Jun 2006
Lynn Simon
Anderson, Gordon V.
Image 187K
Oct 2007
Jeff Sieggreen
Boers, Alice Marie Dickens
Image 91K
Aug 2005
Lenny Boers
Boers, Leonard
Image 104K
Aug 2005
Lenny Boers
Gorte, Frederick John
Image 86K
May 2006
Lynn Simon
Gorte, Julia
Image 89K
May 2006
Lynn Simon
Horner, Audrey A. (Elvin)
Still Living, Wife of Lorenzo Wells Lee, Mason Section Lot 171
Image
xxxx
Carol Morrison
Horner, Lorenzo Wells Lee "Red"
1912-1985, Husband of Audrey A, Mason Section Lot 171
Image
xxxx
Carol Morrison
Huber, Clara M.
Image 180K
Oct 2007
Jeff Sieggreen
Huber, Otto F.
Image 176K
Oct 2007
Jeff Sieggreen
Mey (Stenroos), Mary Louise
Image 209K
Nov 2009
Timothy Mey
Mey, Edna Freida
Image 219K
Nov 2009
Timothy Mey
Mey, Walter Charles & Mary Louise
Image 101K
Nov 2009
Timothy Mey
Mey, Walter Richard
Image 224K
Nov 2009
Timothy Mey
Sanders, Clark Harold
Image 319K
Nov 2018
Melissa RIOS
Simon, Arthur James
Image 56K
May 2006
Lynn Simon
Simon, Elizabeth
Image 56K
May 2006
Lynn Simon
Simon, Julie Ann
Image 96K
May 2006
Lynn Simon
Sprague, Scott A
Image 106K
Sep 2011
Robin Sprague
Stenroos (Andre), Marguerite Evangeline
Image 141K
Nov 2009
Timothy Mey
Stenroos, John (Johan) Kristian
Image 140K
Nov 2009
Timothy Mey
Weathers, Mary Catherine
Image 110K
May 2006
Lynn Simon
Winieckie, Bernard D. And Adeline
Image 158K
Oct 2007
Jeff Sieggreen
Would you like to help by submitting your photos to this project? If so, please read How to Take and Submit Photos.
Then you can submit your photos by clicking here or here.
---
Return to: Michigan USGenWeb Archives

Return to: Michigan USGenWeb Tombstone Photo Project
---
Table of Contents maintained by:
Wayne Summers - Saginaw County File Manager
COPYRIGHT NOTICE
All materials contained on these pages are furnished for the free use of those engaged researching their family origins. Any commercial use, or, electronic publishing on another site without the consent of the host/author of these pages is prohibited. All images used on these pages were obtained from sources permitting free distribution, or generated by the author, and are subject to the same restrictions/permissions. All persons contributing material for posting on these pages does so in recognition of their free, non-commercial distribution, and further, is responsible to assure that no copyright is violated by their submission.
Thanks to the volunteers who sponsor the counties and everyone who has donated files to the site.
Copyright © 1997-2019 The USGenWeb Archives Project