Restlawn Memorial Park Cemetery
Grand Rapids, Kent County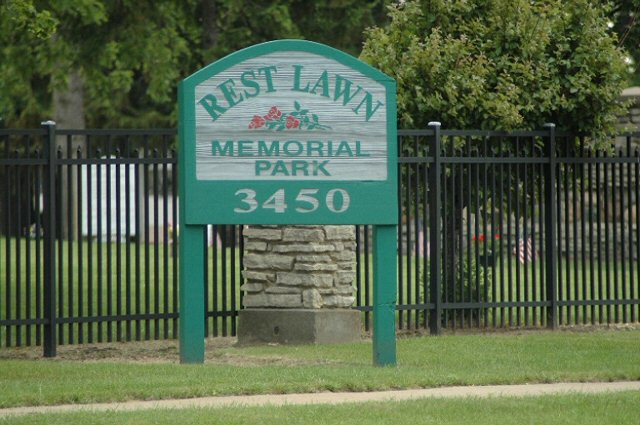 Tombstone Photographs
The Restlawn Memorial Park Cemetery is located in Grand Rapids.
---
Headstones
(Click on the underlined links to view the tombstone photograph)
---
Text & Description (Click this Link for Description, Photo Link for Image)
Photo Link
Date
Submitter
Rest Lawn Memorial Park Sign Sep 2009
Image 85K
Sep 2009
Kay Bredeweg
Rest Lawn Memorial Park May 2, 2008
Image 156K
May 2008
Janet Stout
Rest Lawn Memorial Park Map May 2, 2008
Image 156K
May 2008
Janet Stout
Abbott, Basil Jack
Image 166K
Nov 2010
Judd Cadwell
Batdorff, Floy L.
1903-1990, Wife of John E
Image
xxxx
Jolene Pell
Batdorff, John E.
1903-1947, Husband of Floy L
Image
xxxx
Jolene Pell
Batdorff, Shirley Mae
1925 - 1987
Image
xxxx
Jolene Pell
Bentley, James B.
Image 202K
May 2008
Janet Stout
Bentley, Marie A.
Image 185K
May 2008
Janet Stout
Blake, Donald J.
1907-1992, Husband of Jacquith R
Image
xxxx
Jolene Pell
Blake, Jacquith R.
1907-1983, Wife of Donald J
Image
xxxx
Jolene Pell
Culbert, Mary Elizabeth
Image 131K
Sep 2009
Joann Geybels
Gommesen, Robert P. And Dorothea S.
Image 47K
Jun 2007
Janet Stout
Lawton, Walter S.
Image 15K
Mar 2009
Susan Davis
Palma, Martha
Image 111K
Aug 2012
Angela Stewart
Stout, Arthur E.
Image 59K
Jun 2007
Janet Stout
Stout, F. Alberta
Image 62K
Jun 2007
Janet Stout
Van Dommelen, William And Bertha C.
Image
Jan 2007
Janet Stout
Van Overloop, Ann
Image 91K
Aug 2012
Angela Stewart
Van Overloop, Helen Louis
Image 93K
Aug 2012
Angela Stewart
Van Overloop, John
Image 99K
Aug 2012
Angela Stewart
Van Overloop, Joseph
Image 101K
Aug 2012
Angela Stewart
Wernette, Florence E.
Image 253K
Aug 2009
Joann Geybels
Would you like to help by submitting your photos to this project? If so, please read How to Take and Submit Photos.
Then you can submit your photos by clicking here or here.
---
Return to: Michigan USGenWeb Archives

Return to: Michigan USGenWeb Tombstone Photo Project
---
Table of Contents maintained by:
Wayne Summers - Kent County File Manager
COPYRIGHT NOTICE
All materials contained on these pages are furnished for the free use of those engaged researching their family origins. Any commercial use, or, electronic publishing on another site without the consent of the host/author of these pages is prohibited. All images used on these pages were obtained from sources permitting free distribution, or generated by the author, and are subject to the same restrictions/permissions. All persons contributing material for posting on these pages does so in recognition of their free, non-commercial distribution, and further, is responsible to assure that no copyright is violated by their submission.
Thanks to the volunteers who sponsor the counties and everyone who has donated files to the site.
Copyright © 1997-2019 The USGenWeb Archives Project