Crystal Lake Township Cemetery - North
Benzie County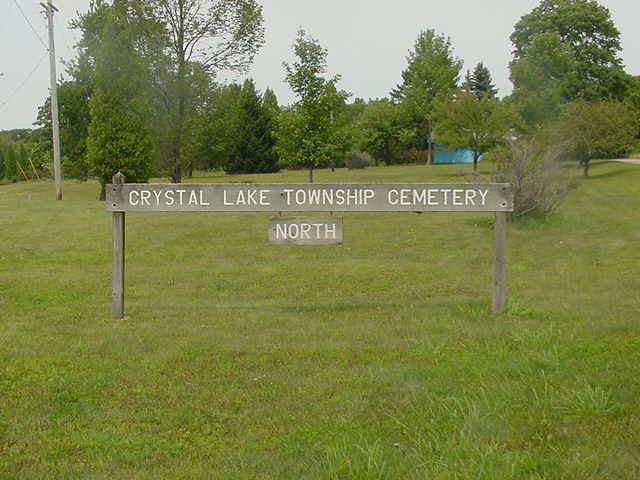 Tombstone Photographs
Location:
Crystal Lake Township Cemetery - North is located in the NE 1/4, Section 16, T26N, R16W, Benzie County, Michigan. The access is from highway M-22 north of Frankfort.

This project required much effort on the part of Harold and Linda Saffron during the late summer of 2004. All gravestone pictures of this cemetery along with their location, which were mostly from the Crystal Lake Township records. We did change some lot numbers and the spelling of some names, to match the spelling that was on the headstones. We may have made errors as we are human, but this should be of great help to people doing genealogy.

We wish you luck with your research.

Harold and Linda Saffron - (ls)

Non-Commercial Use
All material on these pages is for non-commercial use only. All information submitted to this project remains -- to the extent the law allows -- the property of the submitter who, by submitting it, agrees that it may be freely copied but never sold or used in a commercial venture without the knowledge and permission of its rightful owner.


---
Surname page index

---
Would you like to help by submitting your photos to this project? If so, please read How to Take and Submit Photos.
Then you can submit your photos by clicking here or here.
---
Return to: Michigan USGenWeb Archives

Return to: Michigan USGenWeb Tombstone Photo Project
---
Table of Contents maintained by:
Pat McArthur - Benzie County File Manager
COPYRIGHT NOTICE
All materials contained on these pages are furnished for the free use of those engaged researching their family origins. Any commercial use, or, electronic publishing on another site without the consent of the host/author of these pages is prohibited. All images used on these pages were obtained from sources permitting free distribution, or generated by the author, and are subject to the same restrictions/permissions. All persons contributing material for posting on these pages does so in recognition of their free, non-commercial distribution, and further, is responsible to assure that no copyright is violated by their submission.
Thanks to the volunteers who sponsor the counties and everyone who has donated files to the site.
Copyright © 1997-2018 The USGenWeb Archives Project