We're glad you stopped by and hope that you will the Jefferson Parish Marriage Project files useful in your research.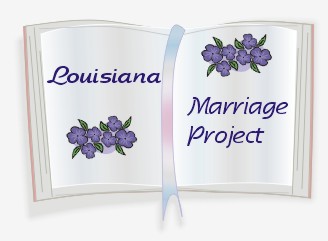 This project will endeavor to provide actual transcriptions of Marriage Applications, and other Marriage Records as found recorded in the parish court house and state archives.
You are encouraged to submit transcriptions of entire marriage books and/or of the entire roll of microfilm. All transcripts will be accepted and placed in the USGenWeb Archives directory of the State and County/Parish where the marriage records were originally recorded.
Please, send nothing copyrighted, unless you have written permission from the author.


These electronic pages may NOT be reproduced in any format for profit.

Any other use, including copying files to other sites, requires permission from the contributors PRIOR to uploading to the other sites.

The submitter has given permission to the USGenWeb Archives to store the file permanently for free access.
---
As transcriptions become available they are posted and searchable.
USGenWeb Search
RETURN to the LOUISIANA State Marriage Project's - Parishes Index
RETURN to the MARRIAGE Project's - States Index
RETURN to the USGenWeb SPECIAL Projects - Index
RETURN to the Jefferson Parish - Home page
---
We are always in the need of help in getting data on-line.
If you would be interested in becoming a part of this project
and would like to contribute marriage information


Joy Fisher
Coordinator
Special Projects Coordinator
As transcriptions become available they are posted and searchable.
USGenWeb Search
This page was first posted in Sep 2001
Last updated Aug 2007 by Clara Cornell
� Copyright 2001.... USGenWeb Archives


11/05/2021