Lawrence County Pennsylvania Atlas
Township and borough maps of Lawrence County Pennsylvania from the 1872 Atlas of the County of Lawrence and the State of Pennsylvania. Compiled & Published by G.M. Hopkins & Co., Philadelphia, 1872.
ORIGINAL TOWNSHIPS.*
At the time of the organization of the county it was divided, like the original colonies, into thirteen civil sub-divisions or townships; these were Pulaski, Wilmington, Slippery Rock, North Slippery Rock, Mahoning, Neshannock, North Beaver, Big Beaver, Little Beaver, Shenango, Wayne, Perry and North Sewickley. Of these Pulaski, Wilmington, North Slippery Rock, Mahoning and Neshannock were formerly a part of Mercer county, and the remainder were taken from Beaver county.
There have been material changes in the names and arrangements of the townships since 1850. The first new township formed after the erection of the county was Taylor, which was created from portions of Shenango and North Beaver, on the 19th of February, 1853. On the 13th of April, 1854, North Slippery Rock was cut in two, and the two townships of Washington and Scott were formed from it, and the old name abandoned.
On the 14th of February, 1855, Plain Grove township was formed from parts of Washington and Scott townships. Pollock township was formed May 28, 1858, from parts of Neshannock and Shenango townships. Upon the erection of New Castle into a city, February 25, 1869, this township was included within the city limits, and now constitutes the third and fourth wards. On the 15th day of February, 1859, Washington township was enlarged by taking a strip of land three-fourths of a mile wide from Plain Grove township, and another strip a half mile wide from Scott township. Union township was formed from portions of Mahoning, Neshannock and Taylor townships, September 10, 1859.
Hickory township was formed from a part of Neshannock township in the winter of 1859-60.
* * *
The pedigree (so to speak) of the counties covering the territory from which Lawrence county, was formed, is as follows: First. Chester, one of the original counties of the province. Second. Lancaster, formed from part of Chester, May 10, 1729. Third. Cumberland, formed from part of Lancaster, January 27, 1750. Fourth. Bedford, formed from part of Cumberland, March 9, 1771. Fifth. Westmoreland, formed from part of Bedford, February 26, 1773; and, in 1785, a part of the purchase of 1784 was added. Sixth. Allegheny, formed from parts of Westmoreland and Washington, September 24, 1788. Seventh. Beaver and Mercer, formed from part of Allegheny, March 12, 1800. Eighth. Lawrence from parts of Beaver and Mercer, April 5, 1849.
*From 1877 History of Lawrence County Pennsylvania by S. W. Durant, pages 13 and 14.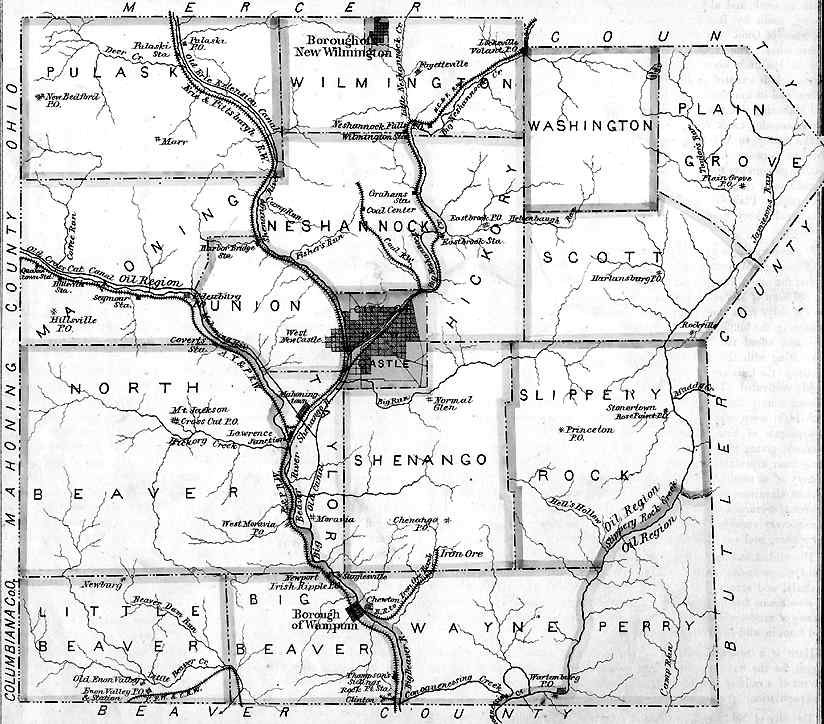 Back to: Lawrence County Map Archive
Back to: Pennsylvania Map Archive