Photograph submitted by Wanda Fuller <!!> <!!>




<!!> <!!>

Copyright. All rights reserved.

http://www.usgwarchives.net/copyright.htm
http://www.usgwarchives.net/la/lafiles.htm


<!!> <!!>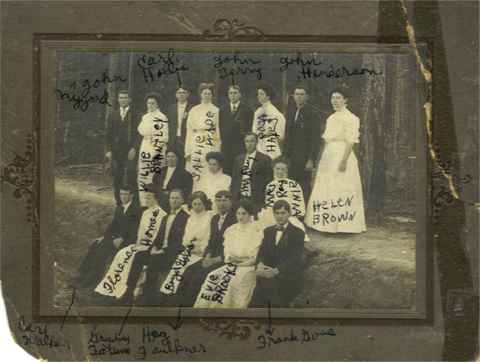 This is another photo of my grandmother, Sallie Wade Hunt, and her classmates
in the early 1900's. This again was either Marion or Lillie. Someone wrote
the names all over the photo which really ruins the photo but at least we
know who they are.
Back Row, Standing Left to Right:
John Nygood, Willie Brantley (female), Carl Hollis, Sallie Wade, John Terry,
Rosa Hayes, John Henderson, Helen Brown.
Center Row, Seated Left to Right:
Two females, not named, older one (or both) may be teacher,
Mr. Ray (principal?), Mrs. Ray, Annie (teacher?).
Front Row, Seated Left to Right:
Carl Walker, Florence Homes, Grady Tatums, Boyd Golson (female),
Hez Faulkner (male), Evie Brooks, Frank Goss.
Wanda Fuller
# # #