File contributed by Sarah Masling

<!!> <!!>




<!!> <!!>

Copyright. All rights reserved.

http://www.usgwarchives.net/copyright.htm
http://www.usgwarchives.net/la/lafiles.htm


<!!> <!!>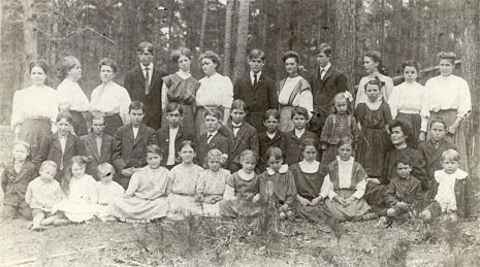 This is called the "Old China Grove School Group". It was made between 1906 and 1910.
I have no idea of the location of the school, but feel like it was around Linville-Haile.

Back row - left to right standing:
Jimmie McDougle, Ola Spencer, Dottie Spencer, Garland Russell, Minnie Cole, Josie Russell,
Frank Wilson, Lottie Harrell, Joshua Wilson, Irma Cook, Rettie Norman, Irma Ford.

Middle Row - left to right:
Henry McDougle, John Ward, B. Harrell, Saul Wilson, David Wilson, Lorinzo Ford, Robert Wilson,
Sim Scarborough, Clara Antley, Alma Norman, Clint Harrell (sitting)

Front Row - left to right:
Guy Antley, Ocie Spencer, Corine Spencer, (Little boy not known), Bessie Spencer,
(Little girl not known), Cornelia Spencer, Nannie Mae Russell, P. H. McDougle, Larkey McDougle,
Viola Harrell, Mrs. Florence Holmes-teacher, Willie Hobbs in front of her, Douglas Spencer.

# # #