Submitted by Bobby Bayles
<!!> <!!>

<!!> <!!> <!!> <!!>
This photo was originally submitted as:
Unidentified Union Parish School in an Unknown Year

This school photo with all the names on it was given to Bobby Bayles,
but he doesn't know the school name or the year it was taken. A lot of these
names are very familiar. Some are on our "obits" page. The Gray Nolan in
the front row must be the "Brother Gray Nolan" Sherry wrote the article about
on our "memory lane" page. If you know the school and/or the year, please
let us know.
We all have old photos like this, but very few of us are lucky enough to find someone on the internet
who can provide the identity given in an e-mail response below, as Bobby did.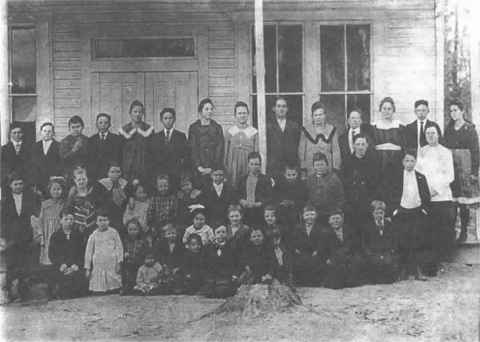 Back Row, standing, left to right:
Ira Aulds, John Emmett Ward, Edma Mae Rogers, Hill Malone, Clara Ward,
Alton Aulds, Picola Nolan, Myrtle Ward, June Ward, Velma Ward, Earl Aulds,
Jean Nolan, Owen Malone, Cecil Ward.

Middle Row, standing, left to right:
Bill Rogers, Flossie Ward, Nettie Mae Nolan, Vina Nolan, Willie Hendrick,
Josey Nolan, Nonnie Nolan, Cessniar Aulds, Eugene Nolan, Dave Nolan,
Jurd Lee Hendrick, Stevie Nolan, Jurd Taylor Nolan, Ettie Brantley (Teacher).

Front Row, standing, left to right:
Gray Nolan, Monk Rogers, Eunice Nolan, Marvin Malone, Heddie (Etta) Jane Nolan,
Thelma Morris, Gray Tatum, Dick Hendrick, Leo Aulds (twin of Cleo).

Front Row, kneeling & seated, left to right:
Woodie B. Malone, Jack Malone, Cleo Aulds (twin of Leo), Bob "Bo" Nolan,
Clifford Morris.

Down at the bottom is written "Lessie Rogers" and "Veta Rogers" - perhaps
students who were absent when the picture was taken?
------------------------------------------------------------------------------

Response to Unidentified School Photo
Hello, B. Bayles,

Your unidentified school is Antioch School, in or near the community I've heard referred to as
"Nip and Tuck". My mother, Hettie (spelled "Heddie" in the photo) Jane Nolan Stradley, is in
your photograph--the photo with Ira Aulds on the back row--of the unidentified Union Parish
school. Mother is shown on the Front row, standing (although she's apparently seated on something)
and is wearing a big white bow in her hair. Three of her siblings, all now deceased, are also
pictured. (Nettie Mae Nolan, Dave Nolan and Bob "Bo" Nolan.) Mother and Bob started first grade
the same year, 1918, when she was barely seven years old--in 1918. Their younger sister, Bessie
Louise Nolan, started first grade the following year; however, she is not pictured, so the school
year of 1918-1919 is established. I talked to Aunt Bess (married name Cartlidge), who now lives
in Dumas, Texas, and she remembers the school very well.

Thanks for submitting your photograph. It has given many family members a glimpse into the past
that we'd never have known without your gesture.

Chloe Stradley Webb
Phoenix, Arizona

# # #