Letter submitted for the Union Parish Louisiana USGenWeb Archives by Shawn Martin, April 2004
USGENWEB NOTICE: These electronic pages may NOT be reproduced in any format for profit or presentation by any other organization or persons. Persons or organizations desiring to use this material, must obtain the written consent of the contributor, or the legal representative of the submitter, and contact the listed USGenWeb archivist with proof of this consent. Files may be printed or copied for personal use only.

Copyright. All rights reserved.
http://www.usgwarchives.net/copyright.htm
1855 Letter Written by James T. McAdams to his sister Rebecca McAdams Gould

Transcription of the one-page letter:

Union Parish L.a. Feby 16th AD 1855
Dear Brother & Sister,
With pleasure I address you a line hopeing this may find you all in good helth. We ar all well except colds. I have a sevear cold at this time. Brother Post is hear at this time & it gave me much pleasure to see him and hear from you all & it also affords me much pleasure to think if no providentally occurrence to prevent that I will yet live at neighbors to some of my Kindred recovering to the flesh. My dear Sister it gives me sorrow of heart to lern that you have bin suffering under the afflicting hand of providence but my dear sister be of good chear for the time is not fair aistent(?) when we will leave the mortal shores of time and land ( I hope) in a region where pain sickness and sorrow will be felt nor known no more &C.

I will now say to you that my children are all grown & all left me but Robert, Ruffus & Rachel. (?) she is save twenty pounds hevier than her mother as to further particulars of our cousin and our condition in life Brother Post will inform you more minutely than I could write. I wish you to write to me often so I will close hopeing ever to remain your most affectionate Brother -- J. T. McAdams
On the back of this letter is the outside fold of the letter - apparently used as the envelope. The letter was addressed:


"David Gold
Shelby County
Ala
Postings(?) of W. B. Post"

Image of Original Letter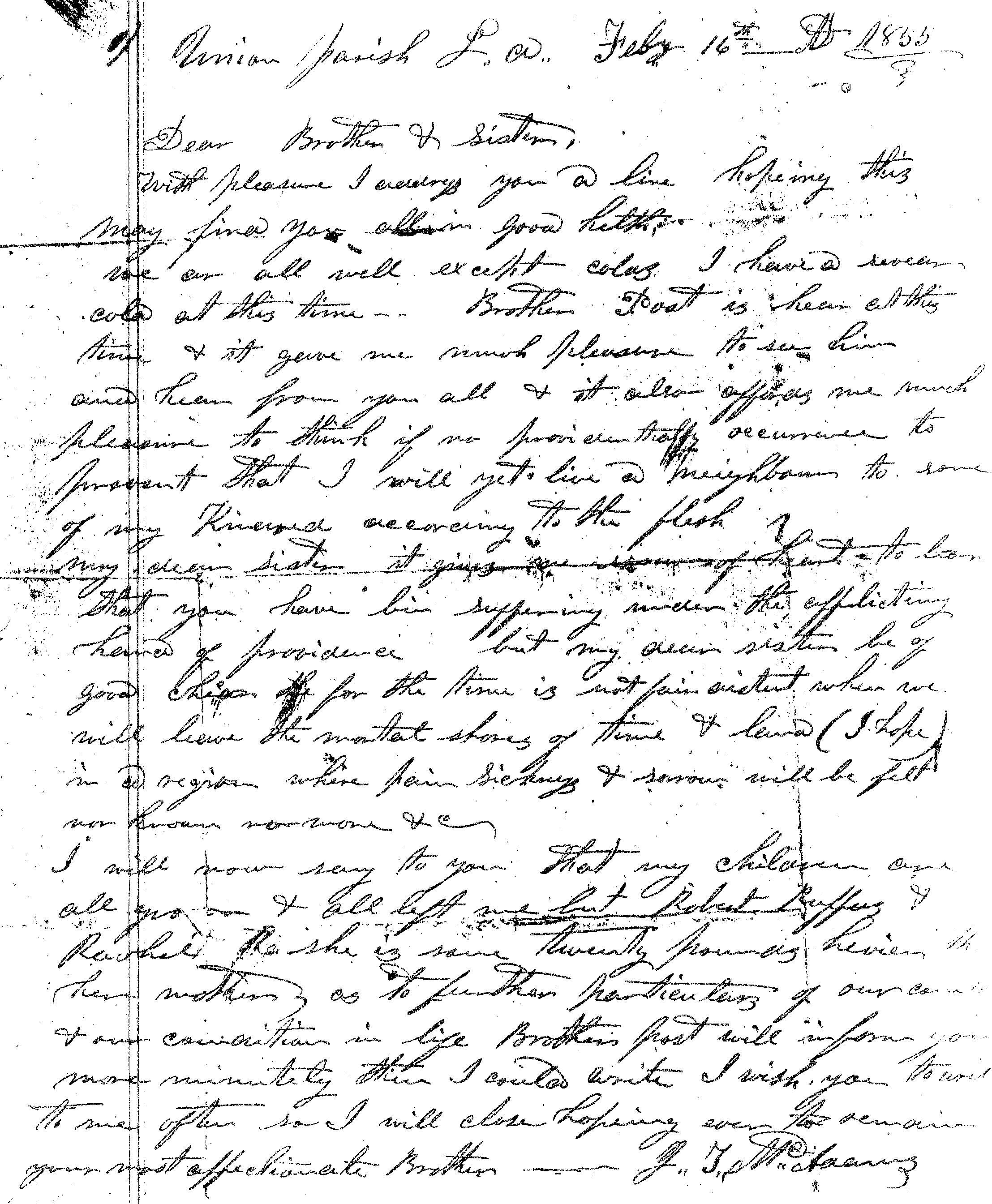 Contributor's Comments

W. B. Post mentioned here was William Bell Post who eventually moved to Union Parish Louisiana.





The author of this letter, James T. McAdams, was born abt. 1810 in Newberry, SC to Thomas S. and Mary Teague McAdams.

By tracing Mt. Hebron Baptist Church minutes in Shelby Co., AL, it appears the McAdams family migrated to Shelby Co, AL around 1816 - 1817.

James T. McAdams married Julia Ann (maiden name believed to be Lawler or Garner) in Shelby Co., AL around 1830. From researching land records, it is believed James T. McAdams and his family migrated to the Lockhart or Junction City area of Union Parish, LA around 1847. They were members of the New Hope Primitive Baptist Church. The minutes of this church reveal James T. died August of 1866, and Julia died December 8th, 1885.





Other children of Thomas and Mary Teague McAdams were: Robert E. W., Joshua Teague, Rebecca (to whom the abover letter was writte), Polly, and Susan. After Mary died, Thomas married Sarah Teague around 1818-1819; Sarah Teague was Mary's first cousin. Thomas and Sarah had children: Dorothy "Dolly", Thomas M., Isabella and Elizabeth C.





Both James T. McAdams and his brother Robert E. W. McAdams were a Baptist Ministers and farmers.




Through old family letters we have found James died in Shelby Co., AL after being wounded during the Civil War. His four sons suffered the same fate.


Census records show the following children of James T. & Julia Ann McAdams:


Ethelbert Julias "E. J", b. 1831; d. January 29, 1863 at the Siege of Vicksburg, MS. E. J. married Judith Sophia Goyne in Union Parish, LA on June 15, 1856.
Permelia, b. 1832
James F., b. 1834; d. bef. 1867 during the Civil War
Robert Franklin, b. 1836, d. November 14, 1863 at Camp Douglas, IL Military POW camp. Robert married Penelope Dildy in Union Parish, LA December 2, 1860
Rufus Henry, b. 1838; d. bef. 1867 during the Civil War. Rufus married Dorcas Post, daughter of William Bell Post mentioned in the above letter, on February 12, 1856 in Union Parish, LA
Mary, b. 1840
Rachel Ann, b. 1842. Rachel married Levi Seale May 4, 1856 in Union Parish, LA
Susan, b. 1843.